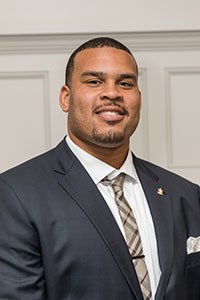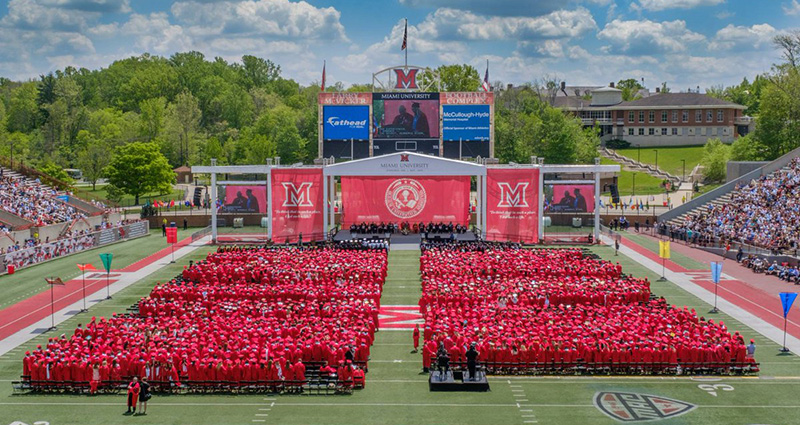 May 13, 2018
Commencement 2018 includes NFL's Brandon Brooks and more than 4,000 graduates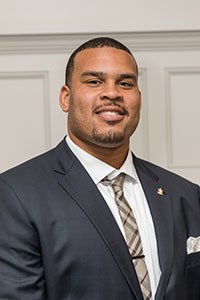 Brandon Brooks
Miami University celebrates its 2018 graduates during its 179th commencement ceremony at 1:30 p.m., Saturday, May 19, at Yager Stadium. Alumnus and Philadelphia Eagles Super Bowl champion Brandon Brooks will give the commencement address.
Brooks (Miami '11), an integral part of the team that won the 2018 Super Bowl, was also named to the NFL's Pro Bowl last season.

The 6-feet-5-inch Milwaukee native played for Miami from 2008-2011 and earned second-team All-Mid-American Conference honors three of those years.

Beyond his athletic accomplishments, Brooks' community involvement, continued pursuit of advanced higher education, and public support for mental health awareness distinguish him among other NFL stars.

Brooks will receive an honorary doctor of laws degree at the ceremony.
Record number of degrees to be awarded
President Gregory Crawford presides over the ceremony. Degrees to be awarded include 73 certificates, 98 associates, 3,497 bachelor's, 373 master's and 15 doctorates, for a total of 4,056.

The class of 2018 has a promising outlook based on survey results of 2016-2017 Miami graduates who report record high employment results.
The success rates include all students who are employed (including the military), in school, or engaged in volunteer/service programs (e.g., Peace Corps, VISTA), and are based on our 2016-17 graduates.
Oxford bachelor's: 97.3 percent success rate
Regional bachelor's: 95.8 percent success rate
Master's degree recipients: 97.4 percent
Doctoral degree recipients: 100 percent
Details of the ceremony
Information on bag checks, parking and more can be found online. Commencement is held rain or shine at Yager Stadium. Information on the status of the ceremony in case of severe weather can be found at www.miamioh.edu or at 88.5 FM and 91.7 FM. For more ceremony details, visit MiamiOH.edu/commencement.
Please share the experience at #MiamiOHgrad. The ceremony also will be available to watch through Facebook Live.
Divisional ceremonies
University divisions also will hold recognition ceremonies May 19 and 20.
Saturday, May 19
10:30 a.m. Graduate-level Speech Pathology & Audiology ceremony,100 Laws Hall, Claire Kane Miller, (Miami '81, '82).
7 p.m., Goggin Ice Center, College of Engineering and Computing, Greg Van Kirk (Miami '91), globally recognized social entrepreneur.
7 p.m., Millett Hall, College of Arts and Science, Scott Hess (Miami '89), chief marketing officer at Spark Foundry.
Sunday, May 20