Move-in day, Class of 2021 (photos by Scott Kissell).
May 09, 2018
Miami's incoming class reaches new heights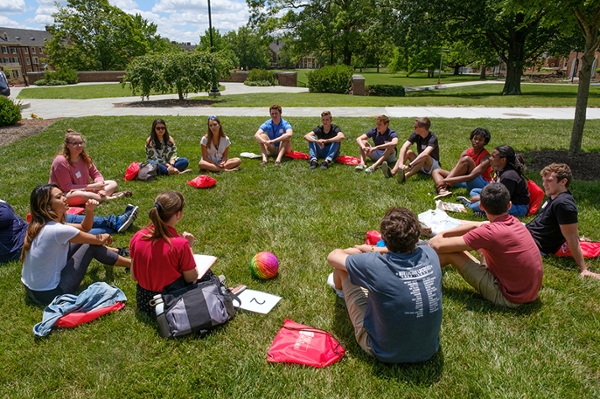 Summer orientation breakout group, Class of 2021.
Following May 1 confirmations, Miami University anticipates welcoming its largest incoming class ever this fall, exceeding 3,900 first-year students. It will be the most diverse cohort to ever enroll on the Oxford campus. 
The Class of 2022 will represent the largest number of domestic students of color, at 17.4 percent, and first-generation college students, equaling 16.3 percent of the enrolling class. International students will make up another 8 percent of students choosing to attend Miami this fall.  
The incoming class boasts an average GPA of 3.76 and average ACT score of 28. A slightly higher proportion of students, 58.8 percent, are from Ohio, vs 56.4 percent last year.
"Miami continues to be a destination for high-achieving and innovative student leaders from Ohio, across the U.S., and around the globe," said Susan Schaurer, assistant vice president for enrollment management and director of admission. "We are excited for these students to bring their accomplishments, energies, diverse backgrounds and academic and professional ambitions to Miami in the fall, and we are eager to see the impact they have on campus and throughout the world in the next four years and beyond,"
Miami's academic and co-curricular experiences ensure success and professional readiness. In the last two weeks, eight Miami students were named Fulbright grant winners – the most ever in one year; a Miami student was named one of 59 Truman Scholars in the U.S.; two Miami students were among 211 Goldwater Scholars in the U.S.; and more than 700 students presented end-of-year progress at the Undergraduate Research Forum.
This month, Miami University sets another student record, with more than 4,000 degree candidates for its May 19 commencement, the largest in the school's 209-year history.
Miami also released its post-graduation success rates for 2016-2017 graduates this week, with 97.3% of students reporting they are employed, pursuing further education or engaged in volunteer or service programs like the Peace Corps or Americorps. This represents a one percent increase over the success rate reported for the previous year's graduates.