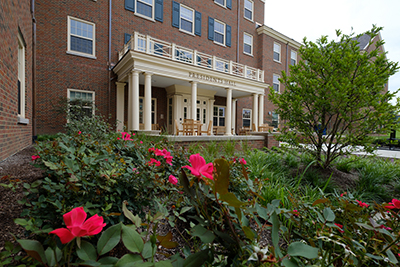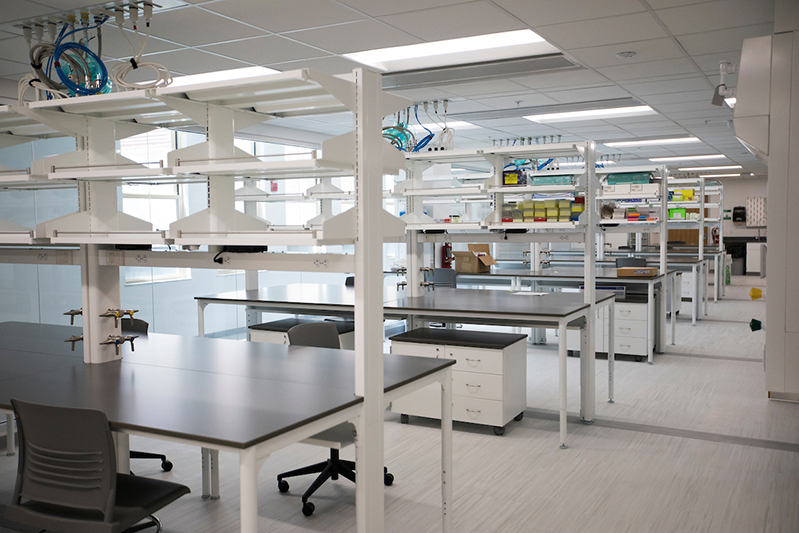 Phase 1 of the Pearson Hall renovation created open labs, study spaces and classrooms.
Photo: Jeff Sabo
Aug 22, 2018
What's new at Miami for fall 2018?
Compiled by Kristal Humphrey, university news and communications
Among the new things at Miami for fall 2018 are new places for students to attend class, do research, live, shop and eat.
Renovation of Pearson Hall—Phase 1
Phase 1 of the renovation of Pearson Hall is complete. The home of the biology and microbiology departments will include new open study space, classrooms and labs on the first and second floors that will be used for interdisciplinary collaboration.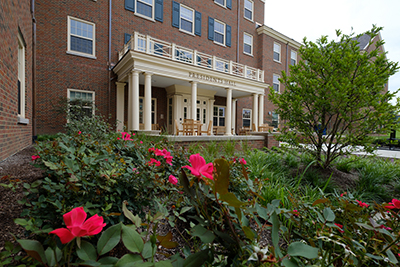 Presidents Hall is one of two new residence halls on North Quad (Photo by Scott Kissell).
New and renovated residence halls
Withrow and Presidents halls are Miami's two new residence halls, and Scott and Minnich halls are open after being renovated. The halls include community and study areas, safety and architectural features, and more.
Center for Career Exploration and Success expands services
The Center for Career Exploration and Success has expanded its services to first-year students. When they arrive on campus, students will have a career adviser available to them and services to help them determine their goals and create a plan to achieve them. 
Miami's campus stores
The Brick & Ivy Campus Store in Shriver Center reopened its lower level during the summer after renovations were completed. Shopping there or at Miami's specialty shopping locations supports Miami students since the profits are used for student scholarships.
Patterson Avenue (U.S. Route 27) and state Route 73
Safety enhancements added to Patterson Avenue include islands to slow traffic and create new pedestrian crossings, as well as signs and flashing beacons at each of those crossings. The intersection of Patterson and Chestnut Street was repaved with bricks, and a brick monument was built at the beginning of Patterson. New gateways at the intersection and on state Route 73 are in progress.
New names
Dining services offers new locations and menu items
Dining services has new locations and menu items, as well as updated versions of old favorites. The locations with changes include Maplestreet Station and the Armstrong Student Center.
Maplestreet Commons in Maplestreet Station was expanded when three restaurant venues were renovated to support buffet dining. New menu selections are among the changes at the Armstrong Student Center.
Alumni Veterans Tribute Memorial
Construction of the Alumni Veterans Tribute Memorial between Wells Hall and the Campus Avenue Building is ongoing. A dedication and ribbon-cutting ceremony will be held on Veterans Day (Sunday, Nov. 11).