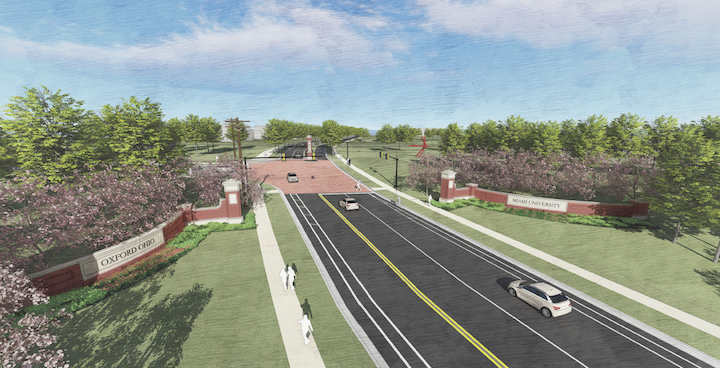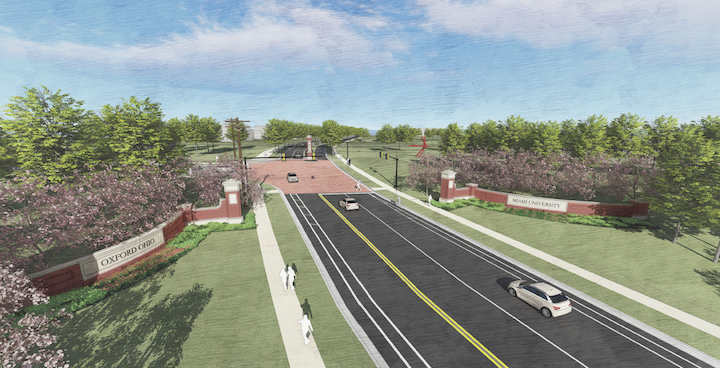 A rendering of the U. S. Route 27 construction project with work to begin in June.
May 31, 2018
Detour ahead: How to get to campus during summer road construction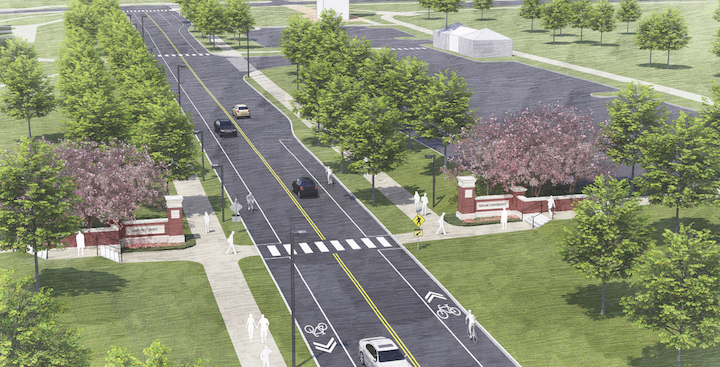 A section of state Route 73 near campus will have barrels and/or flaggers as necessary June 4-Aug. 22, as enhancements are made to the area.
Road construction on campus as well as on U.S. Route 27/Patterson Avenue and state Route 73 will affect travel to and from Miami University's Oxford campus this summer. 
The university is coordinating closely with the Ohio Department of Transportation and the Butler County Engineer to finalize detour routes and dates of closures. Although it is possible some of the dates below may shift, these are the earliest dates work will begin.
Patterson Avenue (U.S. Route 27 in Oxford)
The section of Patterson Avenue from Chestnut Street to Western Drive will be closed June 11-Aug. 22 with one exception*, for safety enhancements. Islands will be installed to slow traffic and create new pedestrian crossings. There will be signs and flashing beacons at each pedestrian crossing.
Traffic coming into Oxford from the south will be detoured west on Chestnut Street, and traffic heading east on Chestnut Street will not be allowed to turn left onto Patterson Avenue.
*Until July 2, one southbound lane on Patterson will be open, marked by signs and cones. July 2-Aug. 22, through-access on Patterson will close. There will be no exit for southbound traffic from Patterson onto Chestnut Street or U.S. Route 27 south.
Local traffic to Presser Hall, Hoyt Hall and the Center for Performing Arts will be permitted from the north, but all local traffic must exit back to the north toward Spring Street.
During construction, the southbound left turn onto Western Drive near Bachelor Hall will be re-established, as that will be the only way in and out of Western campus, including entry to the Miami University Art Museum.
Intersection of U.S. Route 27 and Chestnut Street
From July 2-Aug. 5, the intersection of U.S. Route 27 and Chestnut Street will become one lane with changing portable traffic lights so enhancements can be made to the area. The intersection will be re-paved with brick, similar to the intersection of Patterson Avenue and High Street.
Campus gateways will be built on both sides of north-bound U.S. Route 27 to welcome visitors to Oxford and Miami University. A brick monument positioned within the median island at the beginning of Patterson Avenue will complete the gateway experience.
The intersection is expected to be restored to two-lane on Monday, Aug. 6.
State Route 73
A section of state Route 73 near campus will have barrels and/or flaggers as necessary June 4-Aug. 22, as enhancements are made to the area.
The lanes will be narrowed to allow for bike lanes on both sides from campus to the Equestrian Center and Miami University Police Department. Also, new gateways will be built on both sides of state Route 73. The new gateways will be just east of the existing crosswalk leading from Cook Field to Western campus near Cole Service Building.
State Route 177
Culvert work requires closing State Route 177 for a period of time beginning June 11. Beginning at 6 a.m. June 11, SR 177 will be closed from North Street in Darrtown to State Route 73/Oxford-Trenton Road until 4 p.m. July 2. 
The detour uses State Route 130, U.S. Route 27, and State routes 129, 732 and 73. Signs will be posted to alert motorists of the detour.
Oak Street; Ogden Drive
Oak Street will be closed between the Recreational Sports Center and Goggin Ice Center May 31-June 3 for installation of a hydronic heating water system. Ogden Drive will close June 11-22 for a sewer upgrade.
Campus Avenue Parking Garage
The Campus Avenue Parking Garage will be closed June 20-Aug. 21 for repairs and restoration. On Aug. 22, the garage reopens for normal parking until work resumes on Sept. 4, with a completion date of Sept. 18. From Sept. 4-18, parking will be allowed but may be limited at times.