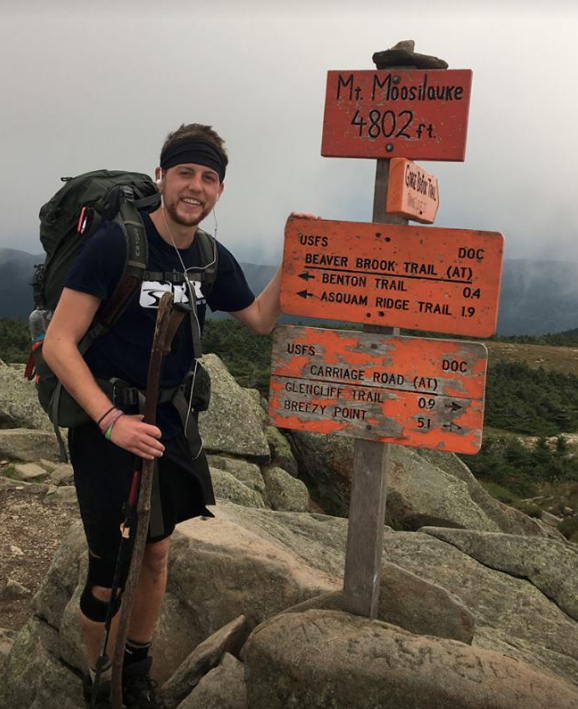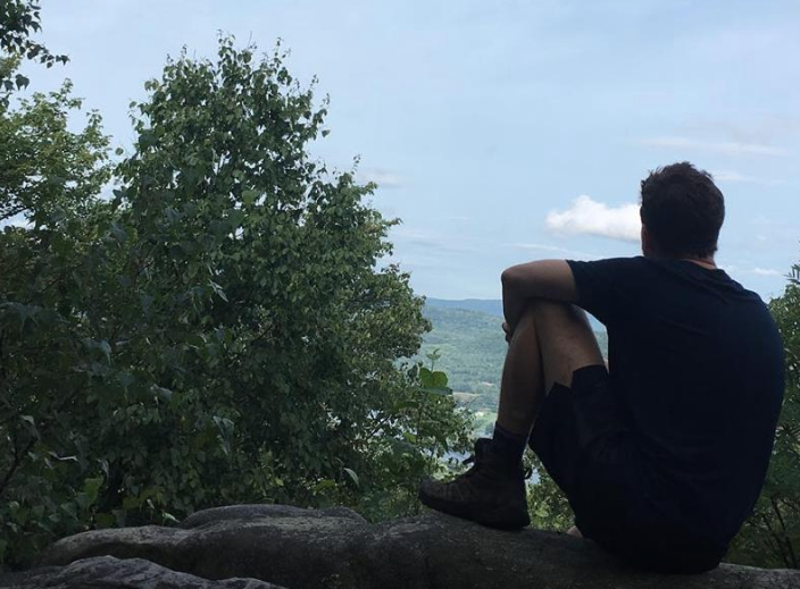 Preston Kahn takes a moment to reflect in Massachusetts during his Appalachian Trail hike (photos courtesy of Kahn.)
Sep 06, 2018
Miami grad raises $25,000+ while hiking to provide mental health support to teens
By Margo Kissell, university news and communications
With every mile he hikes along the Appalachian Trail, Preston Kahn (Miami '18) is raising funds for a new program that provides a safety net for young people struggling with mental health issues.
Kahn is passionate about the cause. He has battled anxiety and depression since he was a teen.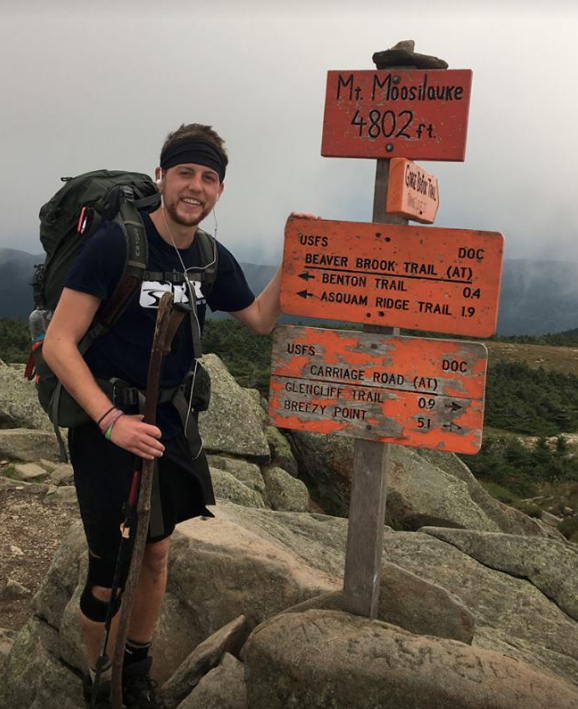 Preston Kahn atop Mount Moosilauke, N.H.
"I loved my teachers in high school, but I never really felt there was a system in place to kind of clear up the gray area of how you go about reaching out for help," said Kahn, who graduated from Miami University in May with a degree in sport leadership and management.
Kahn has partnered with the Cincinnati-based Grant Us Hope, which runs a school-based, peer-to-peer, suicide prevention program for middle school and high school students.
His fundraising hike is helping the nonprofit put "Hope Squads" in 26 Ohio schools, including 20 in the Cincinnati area this school year.
"I am so proud of what Preston is doing," said Keith Kline (Miami '84, MM '87, PhD '98), executive director for Grant Us Hope. "He understands, firsthand, the challenges young people face today and has demonstrated his personal commitment to making a difference in their lives."
Achieving a goal
Kahn reached his $20,000 fundraising goal last week. It came one day before he entered Pennsylvania — much sooner than he expected on his southbound thru-hike of 2,190 miles from Maine to Georgia.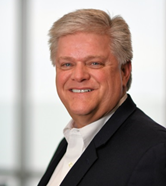 Keith Kline, executive director of Grant Us Hope
"This is truly incredible. I can't even begin to thank everyone who has donated. Never in my wildest dreams did I think that I'd be able to reach my goal before I even reached Harpers Ferry (W.Va.)," he wrote in an Aug. 30 post on his Pkahninthewildernness Facebook page.
"It means so much to see people believe in my cause and rally behind it. I'm going to keep my end of the bargain and hike until I reach Springer Mountain (Ga.)," Kahn wrote.
He also hopes to keep raising funds. "Let's keep it going and together do something special," he said.
Getting underway in Maine
Kahn embarked on the trek July 8 at Mount Katahdin in Maine, the northern terminus for the Appalachian Trail (AT).
He arrived there without his new trekking poles, which he inadvertently left behind while boarding his flight at LaGuardia Airport. A flight attendant told him he was prohibited from leaving the plane to retrieve them.
While on Mount Katahdin, Kahn met a man who was finishing his northbound thru-hike. Kahn asked him if he planned to keep his walking stick.
"He said, 'I brought it here from Springer Mountain, so you should bring it back down," Kahn said in a phone interview from Manchester, Vermont, when he was about 550 miles into his journey.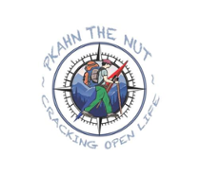 Kahn is selling t-shirts with this logo to raise funds to help youth struggling with mental health issues.
Kahn's trail name is "Gandolphin" — a nod to the bearded, staff-toting fictional character Gandalf from J.R.R. Tolkien's novels The Hobbit and The Lord of the Rings. "And then dolphin, just because I love swimming," he said. "I hop in the water whenever I can."
Because he didn't start hiking until July, Kahn opted to hike southbound instead of the more popular northbound route.
That means he's encountered fewer hikers going his way and his thru-hike started with some of the most challenging stretches of terrain through Maine and New Hampshire. "It was kind of a wake-up call," he said.
Not knowing what to expect, he says he overpacked and has spent recent weeks shedding items he hasn't used. He sent home his Kindle (any reading he does is on his phone), collapsible bowls and some clothing.
"a second chance to truly cherish life"
On Aug. 19, he took a moment to post about something he felt was important to talk about because it inspired his journey.
"Today marks the one year anniversary of my failed suicide attempt," he wrote, adding, "… for some reason something out there gave me a second chance to truly cherish life which I have not taken lightly."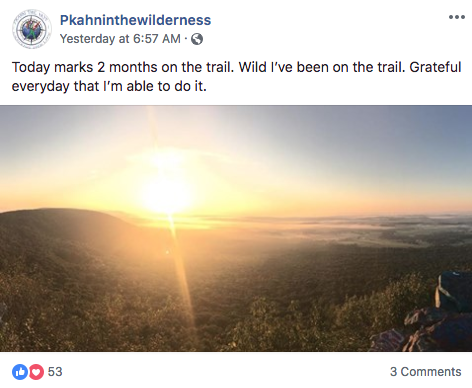 Kahn celebrated two months on the Appalachian Trail Sept. 5 in Pennsylvania. "Grateful everyday that I'm able to do it."
He hopes sharing his story will show others that "life is never as bad as it seems and there is always opportunity for a beautiful day to follow a torrential thunderstorm," he wrote. "Don't be afraid to share with the loved ones around you what you are dealing with because if you don't let people know what you are dealing with, then you can't begin to heal and grow."
Kahn said Miami alumna Tess Cassidy (Miami '17), whose AT trek was chronicled in Journeys, gave him good advice when he reached out to her before embarking on his own journey.
"She said appreciate the moment you have because there's going to be a time in the next couple of months when I'm done with this and I'm sitting at my desk thinking about how simple life is right now," he said.
For now, his goal is to just keep hiking.
"The further I go, the more money I raise. That's the thing that keeps me motivated when I hit a lull and I'm down," said Kahn, who hopes to complete the trail by mid-November and be home for Thanksgiving.
Update: Kahn completed his trek on Nov. 3 — raising $25,570. "This has been the greatest and most challenging journey of my life," he tweeted.
If you or someone you know may be considering suicide, contact the National Suicide Prevention Lifeline at 1-800-273-TALK (8255) or the Crisis Text Line by texting "hello" to 741741. Miami's division of student life offers a Student Counseling Service. If you'd like to talk to a counselor, call 513-529-4634.
Follow Miami's Instagram account Monday, Sept. 10, for Preston Kahn's takeover.