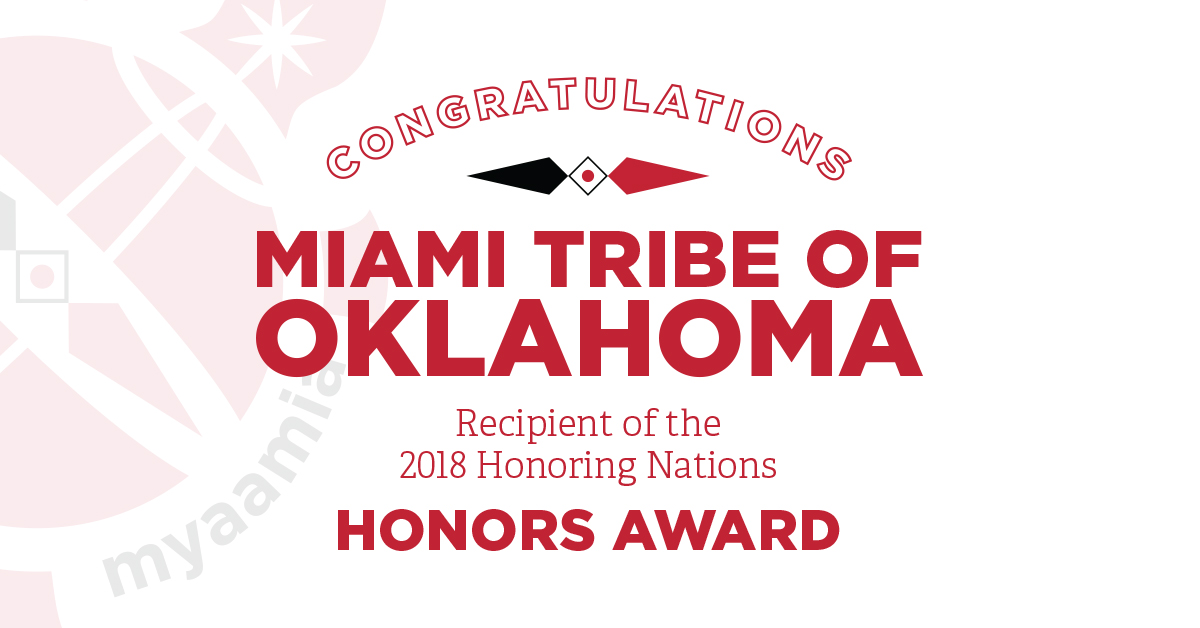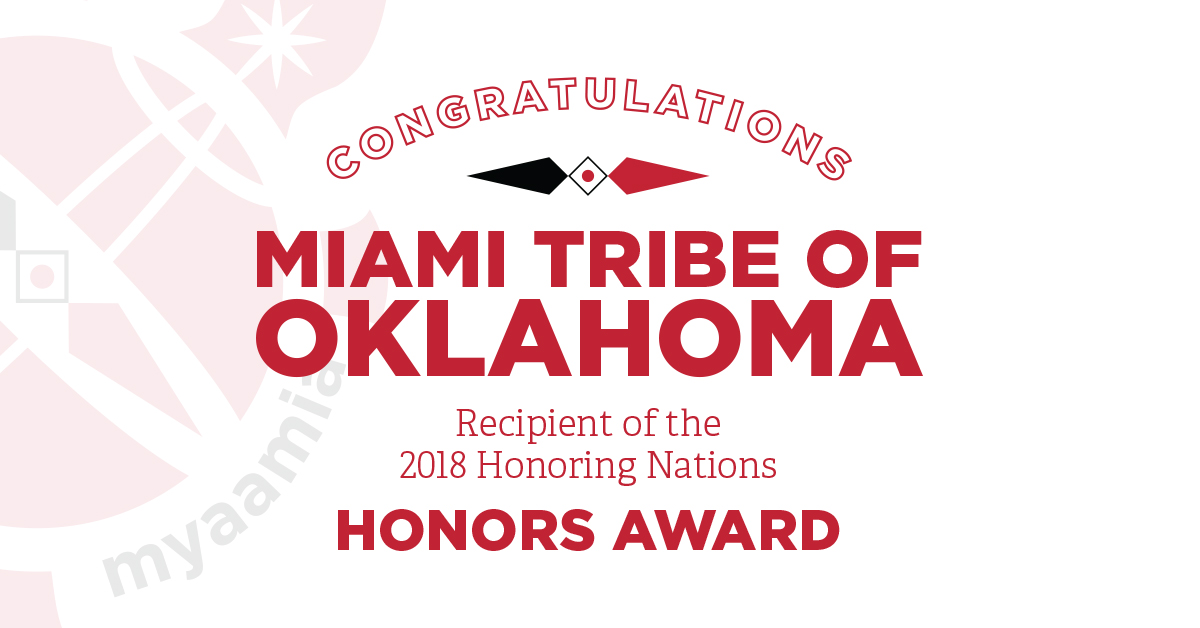 The Miami Tribe was honored for its program myaamiaki eemamwiciki (pronounced ay-mom-witch-EE-kee). It means Miami Awakening.
Oct 25, 2018
Miami Tribe of Oklahoma awarded national honor for cultural and language revitalization
By Margo Kissell, university news and communications
The Miami Tribe of Oklahoma has received a prestigious national award recognizing its cultural heritage and language revitalization program, which has resulted in the first generation in nearly 100 years learning to speak the Myaamia language.
The Harvard Project on American Indian Economic Development presented tribal leaders with an Honoring Nations Award, with the distinction of honors.
The tribe was recognized during the 75th Annual Convention & Marketplace of the National Congress of American Indians in Denver Thursday, Oct. 25. It was one of six award winners selected from applicants representing 51 tribes and four tribal consortia.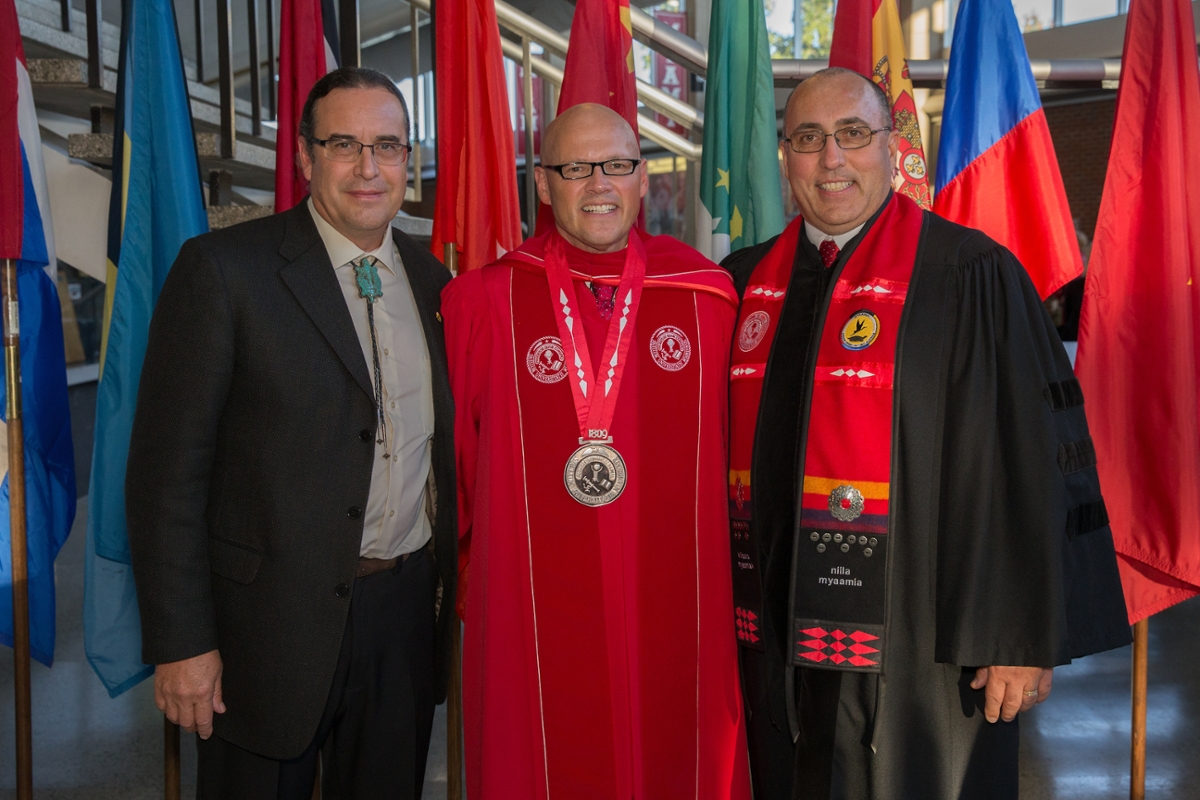 Left to right: Daryl Baldwin, director of the Myaamia Center, Miami University President Greg Crawford and Douglas Lankford, chief of the Miami Tribe of Oklahoma.
"I am so honored to serve the Miami Tribe of Oklahoma as chief at this time in our history and to witness and support the great awakening we are experiencing with the return of our language and culture," Chief Douglas Lankford said. "Our relationship with Miami University, their commitment to our Myaamia Center and the incredible work accomplished there are components to our success in community revitalization."
The Myaamia Center on Miami's Oxford campus is the tribe's research arm.
The Honoring Nation Award identifies, celebrates and shares outstanding tribal governance. It also aims to expand the capacities of Native American nation builders by enabling them to learn from each other's successes.
"These finalists are exercising their self-determination and implementing effective solutions to common governmental challenges in the areas of environmental research and management, health provider training, language revitalization, agriculture, child welfare and restorative justice," stated the Harvard Project, based at the Harvard Kennedy School of Government in Cambridge, Mass.
Miami Awakening
The Miami tribe was honored for its program myaamiaki eemamwiciki (pronounced ay-mom-witch-EE-kee) in Myaamia. It means Miami Awakening.
The program serves about 5,300 residents in the tribal community by delivering a wide range of educational projects and publications designed to restore the Myaamia language and culture to every tribal household, free of charge.
It hosts gatherings to provide a place for the community to engage and share through language use and cultural activity. That includes playing games and creating ribbonwork like their Myaamia ancestors did.
Since 2003, the tribe has offered youth programs for children ages 5-16. That same year the Myaamia Heritage courses began at Miami University as a component of the Myaamia Heritage Program, which began in 1991.
The program is a four-year undergraduate college experience for tribal youth enrolled as Oxford campus students. It provides a tuition waiver and additional course work relative to their heritage.
This semester, 30 Myaamia students are enrolled at the university. To date, 76 Myaamia students have earned undergraduate or graduate degrees (two students earned both), said Bobbe Burke, coordinator of Miami Tribe Relations.
Daryl Baldwin, director of the Myaamia Center, said a team from the Harvard Project visited Miami, Okla., in June to talk to tribal leaders, Cultural Resources Officer Julie Olds, him and parents of Miami University students.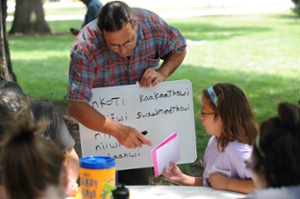 Baldwin teaching Myaamia words to Miami Tribe children.
"They were very interested in the connection between the university, the tribe and how the center fits into the revitalization effort," said Baldwin, a linguist and cultural preservationist with the tribe who was awarded a "genius grant" as one of the 2016 MacArthur Fellows.
Baldwin was recognized for his work to revive his Miami Nation's cultural heritage and language, which had all but vanished after a 19th-century, forced removal from their homelands in what is now Ohio, Indiana and Illinois.
By the mid-20th century, the last tribe member to speak Myaamia conversationally had died. For members of the tribe, it was as if much of their communal understanding went to sleep.
A leap of faith
Tribal leaders took a leap of faith when they sought a federal Administration for Native Americans (ANA) grant in the mid-1990s. They were "standing on the precipice of a cultural void which they had no financial means to address," their application stated.
The ANA funding, awarded in 1996, supported the tribe's first steps toward language revitalization.
Another significant step came in 2001 with the creation of the Myaamia Project (predecessor to the Myaamia Center) to conduct research supporting tribal initiatives to preserve language and culture and expose university students to efforts in those areas.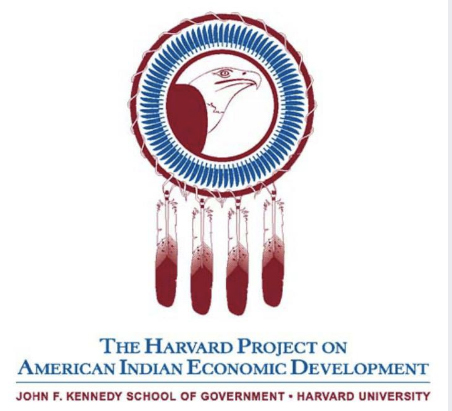 The Myaamia Center works closely with the tribe's Cultural Resource Office in Oklahoma. The office focuses on community programming and providing tribal support, while the center's four pillars target educational development, assessment, research and collaboration.
Olds called the Myaamia Center's work "the fuel to the fire" of the tribe's community revitalization effort.
"Eemamwiciki, or our awakening, is very much a communal fire providing light and warmth, or care, to all Myaamia people who gather to it," she said. "My joy, in 20 years of revitalization work, is to see it continue to burn bright with an ever-increasing store of fuel, or reclaimed knowledge, and a growing number of Myaamia scholars and active learners to tend to it."