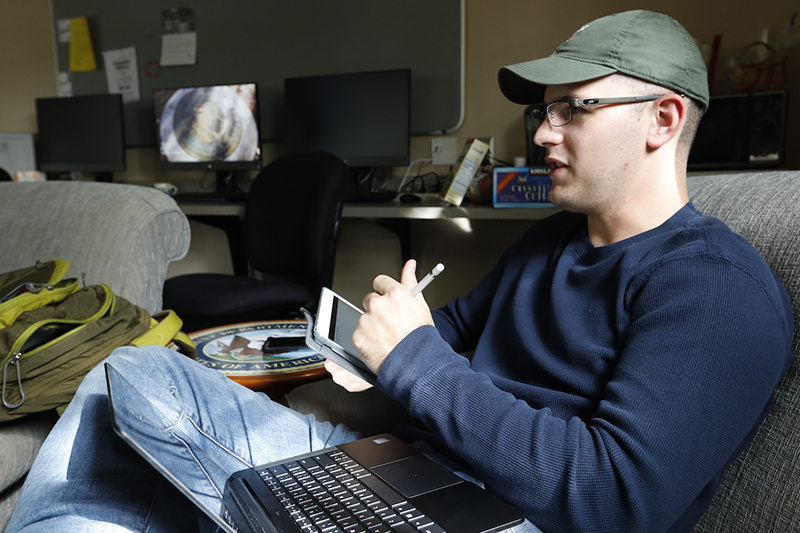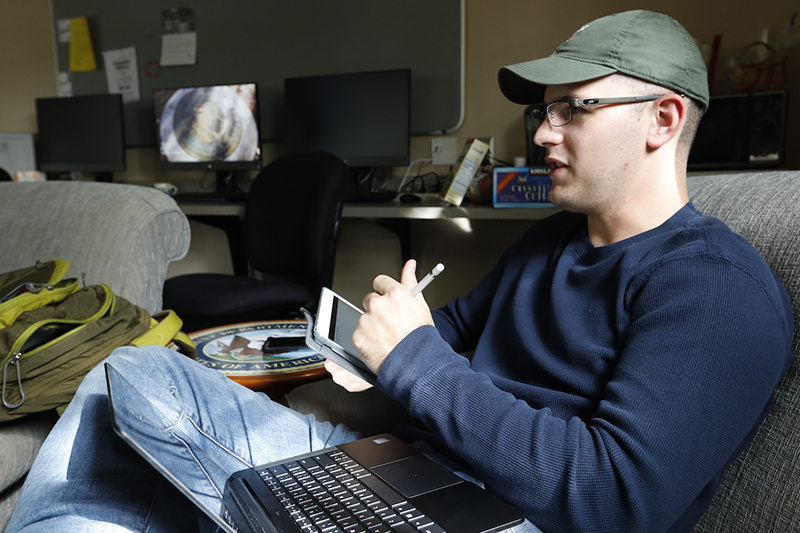 Jared Vreeland spends time in the Student Veterans' Center on Miami's Oxford campus.
Photo: Jeff Sabo
Dec 11, 2018
Miami University is recognized for its commitment to helping veterans and service members
By Kristal Humphrey, university news and communications
Miami University is committed to helping veterans and service members achieve their higher education goals.
That commitment has led to Miami being recognized by the U.S. Department of Education and Department of Veterans Affairs as a university that supports the "8 Keys to Veterans' Success" and being listed on the Veterans Affairs registry.
The eight keys are the steps that postsecondary institutions can take to assist veterans and service members in transitioning to higher education, completing their college programs and obtaining career-ready skills. They include:
Create a culture of trust and connectedness across the campus community to promote well-being and success for veterans.
Ensure consistent and sustained support from campus leadership.
Implement an early alert system to ensure all veterans receive academic, career and financial advice before challenges become overwhelming.
Coordinate and centralize campus efforts for all veterans, together with the creation of a designated space for them (even if limited in size).
Collaborate with local communities and organizations, including government agencies, to align and coordinate various services for veterans.
Utilize a uniform set of data tools to collect and track information on veterans, including demographics, retention and degree completion.
Provide comprehensive professional development for faculty and staff on issues and challenges unique to veterans.
Develop systems that ensure sustainability of effective practices for veterans.
Miami has staff and programs in place to help veterans from the time they come to campus to when they start their job search. The newest way is the Student Veterans' Center.
You can learn more about what Miami offers, including the new center, in a recent story.