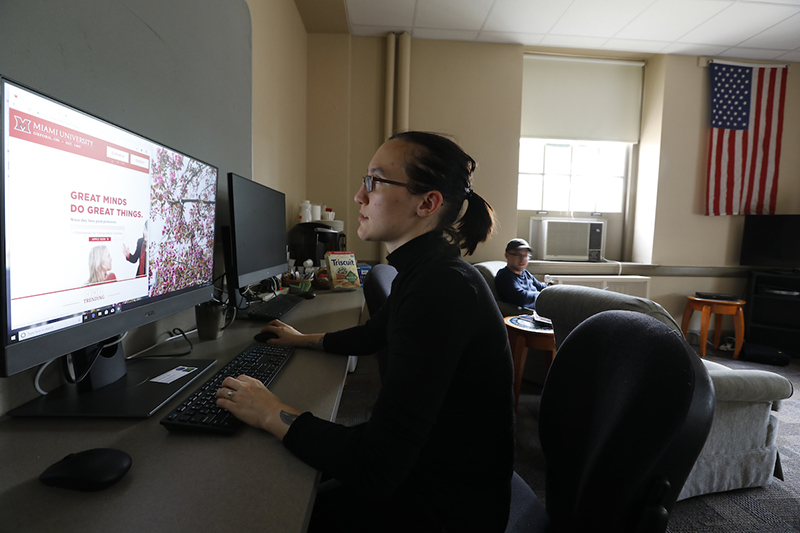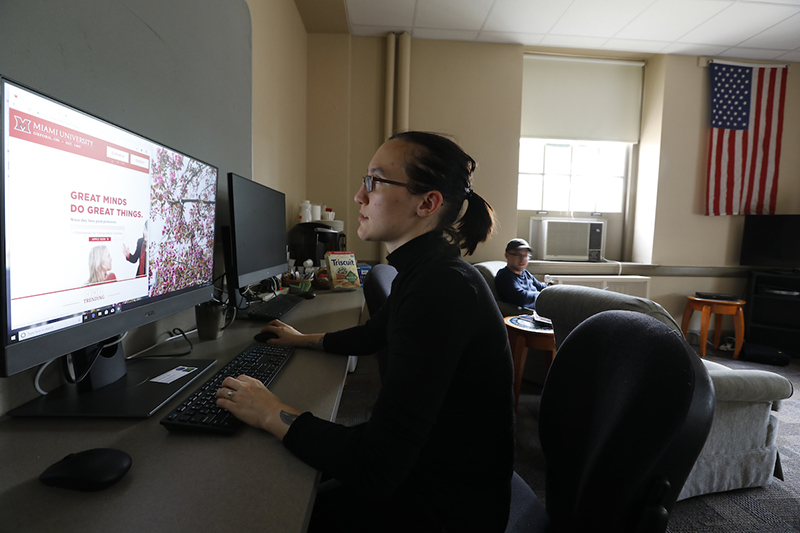 Emma Wott, chair of the Student Veterans Association, uses a computer in the Student Veterans' Center.
Photo: Jeff Sabo
Nov 01, 2018
Miami helps veterans and military-affiliated students from orientation to graduation
Student Veterans' Center open
Miami University's new Student Veterans' Center in Wells Hall provides student veterans and military-affiliated students with a space to be around others with similar backgrounds and experiences.
The center is available to the students 24/7 and includes amenities such as desktop computers and a printer, comfortable furniture and a meeting table, a television and refrigerator, lockers where students can store items between classes, and an office for the veterans and Student Veterans Association to use.
The center is handicapped accessible, in the center of campus and close to the Campus Avenue building which houses two places the veterans may need: One Stop and the Student Success Center.
The project was a result of collaboration by many staff members at Miami.
Emma Wott, chair of the Student Veterans Association and a senior theatre and religion double major, appreciates all that they did.
"Actions mean more than words to veterans, and the center shows there are people on campus willing to show that we are here and that we matter," she said.
"We are not only everyday people with families, jobs and classes but also deal with psychological, mental and emotional issues. The center will be a good place to gather with others and feel more at peace. I am more hopeful for the future of veterans on campus because of this center."
The center will be open to the public before and after the dedication of Miami's Alumni Veterans Tribute on Sunday, Nov. 11 (Veterans Day).
By Kristal Humphrey, university news and communications
Miami University staff help veterans and military-affiliated students from the time they arrive on campus to when they are searching for jobs as they prepare for graduation.
The Student Veterans' Center on the Oxford campus is the newest way Miami is helping the students.
Lincoln Walburn, Student Veterans Association adviser and associate director of the Armstrong Student Center, has been involved in the project since its beginning and said it was brought to fruition by staff in the physical facilities department, the president's office, Student Life, and Enrollment Management and Student Success.
Staff in Enrollment Management and Student Success help student veterans and military-affiliated students in other ways, using a 3-tier approach.
Tier 1
One Stop is the first place for the students to go when they have questions about using military benefits, registering for or dropping classes, paying their bill and using other forms of financial aid.
Tier 2
Nathan Hoch, student services specialist, and Kathleen Ramsey, senior assistant director of One Stop Student Services, handle the questions that require troubleshooting. This includes things like working with students who have to withdraw due to being called back to active duty and explaining why a class wasn't certified.
As the certifying official for Miami's Oxford, Hamilton and Middletown campuses, Hoch checks the schedule of each student who uses military benefits to see if the classes are approved by Veterans Affairs.
Hoch also advocates for the veterans to other departments and is available to meet with the veterans about any issues they have. He will hold office hours in the new center to be more available to them.
Ramsey is the university's designated point of contact for veterans. All Ohio public universities are required to have someone in that position who is not the certifying official. She also serves as the point of contact for Veterans Affairs.
Most of her interactions with military-affiliated students involve inquiries from prospective students about how to use benefits.
Ohio House Bill 488 established a priority registration policy for veterans, and Ramsey said Miami extends this benefit to their dependents as well. Recently, the Forever GI Bill mandated priority enrollment for veterans.
Tier 3
Tier 3 is Miami's Student Success Center. Ashley Hopkins, senior assistant director of the center, helps the students with needs that aren't covered under Veterans Affairs benefits or state legislation. If needed, she connects them with campus resources such as counseling or tutoring and with resources in the community that can help with homelessness and financial issues.
Hopkins, along with Hoch, co-chairs the Military Assistance Group, which is composed of staff and faculty from Oxford and The Regionals who are advocates for military-affiliated students. Members of the group stay abreast of challenges the students face, seek out new ways of supporting them and serve as points-of-contact in their departments. Ramsey and Walburn are also members of the group.

Jared Vreeland spends time in the Student Veterans' Center between classes. (Photo by Jeff Sabo.)
Orientation to graduation
Hopkins, Hoch and others lead orientation sessions to welcome the students to campus and let them know there is a resource network available. Also, the Military Assistance Group and Student Veterans Association hosts a Military Meet and Greet at the Student Veterans' Center during Welcome Week.
Miami's Center for Career Exploration and Success assigns career advisers to all students on the Oxford campus based on their area of study and provides opportunities for advising appointments and to apply for job and internships.
Corey Watt, associate director of employee relations in the career center, is the liaison to student veterans. He said that among other things, the career center staff helps them portray their military experience in a relevant way on their resumes and in interviews.
Watt says the veterans often have skills that are desired (e.g., leadership and collaboration) and training and experience in areas that aren't universally understood but transfer well and add value to the traditional workplace. He says it's also common for a student veteran to study something unrelated to their military experience.
"I know a tank driver who went into social work and a logistics/clerk who is studying theater and religion," Watt said. "There was also a purchasing/logistics soldier who majored in political science and now works in human resources for a state government."
The staff of Miami's career center recently completed Green Zone training — a program for faculty and staff members designed to help develop a supportive campus community for veterans, current service members and their families.
The training is presented by the Student Veterans Association, and departments can request a session by contacting Emma Wott, chair of the association, at wotted@MiamiOH.edu or Lincoln Walburn at walburhl@MiamiOH.edu.
Support at Miami Regionals
Doug Reichenberger, regional director of career services and professional development, is the career services contact for student veterans at The Regionals. JP Smith is the regional coordinator for veteran services.
There is a Center for Veterans Services located on the Hamilton and Middletown campuses and both campuses have a chapter of the Student Veterans Association.
Veterans at The Regionals also receive support from the Veterans Outreach Collaborative to Impact Success, a group of individuals representing the offices of admission and financial aid, academic advising, learning assistance, counseling, student affairs and Veterans Affairs.