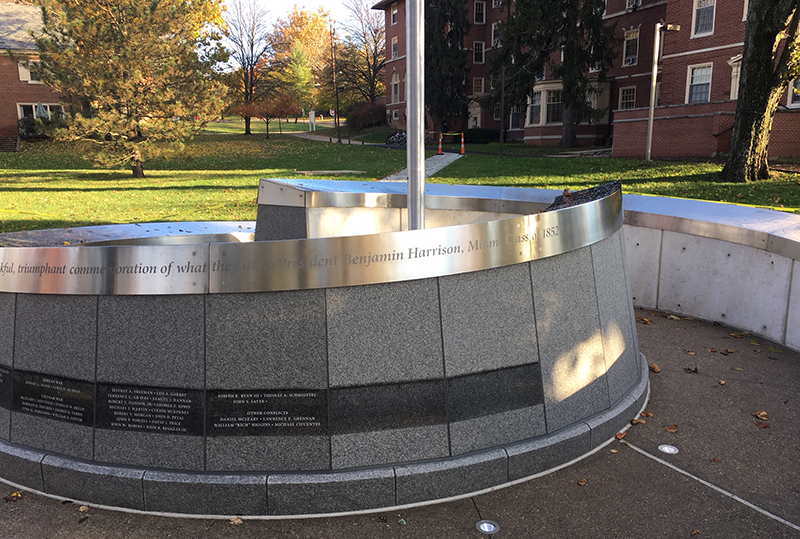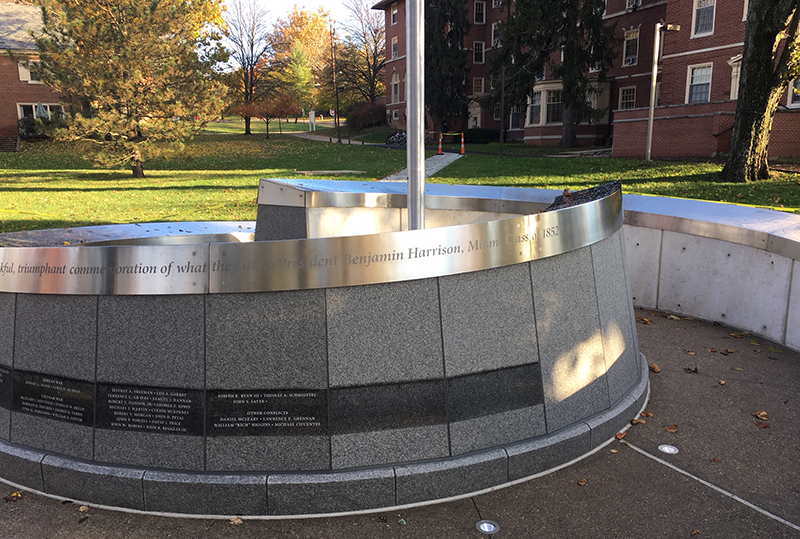 The Alumni Veterans Tribute will be dedicated on Nov. 11.
Nov 01, 2018
Miami will dedicate its Alumni Veterans Tribute on Veterans Day
Alumni Veterans Tribute dedication
Miami University will host a dedication and ribbon-cutting ceremony for its Alumni Veterans Tribute at 2 p.m. Sunday, Nov. 11 (Veterans Day). The ceremony is open to the public.
Guest speakers will be President Gregory Crawford, Dave Miller (Miami '60, MBA '69), David Lawrence (Miami '64) and Emma Wott, president of the Student Veterans Association.
The dedication ceremony includes a:
Flag raising by the ROTC color detail.
Performance of the National Anthem and other songs by Miami's Glee Club.
Multi-gun salute by the Marine Reserve.
Bugler performing taps.
Moment of silence.
By Kristal Humphrey, university news and communications
Miami University's new Alumni Veterans Tribute project honors Miami alumni who have served, are currently serving and will serve in the armed forces.
The project has two parts, one physical and one virtual.
The physical portion, the Alumni Veterans Tribute, is located on the south side of Spring Street between Wells Hall and the Campus Avenue Building on the Oxford campus. The Tribute includes a memorial with the names of those who were killed in action or missing in action.
The virtual part is a website with a searchable database of Miamians who have served or are serving.
The idea for the project came from Dave Miller (Miami '60, MBA '69) and David Lawrence (Miami '64) five years ago. It was guided by a committee of alumni veterans and funded through private support from alumni and friends.
"For more than two centuries, more than 8,000 alumni of Miami University have served in our country's armed forces," Lawrence said. "This spawned the idea of creating a physical site on campus to acknowledge the breadth of Miami's alumni involvement in the military."
"The hope would be for everyone to have a place for reflection, reverence and peace to give thought and recognition to those whose sacrifice allows our nation to remain free," Miller said.
According to Robert Keller, alumnus and university architect emeritus, the committee of alumni veterans wanted the Tribute to identify Miami veterans who gave their lives in service to our country, represent the five branches of the military, display the flag prominently, accommodate formal events and individual meditation, and be easy to access.
The Tribute includes the following elements:
Two interwoven and rising spirals that represent liberty and justice and wind inward toward an illuminated U.S. flag.
An engraved band of names on the spirals of those who were killed in action or missing in action, symbolically placing Miami's heroes at the foundation of U.S. freedoms.
Inscriptions of text of the Bill of Rights, military oath, Pledge of Allegiance and Preamble to the Constitution on the metal cap of the wall.
Quotes from former U.S. Presidents Benjamin Harrison (Miami 1852), Woodrow Wilson and Harry S. Truman and Gen. George S. Patton.
The Tribute's footprint that forms a five-pointed star, featuring five entrances that each have a planter box with the seal of one of the military branches.
To celebrate the military service of its alumni (anyone who attended at least one semester on any campus), Miami asks that you register yourself or a deceased family member who served. The searchable database will go live Nov. 11.
Miami also now has a Student Veterans' Center in Wells Hall which will be open to the public before and after the ceremony. You can find out more about the center and other ways Miami helps student veterans and military-affiliated students in another story.