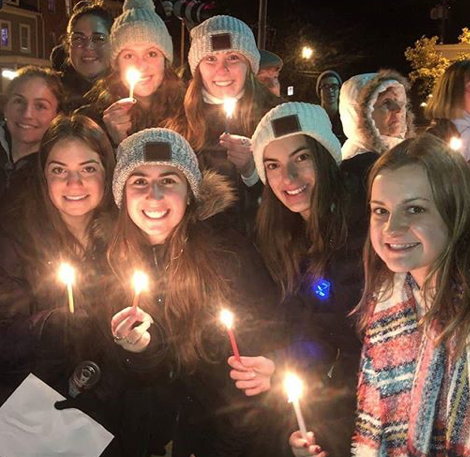 Dec 06, 2018
Miami Jewish community reflects true meaning of Hanukkah amid national tension
by Shavon Anderson, university news and communications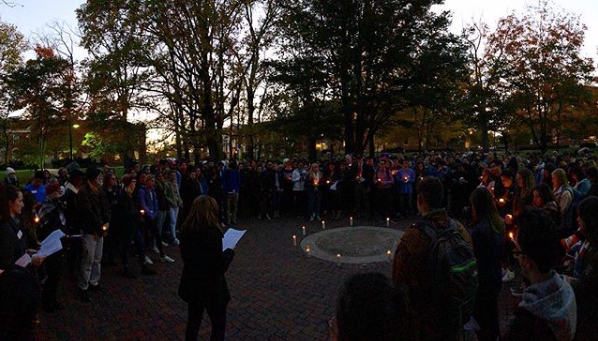 The Miami Jewish community and its allies gather at the Seal on Oct. 28 for a vigil to honor the victims of the Pittsburgh shooting (photo courtesy of Hillel at Miami University).
In late October, the Miami University Jewish community and its allies stood together and grieved as one, mourning the 11 lives lost during a mass shooting at a Pittsburgh synagogue. This month, they gathered again and celebrated where a vigil was once held.
"What happened in Pittsburgh will forever dishearten the Jewish people," said Daniela Reuter, president of Hillel: Association of Jewish Students. "I try my hardest to discuss with others how with solidarity and love, we as a community can work together to move toward peace."
For this community, now is the time for rededication and reflection of faith. Hanukkah, which runs Dec. 2-10, is the eight-day Jewish festival of lights.
The festival commemorates when, in the second century B.C., a single cruse of olive oil, a one-day supply, miraculously lit a menorah for eight days, said Rabbi Yossi Greenberg of the Chabad Jewish Student Center in Oxford. The lighting followed a battle where a small group of faithful Jews reclaimed the temple in Jerusalem from the Greeks, who tried to force the people of Israel to accept Greek culture and beliefs instead of Jewish observance.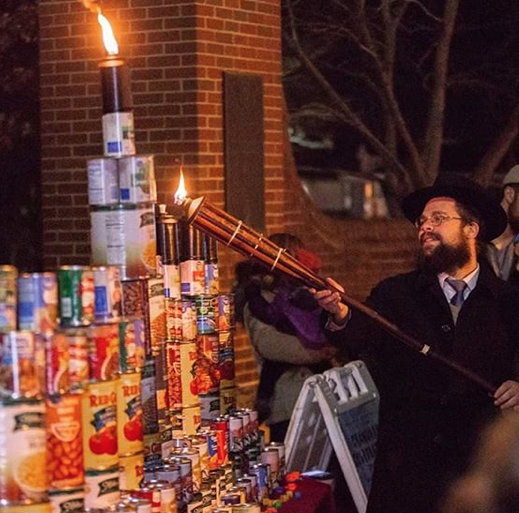 Rabbi Yossi Greenberg lights a menorah made from donated canned goods during Miami's candle lighting on Dec. 4 (photo by Miami University Chabad).
For many in the community, you can't fully observe the holiday without acknowledging the growing anti-Semitism nationwide. Last month, the Federal Bureau of Investigation released its 2017 Hate Crime Statistics report, revealing a 17 percent increase in overall hate crimes from 2016 and a 37 percent rise in crimes specifically targeting Jews.
"You can't live in fear," said sophomore Mackenzie Bernstein, president of the Jewish Heritage Program, also known as JHP. "I don't even understand how people can have so much hate. It's really hard for me to wrap my head around."
In the days before Hanukkah, Greenberg examined recent incidents of hatred with the Sinai Scholars, a group of students who come together weekly to discuss, brainstorm and debate Jewish hot topics. 
"I went around the room and asked the students; do they feel safe? Do they feel the world is progressing to a better time?" Rabbi Greenberg said. "Believe it or not, 80 percent of the students said we're moving forward."
Greenberg insists the message from the Jewish community is clear: "Our community is strong and proud, and we don't walk around as victims."
The irony of recent anti-Semitism isn't lost, with Greenberg reiterating the holiday's main message of uplifting freedom of religion at a time when many cultures and people, not just Jewish, are being targeted for their beliefs. Misconceptions about Jewish history and faith serve as a foundation for hatred, according to Greenberg, who points to education and outreach as a way to help accurately portray the faith's principles.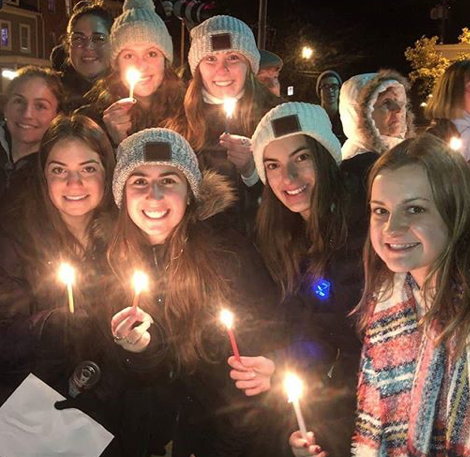 Members of the Miami Jewish community hold candles during the campus menorah lighting (photo by Miami University Chabad).
Bernstein and Reuter agree.
"What we need to do more of is teach other non-Jews," Bernstein said. "But it's on both of us. No matter how many times we invite students to come into Chabad, Hillel or JHP, it's about whether they want to come."
The last few days of Hanukkah at Miami will be filled with events in and around the community. Students of all faiths are invited to attend and experience the aspects of this special holiday, regardless of religion. Students can also come to enjoy the traditional food and engage in meaningful experiences.  
"We believe in a welcoming community that thrives on everybody feeling included and loved within it," Reuter added.