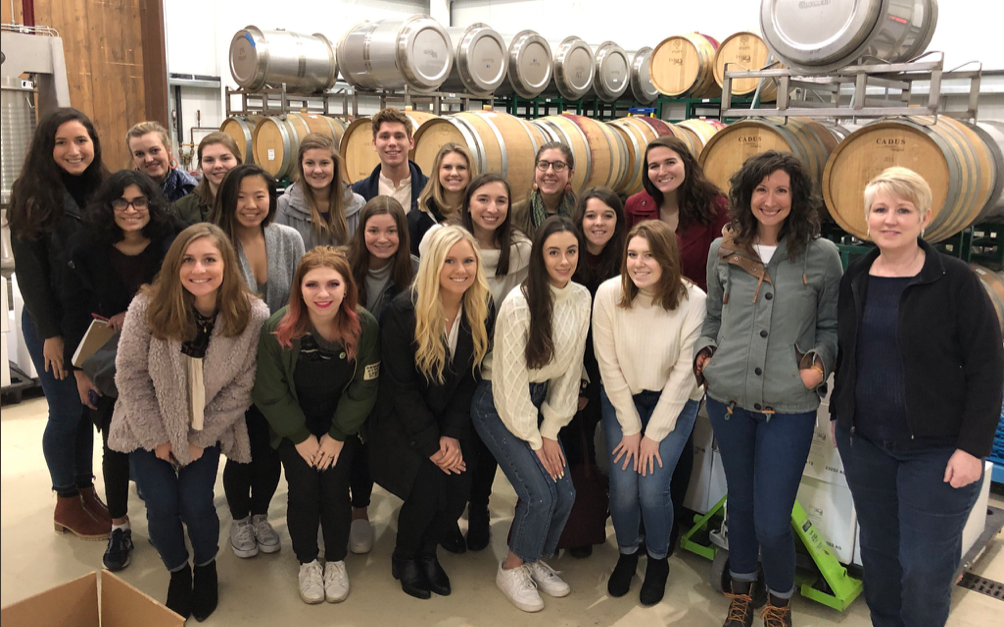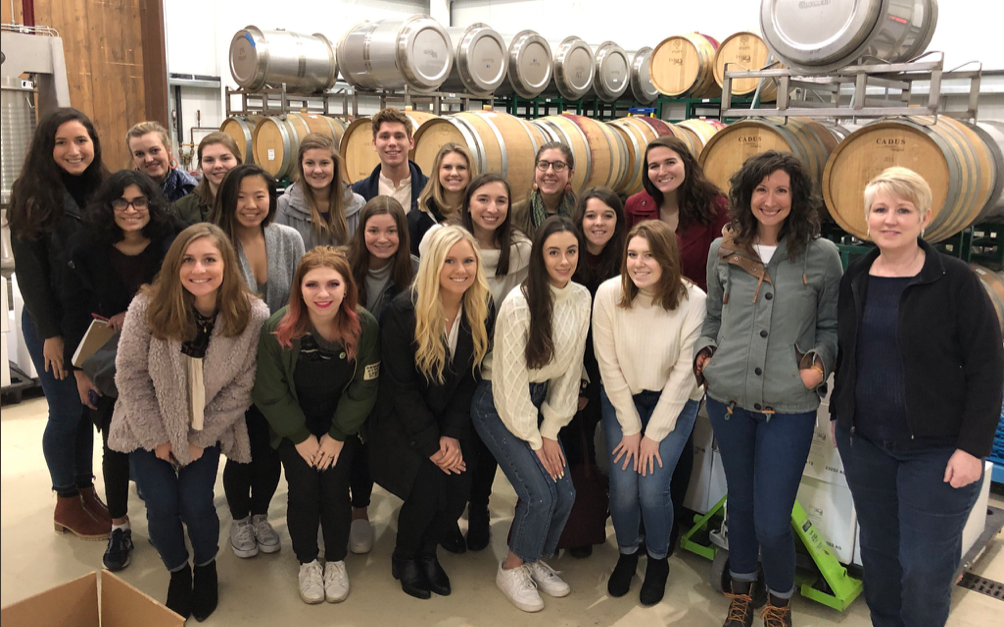 Beth Troy (second from right) with her women in entrepreneurship class during a visit with Kathleen Inman (far right) of Inman Family Wines in California.
Photo: Beth Troy
Jan 31, 2019
Designing a future for female entrepreneurs
Did you know?
In 2017, female-led startups received 2.2 percent of total global venture capital funding, while male-led teams received around 79 percent. Seventeen percent of startups had at least one female founder.
The Design Your Life course replicates the No.1 New York Times bestseller Designing Your Life: How to Build a Well-lived, Joyful Life.
The Institute for Entrepreneurship at Miami's Farmer School of Business has students from more than 114 majors enrolled in entrepreneurship courses.
New course combines powerful women and personal goals
by Shavon Anderson, university news and communications
 
At 20 years old, Summer Crenshaw (Miami '03) was on a clear-cut path to her career. She was already working in public relations as an undergraduate at Miami University, touring with chart-topping bands and running national marketing campaigns in the entertainment industry.
 
Then, family tragedy kept her home in southwest Ohio after graduation. She joined a startup and, after getting a feel for entrepreneurship, eventually launched her first two companies. In 2008, one of those companies failed. Life circumstances sent her back to the corporate world while she worked multiple jobs to support her family and build the foundation for her next venture.
 
"I had to pivot in order to prosper," Crenshaw said.

Now a successful entrepreneur, Crenshaw shared how she did it with current Miami students. It's likely not the story they imagined, but reality is what they came for.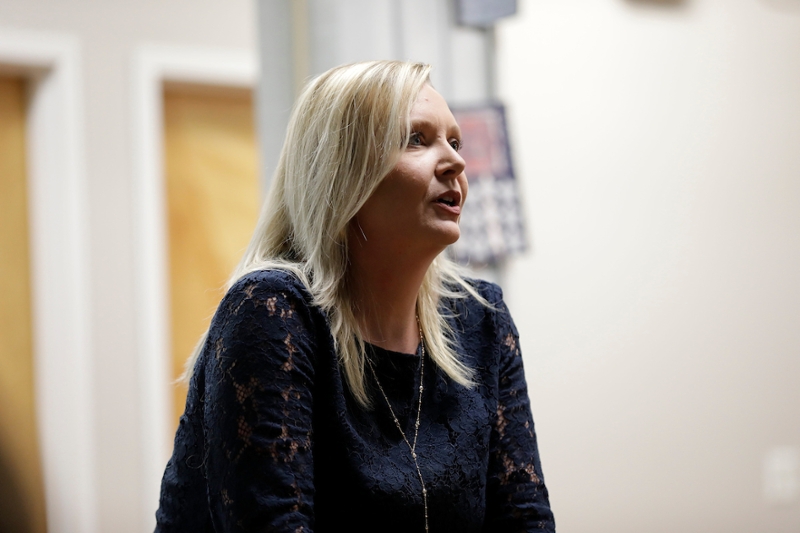 Tilr cofounder and COO Summer Crenshaw (Miami '03) photo by Jeff Sabo.
The class of 18 from Beth Troy's women in entrepreneurship course traded winter break for a new program that promised a chance to get inside female-driven companies and hear the truth. Crenshaw delivered, detailing the journey before cofounding her Cincinnati startup Tilr in 2015.
 
Troy, instructor of creativity and women in entrepreneurship, wants stories like Crenshaw's to resonate. She wants her students to see that goals, priorities and industries change over time, and it's often out of our control.
 
"When those changes come, people start to think something was wrong with them or they didn't plan carefully enough," Troy said.
Most of her students can't picture life postgraduation. So, when an opportunity came for her to create an innovative course for women, she figured the fastest way to expose them to reality was taking them to the source.
The future is female
Stories of setbacks and success are common for corporate women. In the entrepreneurial world, Troy heard them for years.
In spring of 2018, she started laying out a plan for a program that would tackle industry issues. She brought students onboard, pushing them to form a course based on what they wanted to get out of it. Sophomore Lily Thaler helped develop plans with Troy over the summer. Thaler had Troy as an instructor during her freshman year.
"We both had a shared connection for finding our path and finding your passion," Thaler said. "Whether that [passion] is starting your own company or being very innovative within an existing space."
 
Troy and a team of students created the Design Your Life winter term course by late 2018. The experience takes students across Oxford, Cincinnati and San Francisco to connect with dozens of female founders and corporate leaders. It focuses on understanding the internal and external barriers those women face.

"It's another way to teach, it's another way to learn," Troy said. "Students are learning entirely through interactions."
 
The class heard from high-profile women who gave insight into how they started their careers and how they handled inevitable challenges. They got an up-close look at business operations from startups to large companies and funneled that information into a final project: creating three alternative versions of the next five years of their lives.
 
"We're identifying our key values, what we enjoy in different aspects of our life, our work, leisure and health," said sophomore Connor Moreton. "We're making sure that life view is aligning with our career and our future."
 
Moreton, the only male in the course, helped create the student-led organization AWE, Advancing Women in Entrepreneurship. AWE launched in August of 2018 and is the organization leading the winter term program.
 
Moreton prides himself on learning to be a stronger ally in the fight for diversity.

Envisioning what life could be
Think back five or 10 years. What did you envision your life to be? How has that vision changed?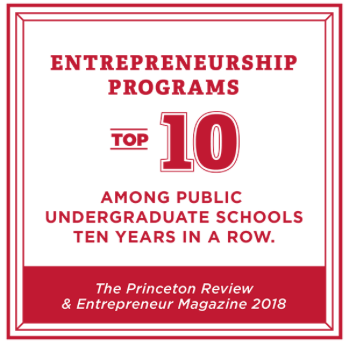 Laying out a life plan takes imagination and preparation. Troy admits the two aren't failproof. Her course isn't about bypassing failure or setbacks. It's about expecting them, facing them and shifting focus by drawing on other skills. It's what Crenshaw did in the years leading up to the launch of her now multimillion-dollar company where she is now chief operating officer.
 
"If you don't know your path, that's fine," she said. "You just need to take a step forward and explore."
 
As Troy's students start the semester, they'll have the tools needed to measure their own possibilities. They'll also understand that entrepreneurship is not one, but many –many faces, many industries, many lifestyles and many choices.
***
Summer Crenshaw is one of the newest members of Miami University's College of Arts and Science Alumni Advisory Board. The board was formed in 2002 to provide advice, counsel, and assistance to the leadership of the college.