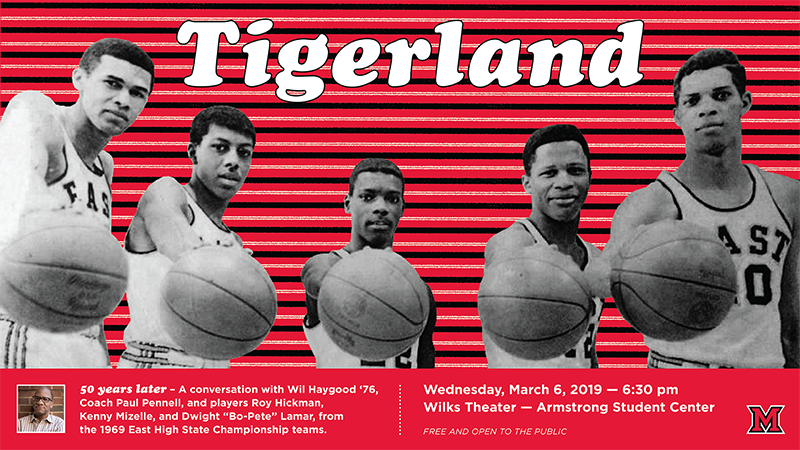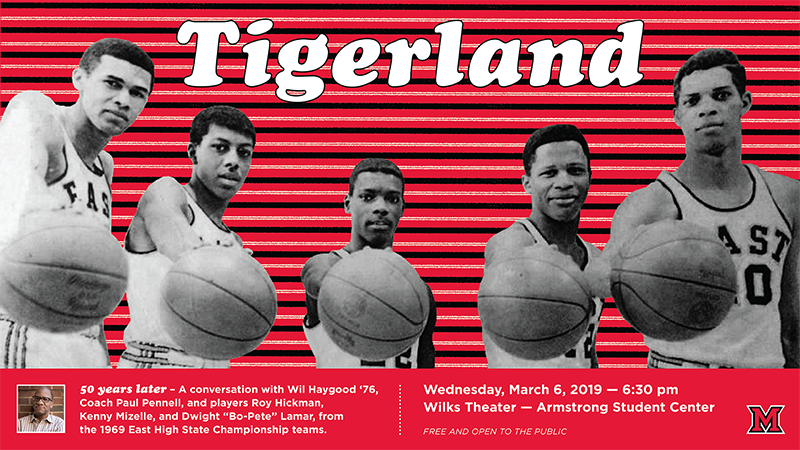 Feb 26, 2019
"Tigerland, 50 years later": Hear from author Wil Haygood and a coach and players of the 1969 East High state championship teams
Southwest Ohio has an opportunity to hear from Wil Haygood, (Miami '76), award-winning author, and some of the subjects of his critically acclaimed book, Tigerland: 1968-1969: A City Divided, A Nation Torn Apart and a Magical Season of Healing, when he and some stars from the 1969 East High teams speak at Miami University, Wednesday, March 6.
Haygood, the Boadway Distinguished Scholar-in-Residence in Miami's department of media, journalism and film, will be joined on stage by four people from the 1968-1969 season: players Roy Hickman, Dwight "Bo-Pete" Lamar and Kenny Mizelle and head baseball coach, Paul Pennell. The day before, Haygood speaks at Oxford's Lane Public Library, 441 S. Locust St.
The two events are free and open to the public:
6:30 p.m. Tuesday, March 5, "An Evening with Wil Haygood" at Lane Public Library, Oxford.
6:30-8 p.m. Wednesday, March 6, "Tigerland 50 Years Later" with Wil Haygood and East High Coach Pennell and players Roy Hickman, Dwight "Bo-Pete" Lamar and Kenny Mizelle at Wilks Theatre in Miami's Armstrong Student Center.
Tigerland is an inspiring story of two teams from a segregated high school in Ohio who in the midst of the racial turbulence of 1968-1969 won the state basketball and baseball championships in the same year. 
It was the summer reading book for Miami's first-year students, who received it in an exclusive early release. Haygood addressed them and others at Miami's Aug. 24 convocation.
Haygood, a Columbus native, remembers seeing the teams play.
"The story reached out to me from my past," he said. "It kept asking me to dig deeper and deeper into the fabric of our nation's past. Although it's about winning against stiff competition, it's also a cultural history of our country."

Since the book's official publication in October, The Washington Post placed it on its list of the 50 Best Nonfiction Books of the Year.
Haygood has been speaking to crowds around the country. In addition to the two free public talks, Haygood also will teach classes and meet with students, faculty and staff the week of March 4-8.
A former writer for The Boston Globe and The Washington Post, Haygood penned the story "A Butler Well Served by this Election" for The Post. The article became the basis for the award-winning 2013 film "The Butler" and for Haygood's New York Times' best-selling book of the same name.