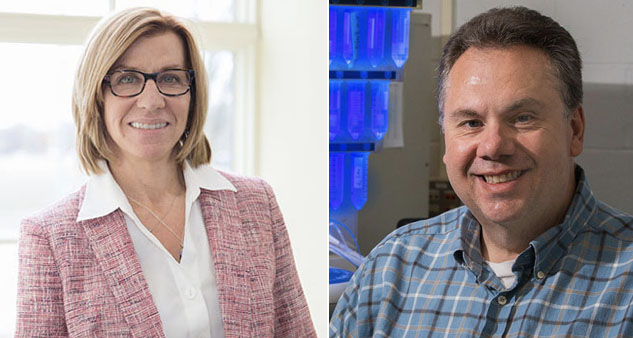 Mar 15, 2019
Lisa Ellram and Gary Lorigan each named University Distinguished Professor
By Susan Meikle, university news and communications
Lisa Ellram, the James Evans Rees Distinguished Professor of Supply Chain Management, and Gary Lorigan, the John W. Steube Professor of Chemistry and Biochemistry, have been awarded the title of University Distinguished Professor by Miami University's board of trustees, effective July 1.
Established by the trustees in 1981 to attract and retain eminent professors, the title includes an annual stipend for conducting research and other professional activities.
University Distinguished Professors have national and international stature with demonstrated recognition and projected high level of scholarly productivity in the future.
The call for nominations for the University Distinguished Professor Award is issued every other year, alternating with the Distinguished Service Award. 
Lisa Ellram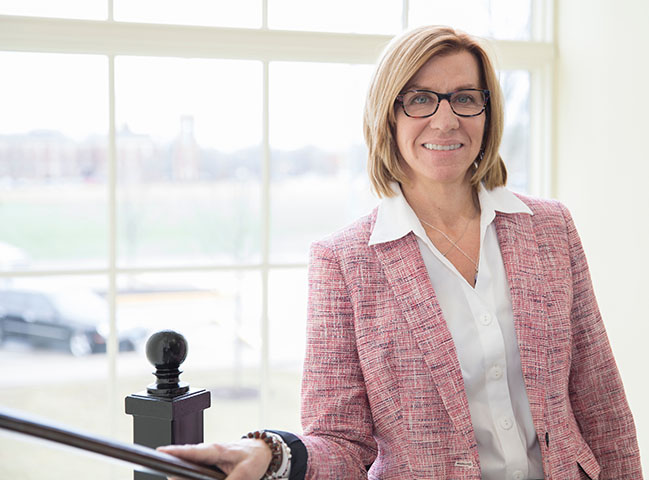 Within her field of supply chain management, one would be hard-pressed to find a better-known or more cited scholar than Ellram, her nominators said.
She was among the first researchers to apply theory to the concept of supply chain management and bring it into the academic literature.
In recognition of her pioneering efforts, she was featured in the 2017 book The Grand Authors in Logistics and Supply Chain Management with the chapter, "Lisa M. Ellram. A pioneer of theory of Supply Chain Management."
She continues to "challenge the frontiers of the discipline, working on sustainability in the supply chain as well as the supply chain of service industries," a nominator wrote.
With more than 26,000 Google Scholar citations, her scholarly influence is vast. She works extensively with scholars from across the world, lending her work a holistic and global perspective, her nominators said.
Ellram has presented her work in more than 25 countries and has been a visiting scholar at six international universities.
Over the course of her career, she has published more than 100 peer-reviewed journal articles. She served as co-editor-in-chief of Journal of Supply Chain Management from 2007-2016. She is currently senior associate editor of the Journal of Purchasing and Supply Management. 
"We are fortunate to have such a world-class scholar and devoted educator on our faculty," a nominator said.
Ellram is "credited by many students with truly opening their eyes to the professional world they are preparing to enter. Her classes combine high-level content with practical, real-world applications," a nominator said.
Ellram received her doctorate from Ohio State University in 1990 and taught at Arizona State University from 1990-2006. She served as chair of the department of management and Allen Professor of Business at Colorado State University from 2006-2008. She joined Miami in 2008.  
She received the 2018 Distinguished Scholar Award for a faculty member in business, education and social sciences. 
Follow her on Twitter @SupplyChainLisa. 
Gary Lorigan
Lorigan is internationally recognized as a leader in the field of membrane protein structure. He and his research group have pioneered strategies to characterize membrane proteins by using magnetic resonance techniques, such as electron paramagnetic resonance (EPR) and nuclear magnetic resonance (NMR) spectroscopies.
His research program focuses on membrane protein channels that are directly related to heart disease. 
Research
"By all measures, he is one of the most successful and accomplished researchers in our department's history, " his nominators said. 
Since 1998, he has published 118 peer-reviewed manuscripts in top-tier chemistry/biochemistry journals. Eight of these papers were selected as "hot topic" or "cover" articles for the journal issue in which they were published.
His research is currently funded by more than $3.5 million in grants from the National Science Foundation (NSF) and the National Institutes of Health (NIH).
Since 1998, he has been awarded more than $5.5 million in research grants and he has been a lead PI or co-PI on equipment grants totaling more than $2.9 million.
His research funding is comparable to funding of the best faculty at large research universities, his nominators said. "It is important to note that only five- to ten-percent of most federal grant proposals are being funded, and the competition in Lorigan's field of biophysics of membranes is particularly fierce."
Last summer he was awarded a prestigious Maximizing Investigator's Research Award (MIRA) of more than $1.8 million from the National Institute of Health —  a first for a researcher at Miami.
Lorigan has served on many grant panels at NSF and NIH, and he was a permanent member of the NIH BBM (Biochemistry/Biophysics of Membranes) study panel. Serving as a permanent study panel member on an NIH panel is a first for any faculty member in the department of chemistry and biochemistry and is a testament to his standing in the biophysical community, his nominators said.
Mentoring
Lorigan is a popular and effective mentor for students and young faculty. 
He has mentored more than 100 undergraduate independent-study students, 19 graduate students, and eight postdoctoral associates.
His former undergraduates have received three NSF Predoctoral fellowships, two Goldwater Scholar awards, two Astronaut scholarships, five Beckman scholarships and one USA Today College Academic Team Award.
69 of Lorigan's publications have undergraduate co-authors.
His graduate students have co-authored more than 70 peer-reviewed publications and more than 100 posters with him, and go on to outstanding postdoctoral positions, his nominators said. 
He has served as faculty mentor for six new tenure-track faculty members in the department. 
Lorigan is the director of the Ohio Advanced EPR lab and led an expansion of Miami's EPR facilities, which now have three industrial clients.
Teaching 
Lorigan is one of his department's best teachers, his nominators said. "Physical chemistry lecture courses are considered to be some of the most challenging courses in our major; however, year after year Lorigan receives some of the highest student evaluations in the department."
He updated a physical chemistry lab course into one that focuses on modern instrumentation and theory. Many of the new experiments he created were published in the Journal of Chemical Education and are used by other universities across the country.
He modernized the lab through grants awarded to purchase most of the equipment for the lab course, according to his nominators.
"Our undergraduate majors do experiments using magnetic imaging resonance (MRI), pulsed electron paramagnetic resonance (EPR) spectroscopy, and MALDI- TOF mass spectrometry.
"This is exceptional because there are very few undergraduates in the world who actually get to use instruments like these while in college, and due to Lorigan's efforts, all of our majors who enroll in our physical chemistry lab course have hands-on experience with these instruments.
This is just one of the many ways that he has improved the competitiveness of Miami chemistry and biochemistry undergraduates in the work force," his nominators said. 
Lorigan "epitomizes the ideal of the Miami teacher/scholar, and he serves as an outstanding role model for young and older faculty members and students at our university," his nominators said.
Among other awards, Lorigan received the 2014 Distinguished Scholar Award for a faculty member in the applied and natural sciences.