Mar 14, 2019
Miami graduate school programs rank among the best in the nation

Miami's part-time MBA program is housed at the university's Voice of America Learning Center in West Chester.
Two Miami University graduate programs are in the top 100 of U.S. News and World Report's 2020 edition of Best Graduate Schools rankings.
Each year U.S. News ranks professional school programs in business, education, engineering, law, medicine and nursing, including specialties in each area. The data for the rankings in all six disciplines come from statistical surveys of more than 2,054 programs and from reputation surveys sent to more than 22,018 academics and professionals, conducted in fall 2018 and early 2019.
The part-time MBA program at Miami's Farmer School of Business ranks 81 and the education graduate program ranks 110.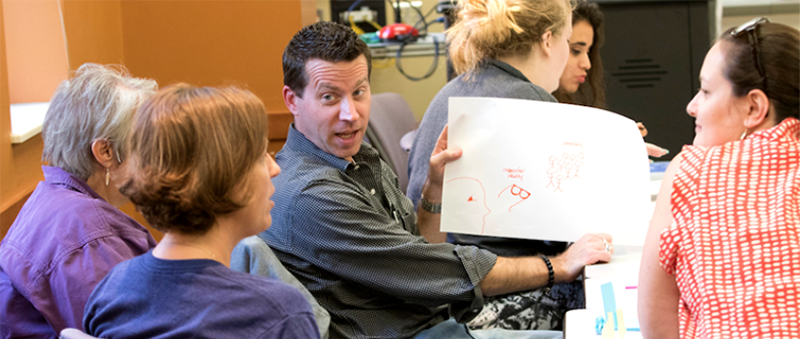 Graduate studies in education offer a wide variety of programs.
U.S. News also periodically ranks programs in science, social sciences and humanities, health and many other areas based solely on academic experts' ratings.
Miami's graduate programs have ranked in the top 100 in recent years and include: speech-language pathology at 69, English at 77, earth sciences at 90 and history at 98.
Speech-language pathology
Graduate students in Miami's speech-language pathology program develop both theoretical and applied scientific skills in the prevention, assessment and treatment of communication disorders.
English
Miami's English graduate program offers three master's degrees with concentrations in creative writing, composition and rhetoric, and literature; an MAT through the Ohio Writing Project; two doctoral programs in composition and rhetoric and in literature, and a low residency master's of fine arts in creative writing.
Part-time MBA
The Farmer School of Business' part-time MBA program, launched in 2009 at Miami's Voice of America Learning Center, ranks as a top 100 part-time program for the seventh straight year. It is a two-year program offered on weeknights for experienced professionals.
Earth Sciences
Miami's Earth sciences graduate program offers three programs for advanced study leading to a master's of arts, master's of sciences and a doctoral degree. Graduate students can choose a wide range of research emphases, such as isotope geochemistry, tectonics and structural geology, and mineralogy and crystallography.
History
The master's program in history is selective and flexible. Students benefit from opportunities offered by the Humanities Center, the Havighurst Center for Russian & Post-Soviet Studies, interdisciplinary programs such as American studies and women's and gender studies, overseas language programs, and strong humanities departments.
Other Miami graduate programs noted for quality in the rankings in recent years include clinical psychology, 102; psychology, 112; chemistry, 122; biological sciences, 159; and Miami-Wright State program in health school specialty areas, 196.