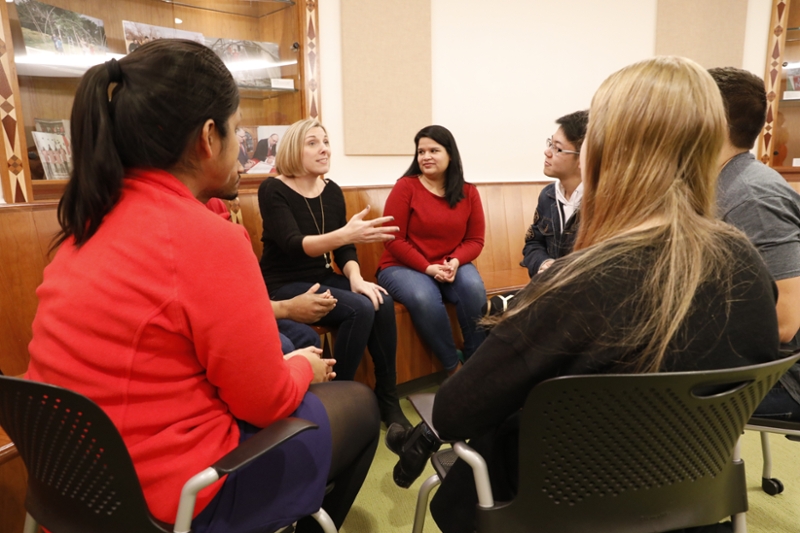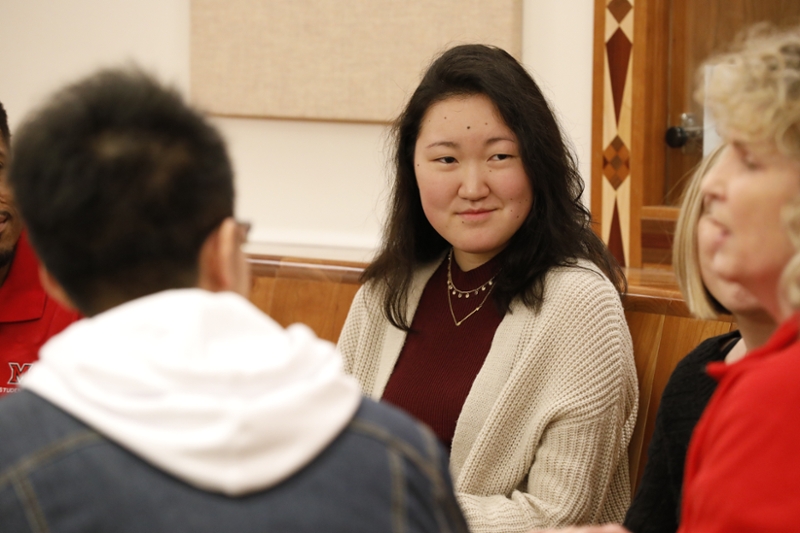 A group of Miami students meet to participate in a Voices of Discovery: Intergroup Dialogue session.
Photo: Jeff Sabo
Apr 25, 2019
Pilot program uses constructive conflict to shape students' global view
by Shavon Anderson, university news and communications
 
Rule number one: Confidentiality. What is shared will stay here and only what is learned will leave here.
 
It's one in a set of 15 guidelines that make up the foundation for Voices of Discovery: Intergroup Dialogue, a three-credit pilot course run by the Center for American and World Cultures that invites students to reveal their personal beliefs and breakdown complexities surrounding topics like race, religion, identity and spirituality.
 
There's no judgement, just discussion. Honesty fuels the conversation, and a willingness to understand perspectives moves the course forwards.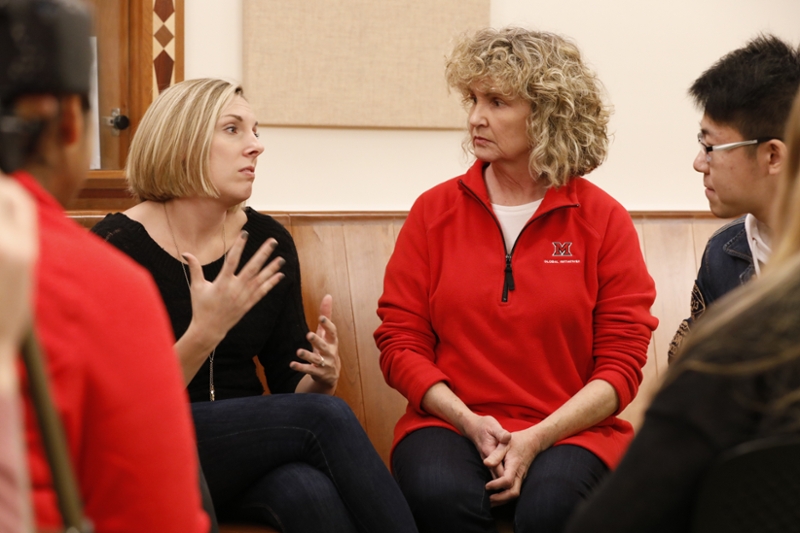 Tarah Trueblood (center) helps facilitate a pilot Intergroup Dialogue session (photo by Jeff Sabo).
Intergroup Dialogue is what Tarah Trueblood, the center's director, calls a crucial piece in Miami University's overall plan of incorporating more diverse, transformative experiences across campus. With national debate over free speech and intellectual diversity, Miami hired Trueblood to roll out a comprehensive program that provides constructive conflict and prepares students to participate in a global community.
 
"Talking with their peers, students start to see how their lives have been different on a daily basis," she said.
There are four sections within the Intergroup Dialogue track. While each section can explore a scope of themes, three of the sections this semester are on race and ethnicity because it drew the highest demand from students. The fourth section explores international and American identity.
Each section welcomes a small group of 10-18 students and two facilitators. There's effort put into making sure the entire group reflects cultural balance.
 
Manesha Tarachand, an international studies major and current participant, highly recommends the course.
 
"This class allows for a safe space where controversial issues such as social identities and race are discussed with a set of guidelines, positive dialogue and critical thinking," she said.
Backed by research
Trueblood, who created similar programs on other college campuses, points to decades worth of research showing how the Intergroup Dialogue format improves overall campus climate through learning.
 
As an educational method, it engages students to discover issues of diversity and inequality and their personal and social responsibility for building a more inclusive society.
 
"The world is changing, and students absolutely need these skills to succeed," Trueblood said. "They have to be able to work with people who aren't like them."
 
The learning isn't exclusive to the course's participants. Kpandi Lumeh and Sam Hunt, both graduate students and section co-facilitators, value the experience.
 
Lumeh often feels drawn into the talks.
 
"I find myself relating a lot to what the group says, but then I hold myself back because I recognize this space as a time for them to learn and grow," she said.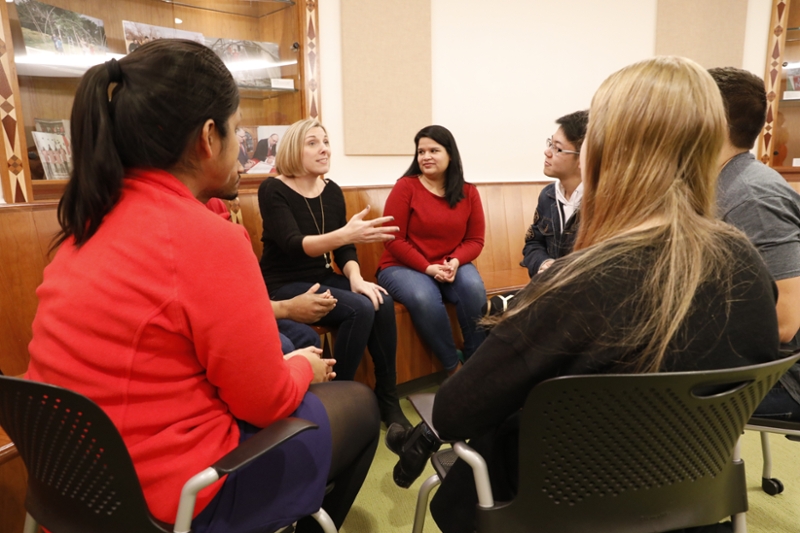 An Intergroup Dialogue session meets inside MacMillan Hall (photo by Jeff Sabo).
Hunt feels similarly as he works to find a balance between being an effective moderator and an active participant.
 
"It's been challenging, rewarding and ever-evolving," he said.
Approval and expansion
Trueblood applied to make Intergroup Dialogue a permanent course as part of the Global Miami Plan starting this fall.
 
Until the full course gets approved, she points interested students to the program's webpage for more information.
 
Students can sign up for the co-curricular course, Intro to Voices, if they work with a partnering faculty member who offers course credit for participation. The co-curricular program fulfills about 25 percent of the requirements of a full-credit course and involves short readings and fewer meetings.
 
Once implemented, Trueblood wants to see between 500 and 600 students go through the program over the next few years.
 
Meanwhile, Miami's Center for Teaching Excellence accepted Trueblood's proposal to fund a 2019-2020 Faculty Learning Community called Intergroup Dialogue for Miami Faculty, Staff, and Administrators.
 
The format involves peer-facilitated groups that engage in dialogue across social identity differences. The goal is for the model to be incorporated within various curriculum.
 
 The Faculty Learning Community starts in the fall.