Voices Intergroup Dialogue
What is Intergroup Dialogue?
Intergroup Dialogue (IGD) is a model of peer learning that involves semi-structured face-to-face meetings across social identity groups, discussion of relevant reading material, and exploration of group experiences in social and institutional contexts. The goal is to create a setting in which participants engage in open and constructive dialogue and explore issues of intergroup relations, intellectual diversity, free speech, conflict, and community. In the process, participants learn about themselves and peers with different social identities while gaining valuable skills in cross-cultural communication and team-building.
How can it help?
New knowledge, awareness, mindsets, and active listening skills acquired through the practice of IGD serve to help individuals communicate better at school, in the classroom, and on the job.
IMPACT Miami's campus climate.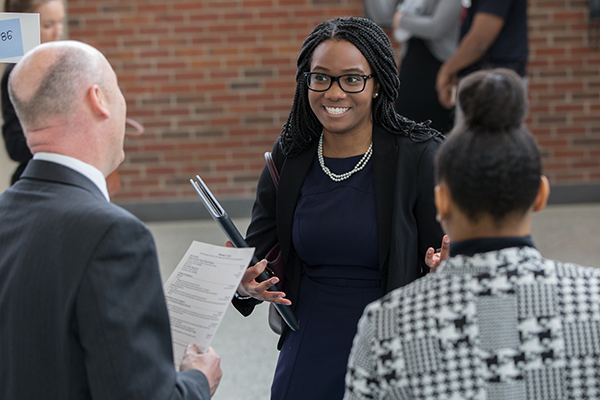 STAND OUT during internship and job interviews.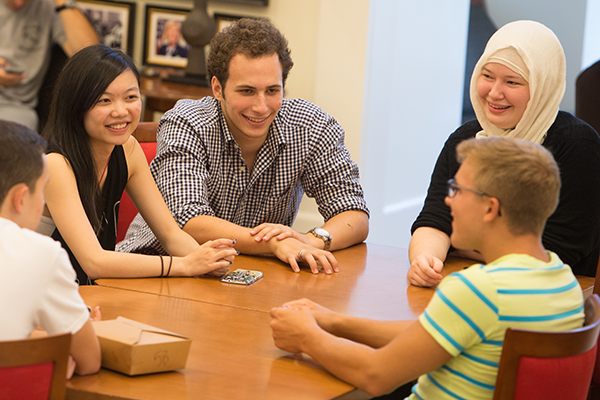 STRENGTHEN your global perspective.
SHARE your story and experiences.
Get Involved
Miami Students
IDS 253 (3 credits) Voices of Discovery: Intergroup Dialogue
Spring 2020 (CRN #: 86703): Meets Wednesday evenings during Q Sprint Term, 4:25 to 7:35 pm.
Intro to Voices Co-Curricular Program
Intro to Voices (ITV) is a free, 8-week co-curricular version of Voices of Discovery. Only students in courses sponsored by a faculty member offering credit for completion of ITV are eligible.
ITV features:
Two hours of co-facilitated, peer dialogue once per week for 8 weeks during the W sprint term (last 8 weeks of the semester). Students choose Monday, Tuesday, or Wednesday evening from 6:00 to 8:00pm;
Short reading assignments; and
Credit awarded for successful completion of ITV via a sponsoring course.
Register Now
Miami students in a faculty-sponsored course may register for ITV.
If your course is not currently registered for ITV, students can ask faculty members to register a course for ITV sponsorship by sharing this information.
Faculty Sponsorship
All Miami faculty members are eligible to embed the co-curricular version of Miami's Intergroup Dialogue program, Intro to Voices (ITV), into their 2019-20 course/s (graduate and undergraduate). The Center for American and World Cultures (CAWC) offers ITV at no cost to faculty or students.
Complete 3 simple steps to register your course!
1. Offer
Decide what course credit/points you will offer students if they successfully complete ITV.
Examples include:
Credit in lieu of an exam
Credit in lieu of a group project
Credit in lieu of a community engagement project
Credit in lieu of certain assigned readings
Credit in lieu of required event attendance
Credit via independent study
Some other point/course credit (excluding "Extra Credit")
2. Enroll
Enter your name and course details by Sunday, January 5, 2020.
The CAWC will prepare an editable draft description of the ITV Program tailored for your students including how they will earn credit in your course upon successful completion.
3. Promote
Insert the tailored ITV Program Description into your syllabus.
CAWC will make one classroom visit during the first two weeks of class. In class CAWC will promote the program, answer questions, and share fliers with program details.
Important Dates and Notes:
ITV student registration deadline:

February 10, 2020 (2/16/20 for Q sprint)

.
ITV runs the last 8 weeks of the semester, 6-8 pm (students choose M, T, or W).
CAWC takes attendance and reports it to you weekly.
CAWC provides you with the names of your students who successfully complete ITV and you award credit.
Your students receive suggested resume entry for ITV and a "Certificate of Completion" from CAWC.
Assessment of the Spring 2019 ITV pilot yielded strong positive results.
Learn more about Intergroup Dialogue theory and practice in higher education.
Campus Partners
The Center's Campus Partners for the Voices initiative include: Black World Studies, Educational Psychology, Global Intercultural Studies, Justice & Community Studies, META Collective, Office of Diversity Affairs, Psychology, Residence Life, and Student Affairs in Higher Education.