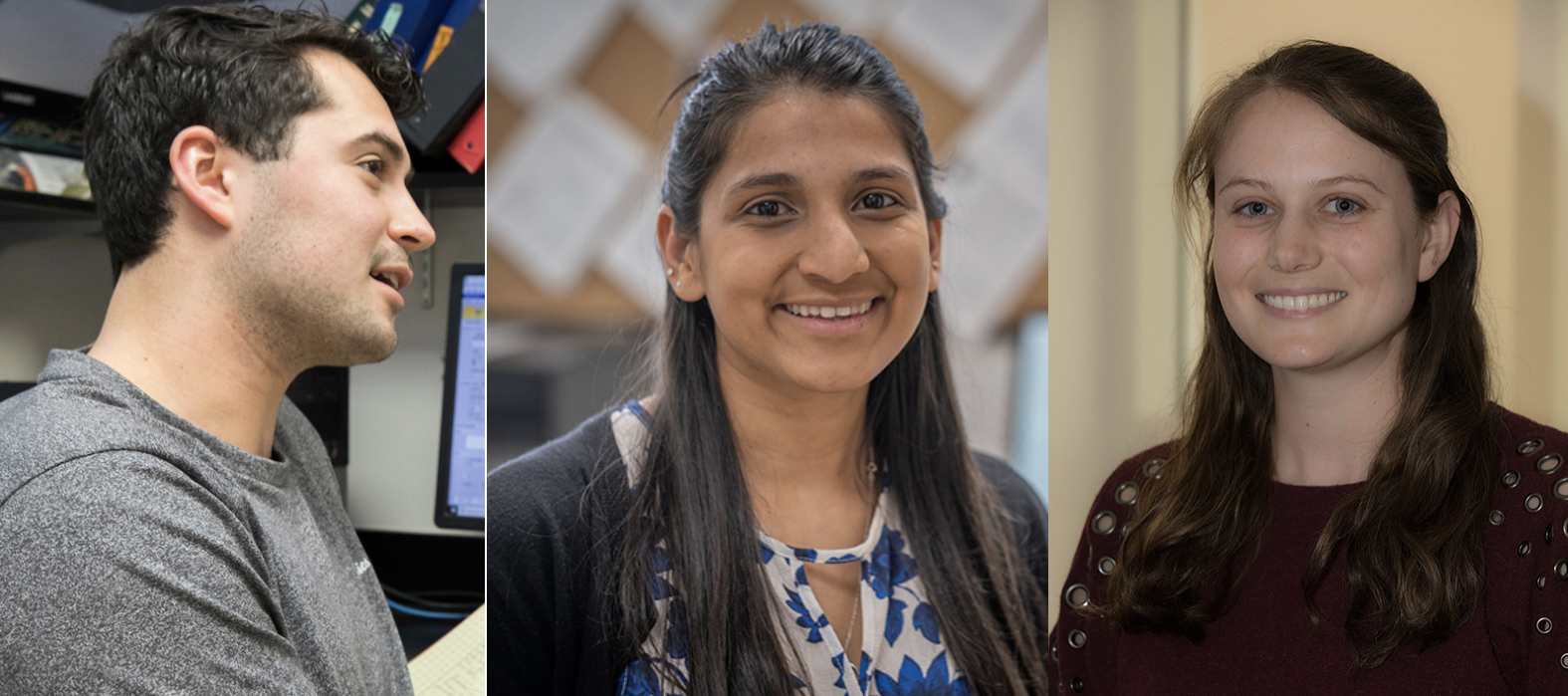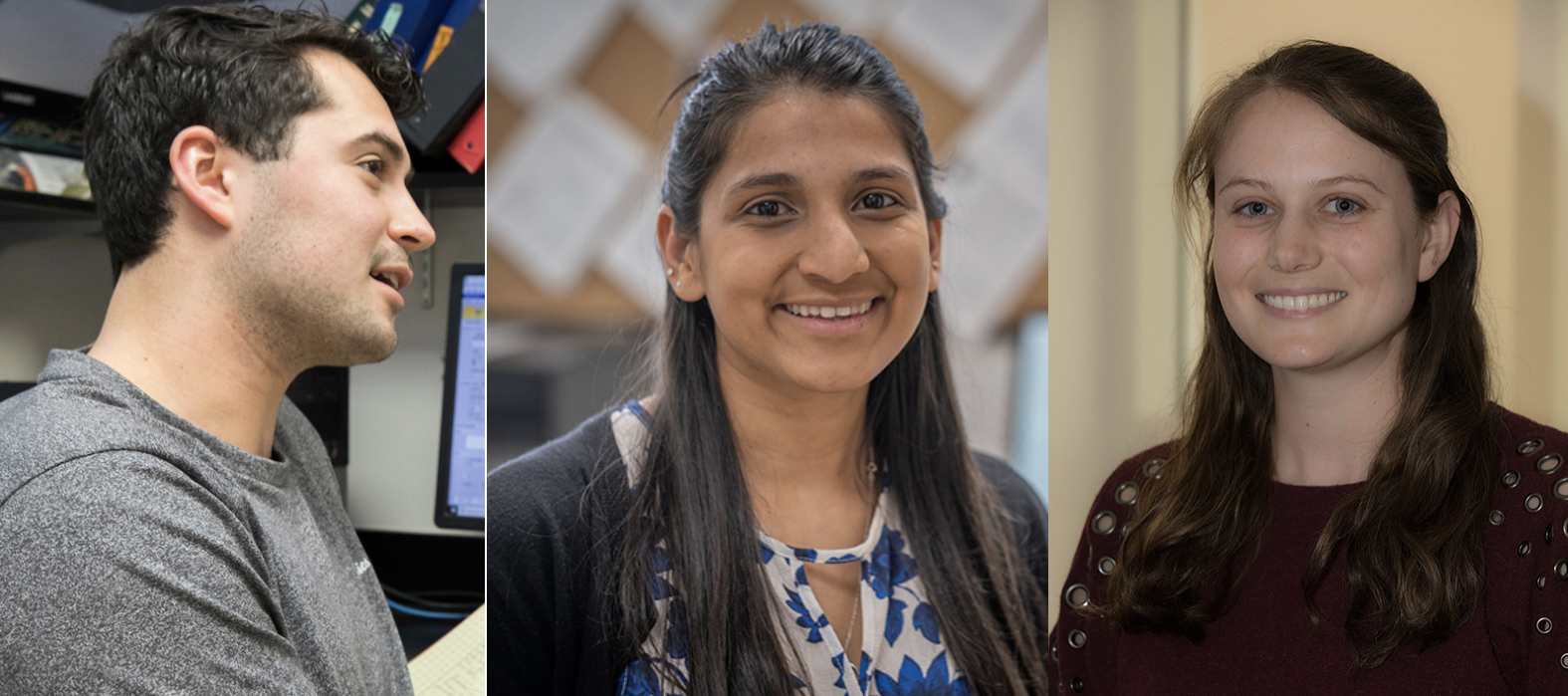 Miami doctoral students (left to right) Jared Tangeman, Akanksha Das and Shelby Ortiz were awarded NSF Graduate Research Fellowships.
Photo: Scott Kissell and Jeff Sabo
May 13, 2019
Three doctoral students awarded NSF Graduate Research Fellowships
By Susan Meikle, university news and communications
Miami University doctoral students Akanksha Das, Shelby Ortiz and Jared Tangeman (Miami '17) have been awarded fellowships from the National Science Foundation's (NSF) Graduate Research Fellowship Program (GRFP).
They are three of 2,000 students nationwide, out of more than 12,000 who applied, to receive the prestigious award.
The fellowship recognizes and supports outstanding graduate students who are pursuing research-based master's and doctoral degrees in science, technology, engineering and mathematics.
It provides three years of support with a $34,000 annual stipend and a $12,000 cost-of-education allowance, among other benefits.
Akanksha Das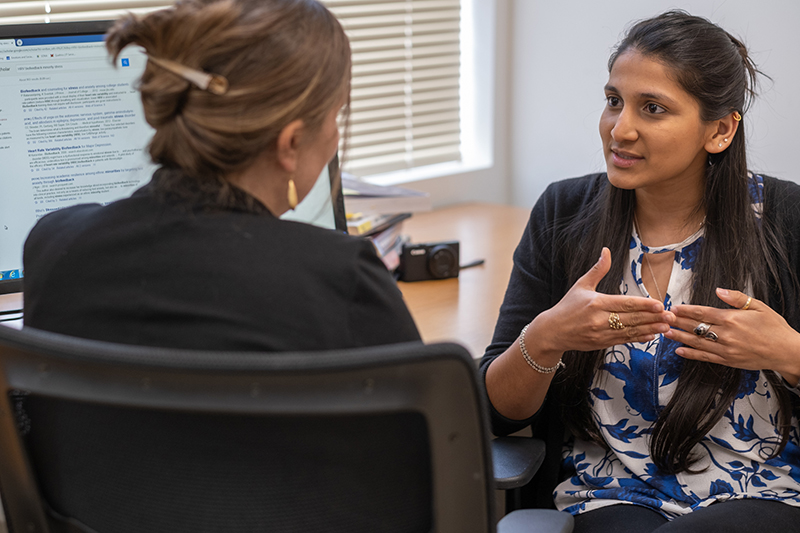 Akanksha Das with Elise Clerkin
Das, a first-year clinical psychology doctoral student, works with faculty adviser Elise Clerkin, assistant professor of psychology, and director of the  Anxiety, Cognition, and Emotion (ACE) laboratory.
Das' research explores leveraging the connection between the mind and body in adapting to stress. In particular, she will examine the effects of minority stress (due to increases in hate crimes, police violence and discrimination) in order to help pave the way for broadly and equitably improving well-being and mental health outcomes, Das said. 
Her research, in collaboration with Clerkin and clinical psychology professors Elizabeth Kiel and Joshua Magee, will investigate the relationship between physiological and psychological self-regulation, as measured by heart rate variability (HRV) and emotion regulation (ER). 
For her fellowship project she plans to build on this study and test whether an HRV biofeedback computer-based program leads to improvements in ER indirectly via increased HRV. These studies will offer vital information on the direction of the relationship between HRV and ER, and its ability to adapt to stress, according to Das.
Biofeedback systems such as these rely on simple, portable technology that requires minimal training for users, Das said. These studies will offer vital information on the direction of the relationship between HRV and ER, and its ability to adapt to stress, according to Das.
"This could be particularly helpful for individuals with marginalized identities who face unique, pervasive stressors in the United States," she said.
Das received her bachelor's degree from Davidson College in 2016. She served as a research assistant at the Anxiety Disorders Center in Hartford Hospital's Institute of Living before starting at Miami last fall.
Shelby Ortiz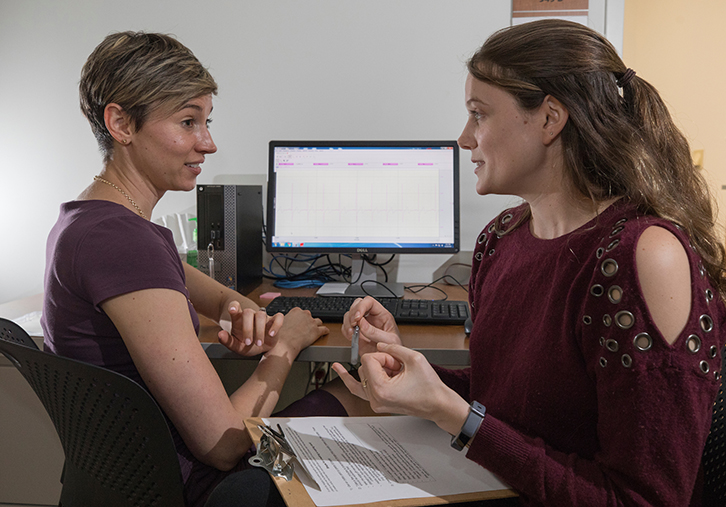 Shelby Ortiz with April Smith
Ortiz, a second-year clinical psychology doctoral student, works with faculty adviser April Smith, assistant professor of psychology, in Smith's Research on Eating Disorders and Suicidality (REDS) lab.
Her fellowship research explores factors affecting the development of eating disorders and studying the effectiveness of treatments such as obesity interventions.
The concept that eating habits are influenced by stress due to limited cognitive resources (such as decision-making ability) is well-supported, according to Ortiz. But less work has investigated individual factors that make someone more vulnerable to this.
Ortiz is investigating one such factor: interoceptive ability (IA), the ability to recognize and correctly interpret one's bodily sensations, such as hunger and satiety.
Her study will examine the relationship between stress, executive functioning (such as controlling inhibitions) and eating in individuals with varying levels of IA.  Can stress compromise executive functioning and lead to overeating? She will test if this path is more pronounced for those who score low on IA.
Positive findings would suggest that incorporating IA training into current obesity interventions may mitigate the pathway from stress to overeating.  IA training teaches mindfulness of physiological sensations and recognizing when one is stressed, reducing the likelihood of negative outcomes.
Ortiz received her bachelor's degree from Wake Forest University in 2014 and served as research coordinator for The Renfrew Center Eating Disorder Treatment Facility in Philadelphia before starting at Miami.
Jared Tangeman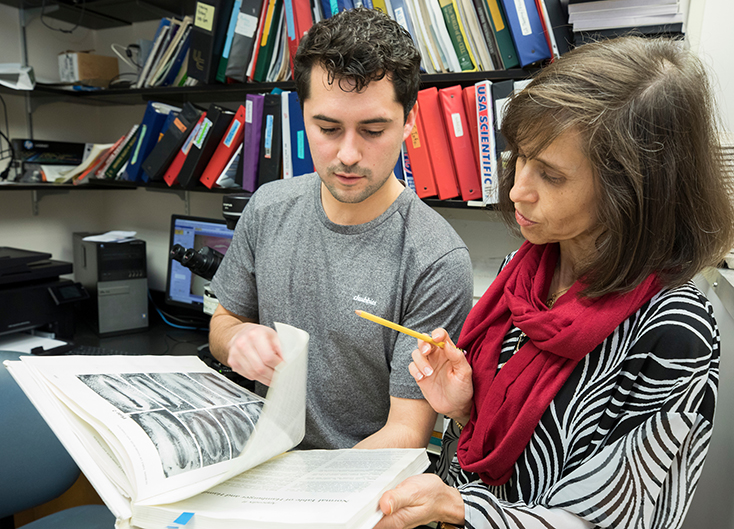 Jared Tangeman with Katia Del Rio-Tsonis
Tangeman, a second-year doctoral student, works with faculty adviser Katia Del Rio-Tsonis, professor of biology, in her retina and lens regeneration lab. 
His fellowship research concerns the mechanisms by which two of the eye's tissues, the retina and retinal pigment epithelium (RPE), are initially formed during development.
DNA encodes all of the genes necessary for building an organism, but for proper development it is important that these genes are turned on in the correct place and at the correct time. One method, DNA methylation, is known to regulate RPE and retina development, but the exact role of DNA methylation in forming these two tissues is unclear, according to Tangeman.
He is using state-of-the-art DNA sequencing technologies to investigate exactly where and when DNA methylation occurs in the genome during eye development. The embryonic chicken is his model organism.
The retina and RPE are susceptible to developmental abnormalities and diseases. A greater understanding of their development will add to the foundation for understanding and treating certain visual impairments, Tangeman said.
Tangeman received his associate's degree from Edison Community College in 2015 and his bachelor's degree in 2017 from Miami, where he was a biology major and neuroscience minor. He conducted undergraduate research with Del Rio-Tsonis before joining her lab as a doctoral student.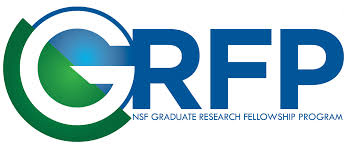 The NSF Graduate Research Fellowship Program is the oldest graduate fellowship of its kind, More than 40 Graduate Research Fellows have later won the Nobel Prize. Its goals are to:  
1. Select, recognize, and financially support individuals early in their careers with the demonstrated potential to be high achieving scientists and engineers, and 
2. Broaden participation in science and engineering of underrepresented groups, including women, minorities, persons with disabilities, and veterans.