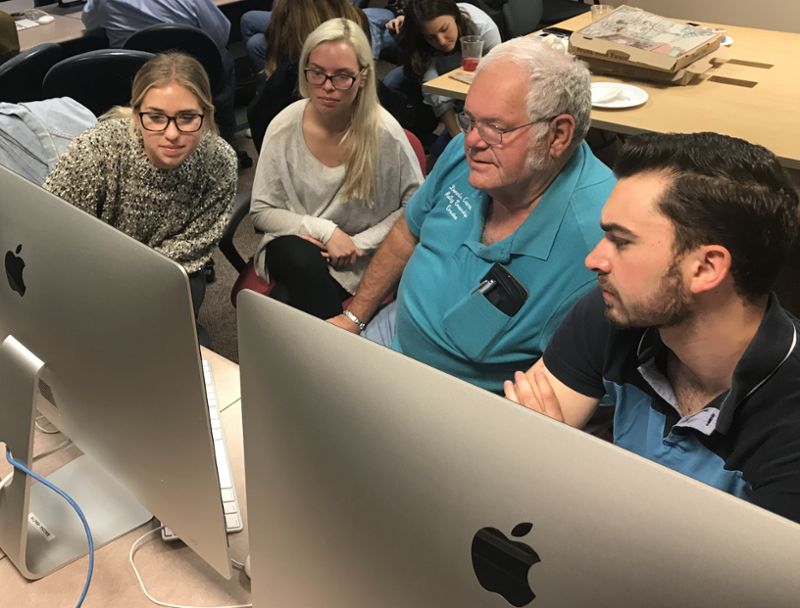 The Reily Township website homepage.
May 12, 2019
Reily Township launches student-created website developed through Miami community collaboration
Special thank you:
The residents of Reily Township.
Dennis Conrad, township trustee and fire chief.
Tim Miller, township trustee.
Nick Schwab, township trustee.
Dianne Halcomb, fiscal officer.
By Shavon Anderson, university news and communications
About 2,700 people live in Reily Township, Ohio. The quiet community houses deep history, vast farmland and tight-knit neighbors whose lives are embedded across 37-square miles.
 
Until now, you couldn't find much information about Reily online. Thanks to a community-university collaboration, the township just launched a new website – researched, designed and written entirely by Miami University students – that serves as an information spot for residents and visitors. The site details everything from community events and photos to emergency services.
 
The idea came from Reily resident Heidi McKee, Miami professor of English. When she realized last year that the township didn't have an online hub, she approached Reily Township officials about partnering on a website project with students enrolled in the fall 2019 professional writing capstone course.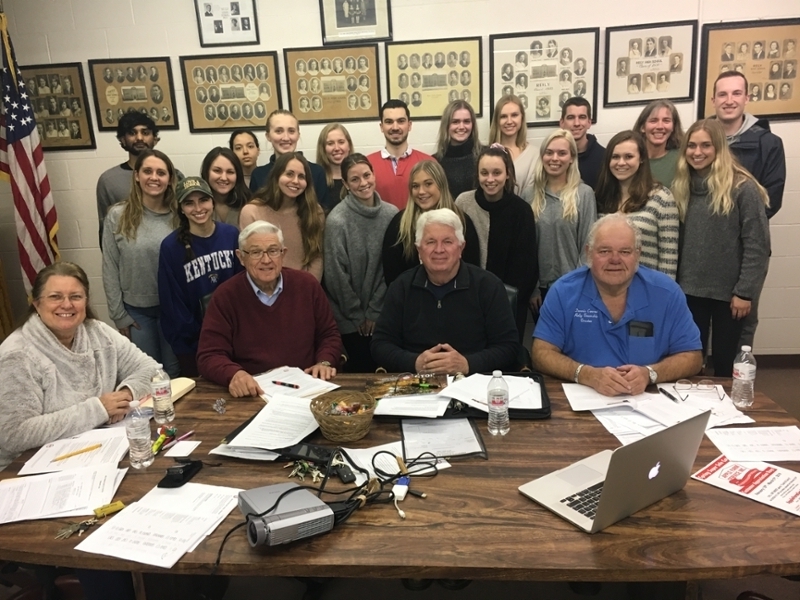 First, students researched other township websites and pulled together a report on potential options for Reily. In February, with a grant from Miami's Career Exploration & Success Center, McKee's class presented their proposal at a Reily Township trustee meeting where they discussed community needs with officials.
Miami students meet with Reily Township trustees and fiscal officer (photo by Emerson Adkins).
"When the students first came in, I couldn't imagine how all of this was going to work," township trustee Nick Schwab said.
 
Schwab realized the project's potential after he saw a draft of the site.
 
"A lot of the questions on the site are questions we get from people every day," Schwab said. "Now, all they have to do is pull it up."
 
"For these people, their community is their life," Miami senior Diego Sepulveda-Aguirre said. "To be able to tell their story through this website, I think we exceeded everyone's expectations." 
A greater responsibility
Michele Simmons, director of professional writing, oversees McKee's class and uses their recent project as an example of how Miami works to increase community collaborations across the region. While collaborations are not new to Miami, Simmons said that the way they impact residents does evolve over time.
 
Whether it's creating digital marketing campaigns or writing grant proposals, she advocates for two main goals: civic engagement and end-user advocacy. That's part of the reason why, for this project, the class didn't solely rely on feedback from elected officials. They also attended Reily's biggest event of the year – the Reily Fire Department & EMS Fish Fry – to survey more than 800 residents on what they needed and wanted from the site.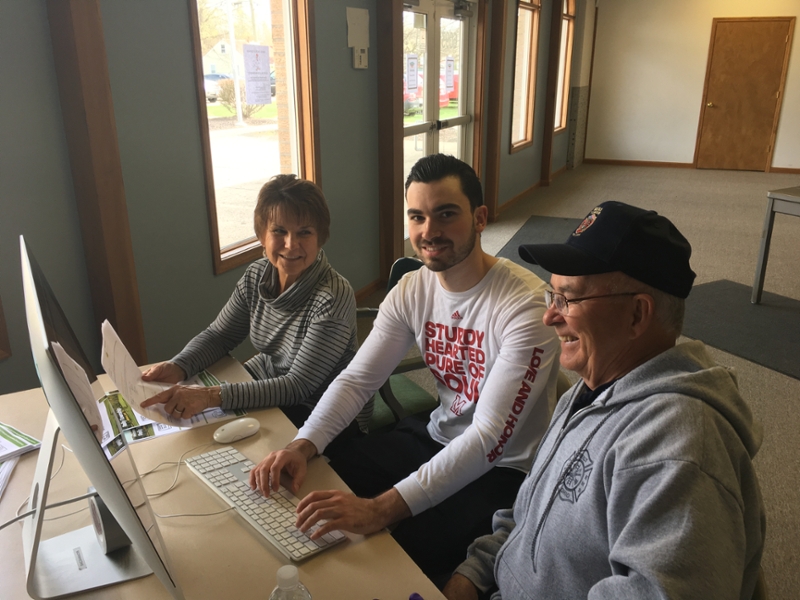 Student Diego Sepulveda-Aguirre goes over the website with Reily residents Kathy Dudley and Emerson Adkins during the township's annual fish fry (photo courtesy of Emerson Adkins).
"In this case, speaking to the community helped pull the site together," Simmons said. "Working in community settings helps us reinforce the notion that it's part of the students' responsibility to work with the public in order to get them involved and engaged."
 
Simmons points to professional development skills gained, like learning to negotiate with clients and researching community issues. Those experiences could soon pay off for senior Paige Bremner as she continues interviewing for jobs after graduation.
 
"They [potential employers] have been excited to hear about this as an experience and to think about things that I know like search engine optimization, building content for a specific audience and working with a real client," she said.
 
Reily trustees will be responsible for updating the site and its content moving forward. Ever prepared, the professional writing class created a 60-page step-by-step guide to make the handover seamless.
 
"In my 38 years, this is one of the best projects that I've seen done for our township," trustee and fire chief Dennis Conrad said.