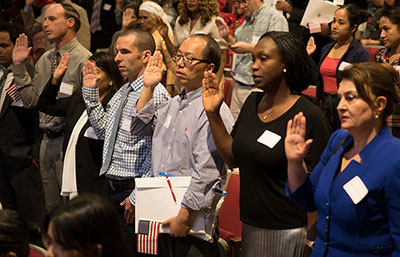 99 new citizens took the oath of citizenship at the naturalization ceremony during Democracy and Citizenship Week last year at Miami University Hamilton's Parrish Auditorium.
Photo: Jeff Sabo
Sep 12, 2019
Constitution Day, Citizenship and Democracy Week celebrated Sept. 16-20
Siblings from 1969 free speech case to speak, naturalization ceremony planned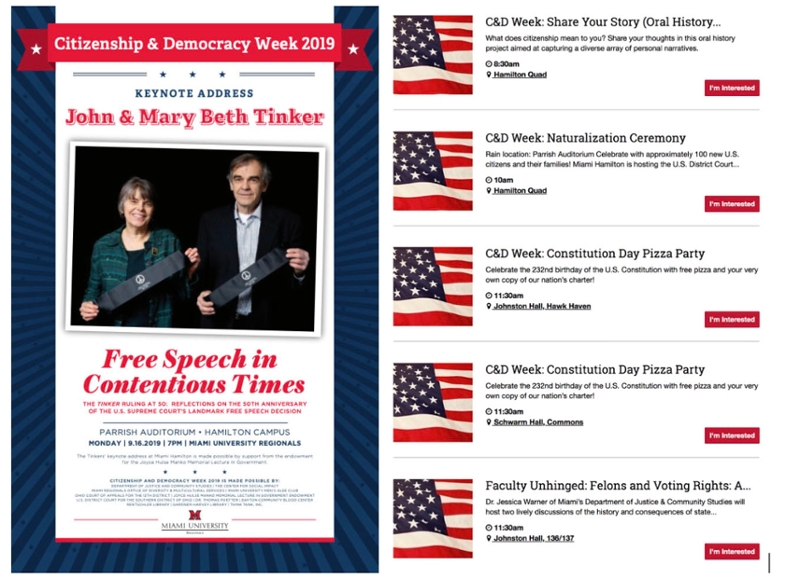 Visit Miami's new interactive events calendar to get reminders of events (click on "I'm Interested"), share to social media or download to your personal calendar.
Miami University will host a number of events on its campuses for Constitution Day on Sept. 17 and the Miami Regionals' Citizenship and Democracy Week.
The week's events — free and open to all — provide Miami students and local residents with a broad range of opportunities to learn about American democracy and to see their government in action.
On Monday, Sept. 16, siblings John and Mary Beth Tinker will give a keynote address at 7 p.m. in the Harry T. Wilks Conference Center on the Hamilton campus. A public reception will follow.
The Tinkers will also speak at 1 p.m. Tuesday, Sept. 17, at the Harry T. Wilks Theater in the Armstrong Student Center on the Oxford campus.
Their visit falls on the 50th anniversary of the U.S. Supreme Court's landmark decision in Tinker v. Des Moines Independent Community School District. They will discuss their role in the precedent-setting student rights case, the First Amendment and the state of free speech rights in America today.
Also on Monday: Observe a special on-campus session of the Ohio Court of Appeals for the 12th District. The court will hear oral arguments from 10-11 a.m. at the Wilks Conference Center, Hamilton campus. 
At 10 a.m. Tuesday, Miami Hamilton will host the U.S. District Court for the Southern District of Ohio for a formal naturalization ceremony at which new citizens will take their oaths of citizenship on the Hamilton campus Main Quad (rain location: Parrish Auditorium). Celebrate with approximately 100 new U.S. citizens and their families. 
The Regionals' Center for Social Impact will host the Democracy Wall and voter registration all week. 
View a full list of the Regionals' Citizenship and Democracy events.