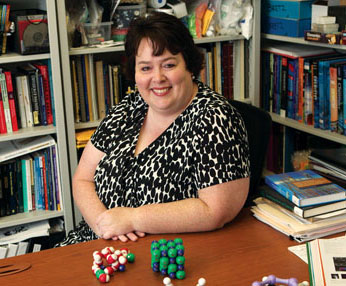 Sep 12, 2019
Stacey Lowery Bretz receives ACS Award for Achievement in Research
By Susan Meikle, university news and communications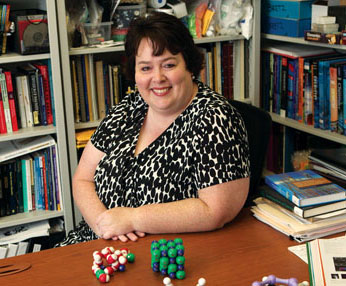 Stacey Lowery Bretz (photo by Jeff Sabo)
The prestigious American Chemical Society (ACS) Award for Achievement in Research on Teaching and Learning of Chemistry for 2020 will be presented to Stacey Lowery Bretz, University Distinguished Professor of Chemistry at Miami University.
The international award recognizes contributions to experimental research that have increased our understanding of the teaching and learning of chemistry.
The award recognizes research contributions involving a significant body of work, rather than a single project or contribution.
Bretz is recognized as one of the most significant leaders in the field of chemistry education research. She has helped advance high-quality assessment in chemistry in hundreds of chemistry departments around the country. The assessment tools developed by Bretz and her research students at Miami are used in more than two dozen countries.
 Her research group works to advance the standards of chemistry education research (CER) to develop assessments, diagnose chemistry misconceptions, and stimulate reflection in both the teaching and learning of undergraduate chemistry.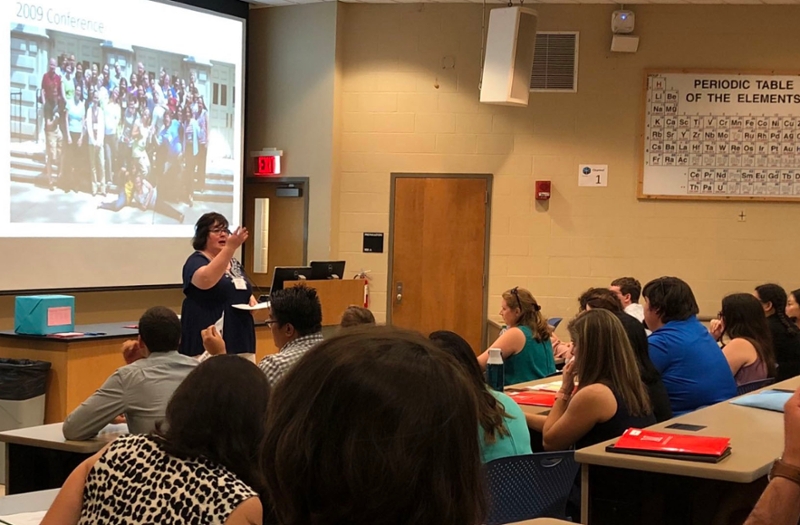 Bretz presents at the July 2019 CER Professional Development Conference held at Miami University (photos above and below courtesy of Bretz).
She and her research group design assessments to measure how students construct and interpret representations of atoms, molecules, and compounds and connect these to their work in the chemistry laboratory.
Her research group has been continuously funded since 2001 with more than $5.26 million in grant funding from the National Science Foundation (NSF) and other organizations. 
Her work also targets graduate student and postdoctoral professional development in chemistry education research.
She has convened five CER professional development conferences for graduate students. The all-expenses-paid conferences have benefitted nearly 200 CER graduate students and postdocs from more than 50 universities. Bretz has received NSF funding for the conferences since 2007. 
Currently, she is co-principal investigator (with Rose Marie Ward, principal investigator, and Ellen Yezierski and Amanda Diekman) for a recent NSF-funded project on Interdisciplinary STEM Graduate Student Learning Communities.  
In service to her profession, she served as chair of the board of trustees of the ACS Examinations Institute from 2009-2014, among other leadership roles in the organization. She is currently a member of the editorial advisory board for the Journal of Chemistry Education.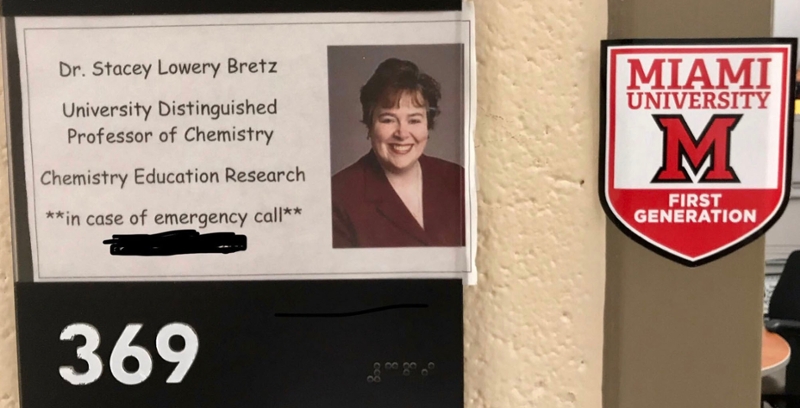 Bretz is proud to be a first-generation college graduate (Cornell University '89). Learn about Miami's program for first-generation students at Miami Firsts. 
Bretz was named a Fellow of the American Chemical Society in 2012 — the first of two chemists at Miami to be named ACS Fellows. She was named a Fellow of the American Association for the Advancement of Science (AAAS) in 2010 — one of seven scientists at Miami to be named an AAAS Fellow.  
At Miami, among other honors, she was named a University Distinguished Professor and a Distinguished Scholar in 2015. She has received Miami's highest teaching awards: The Distinguished Teaching Award for Excellence in Graduate Teaching & Mentoring in 2013 and the E. Phillips Knox Teaching Award in 2009.
The ACS Awards were announced at the ACS National Meeting Aug. 25.  
Bretz will be presented with the award at a ceremony March 24, 2020, in conjunction with the ACS Spring National Meeting in Philadelphia.
Follow her on Twitter @SLBCER #FirstGen.