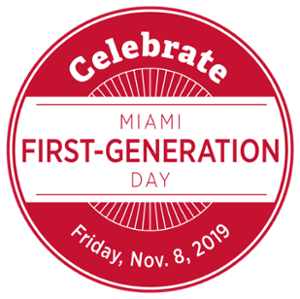 Oct 24, 2019
Participate in Miami First-Generation College Celebration Nov. 8
Miami University will celebrate the 3,144 first-generation students on its campuses during a First-Generation College Celebration on Friday, Nov. 8.
The event, held as part of the National First-Generation College Celebration, recognizes those who are first in their families to go to college.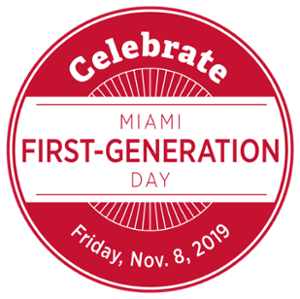 Have something to share on Twitter related to Miami's First-Generation College Celebration? Use these hashtags: #MiamiOHFirstGen, #CelebrateFirstGen
All faculty, staff and students are invited to attend the following events; faculty and staff are asked to encourage students to participate.
• Coffee near Cafe Lux in Armstrong Student Center, 9:30 a.m.- 1:30 p.m. Students can sign up for membership in the "Miami Firsts" student organization, enter to win hockey game box seats as a guest of President Greg and Dr. Renate Crawford, pick up Miami first-generation stickers and clings, and ask questions about filing the Free Application for Federal Student Aid (FAFSA).
• Lewis Place Reception, 4-6 p.m. The Crawfords, who were both first-generation students, welcome all faculty, staff and students to enjoy light refreshments and show their support for Miami's first-generation students.
More information and details about additional events can be found at MiamiOH.edu/first-generation. Colleges and departments are invited to develop programs or activities for a First-Generation College Celebration and submit program details for inclusion on the First-Generation College Celebration website. For assistance with program ideas, contact Craig Bennett, senior director of the Student Success Center.
Miami's First-Generation Initiative seeks to build a community of first-generation students and allies. The initiative complements Miami's new strategic plan, MiamiRISE, which focuses on transformational student experiences, including those for first-generation students. The First-Generation Initiative plays a key role in helping these students feel welcome, included and engaged, in order to maximize their Miami experience.