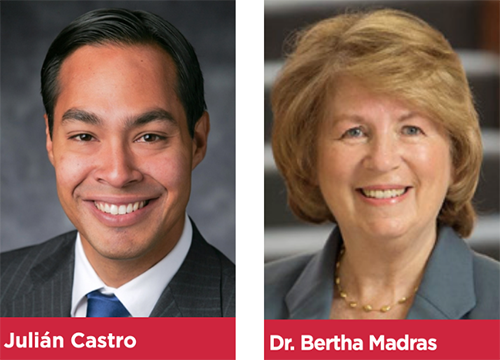 Mar 05, 2020
Marijuana legalization is the debate for this spring's Janus Forum
Julián Castro, former Democratic candidate for president, and Bertha Madras, Harvard psychobiology professor, will take the stage for the Spring 2020 Janus Forum on Wednesday, March 11, to discuss the topic, "Let's Be Blunt: Should Marijuana Be Legalized?"
The free but ticketed event will take place at 6:30 p.m. in the Wilks Theater in the Armstrong Student Center. A reception is set to follow in the Pavilion. Tickets are available at the Miami University box office.
"The discussion of how our laws deal with marijuana is an old debate but also a very new one--with rapid changes happening around the country, including in Ohio," said Patrick Haney, associate dean and professor of political science. "This will be a great opportunity for the community to come together to consider these issues more broadly than perhaps we have before."
The Janus Forum will be moderated by Justice Hubbard, a senior majoring in political science and economics. He will moderate the discussion for guests Castro and Madras, who have demonstrated specific viewpoints in the marijuana debate during their very different yet distinguished careers.

Julián Castro
Julián Castro
A public servant for nearly two decades, Castro served as the 16th Secretary of Housing and Urban Development under President Barack Obama from 2014 to 2017, and as mayor of San Antonio from 2009 to 2014. Today, Castro serves on the board of directors of the LBJ Foundation. Until early this year he was also a Democratic candidate for U.S. president.
"As president, I will legalize marijuana and expunge the records of those convicted for non-violent marijuana offenses," Castro states on his campaign website. "We will regulate the market and place a tax on all recreational sales, investing billions in revenue generated in the communities disproportionately harmed by the War on Drugs."
Born to unmarried parents in a poverty-stricken neighborhood of a struggling city, Castro represents how the American Dream still lives within reach to everyone. He has been at the forefront of some of the most innovative partnerships, programs and achievements in the public sector.
As mayor, Castro implemented pre-K4SA, an early childhood learning initiative that has earned praise as one of America's strongest public pre-kindergarten programs. During his tenure, San Antonio ranked first on the Milken Institute's Best Performing Cities List, received an A+ grade for doing business by Forbes, and was the only Top 10 city at the time to achieve a Triple A bond rating with each of the three major ratings agencies.

Bertha Madras
Bertha Madras
Throughout her career, Madras has served as a research scientist, inventor, educator, writer, editor, former government official, public speaker, and member of President Donald Trump's now-disbanded Commission on Combating Drug Addiction and the Opioid Crisis.
She is currently professor of psychobiology at Harvard Medical School (HMS) and has spoken authoritatively on topics ranging from drug policy and addiction to effective prevention, intervention and treatment. She is also well-versed on the biological risks and effects of various kinds of drugs, including marijuana, cocaine, and opioids.
"The public health problem is that adolescents are far more vulnerable to drug addiction if they initiate drug use during early adolescence," she said in a 2011 interview. "The prevalence of addiction is five times higher for marijuana and for alcohol if they initiate use at the age of 14 or younger compared with initiation of use at the age of 18 or older. And that's a very critical problem, because it is obvious that we have to summon all our resources to prevent drug use amongst these younger people."
Madras has presented to the United Nations, the Organization of American States, the World Health Organization, the Vatican Pontifical Academy of Sciences, the World Federation Against Drugs, and others. As an HMS faculty member and neuroscientist for 30 years, her research on psychoactive or therapeutic drugs, brain imaging, and others is published in over 200 manuscripts, articles, books, book chapters, and commentaries.
"The Janus Forum provides a platform for members of our community to think critically about relevant political and social issues, and the legalization of marijuana presents substantial socioeconomic, racial, and medical implications," said Hubbard, the moderator. "I'm excited to hear the opinions of our two distinguished speakers."
The Janus Forum
A catalyst for developing timely, interesting, and rigorous discussion of public affairs, the Janus Forum is sponsored by the Department of Political Science thanks to the generous support of Thomas W. Smith '50 and the Menard Family Center for Democracy. This will be the 15th forum since its inception in spring 2013.
Earlier in the day, 3:30 - 5 p.m. in Armstrong Student Center Pavilion A, the Janus Forum will also feature the panel discussion, "Pass the Joint? The Implications of Medical and Recreational Marijuana in Ohio."
Featured panelists are Lee Hannah, associate professor of political science at Wright State University; Pastor Damon Lynch, III, co-founder of Have a Heart Cincy Dispensary and pastor of New Prospect Baptist Church; Marcie Seidel, executive director of the Prevention Action Alliance; and Kelly Whyman (Miami '03), founder, Cann Do, LLC. No ticket is required.
The Janus Forum welcomes diverse input from the audience, who are encouraged to submit questions during the forum using #janusmiamioh on Twitter. For more information, visit the Janus Forum website or contact Patrick Haney at haneypj@MiamiOH.edu.