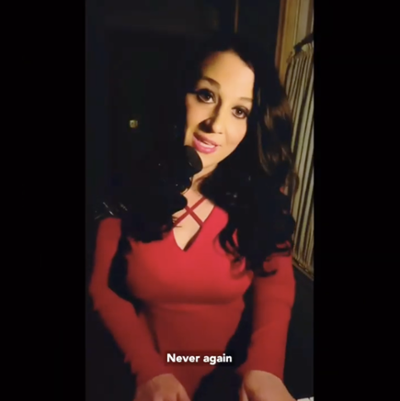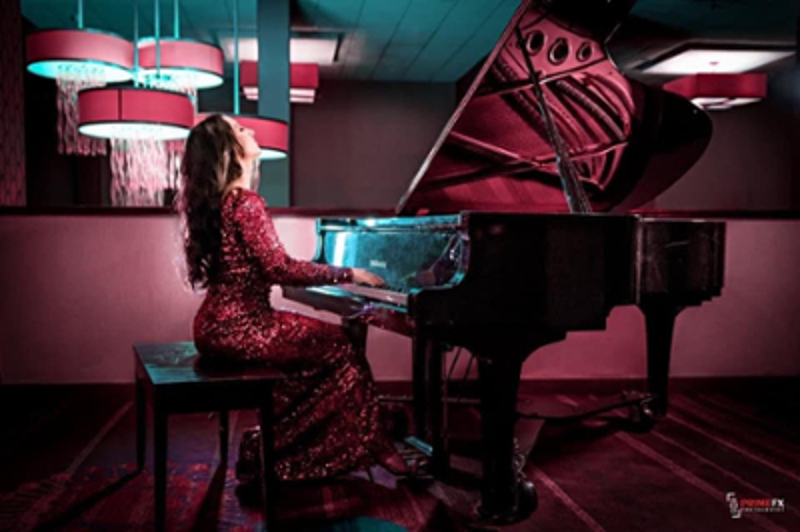 Aimee James discovered the piano at age 4 and wrote her first song at 9. Here she's playing the piano at the Crowne Plaza Dayton, a job she was offered on the spot after playing Lady Gaga's Bad Romance.
Photo: all photos submitted
May 14, 2020
Ten years later, music major Aimee James returns to earn her Miami degree
By Margo Kissell, university news and communications
Aimee James knows about overcoming challenges.
Ten years ago, medical issues forced her to shelve her dream of earning a music degree from Miami University. 
Diagnosed with generalized anxiety with bipolar disease and polycystic ovary syndrome during her junior year, she left school and returned home to focus on her health. It was a painful and confusing time.
"I lost myself," she said. "All of my dreams got put on hold."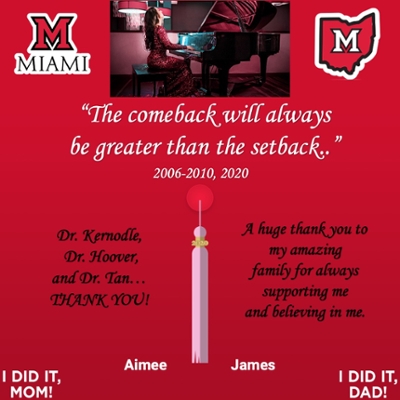 James designed her mortarboard for this weekend's virtual commencement experience.
For James, it was hard leaving the Oxford campus, where she sang with both Collegiate Chorale and Choraliers, played piano concertos in competition and accompanied choirs and individuals.
Sometimes, late at night after studying, she would enter the empty Souers Recital Hall to play the concert piano for hours. She belted out edgy Lady Gaga songs and played her own music, then walked back to her East Quad residence hall as the mist settled on Cook Field.
James discovered the piano at age 4 and wrote her first song when she was 9, with melodies and lyrics popping into her head as she grew older. But after she left Miami, the music stopped. She blames it on all the medicine she was taking at the time.
She didn't touch a piano for six years.
"I heard nothing. I had no passion to perform anymore," she said.
As her health improved, music returned to her life — and so did her motivation to earn that degree.
Two years ago, the Dayton woman emailed Gregory Phillips, associate professor in the department of music and chief departmental adviser, to see if it might be possible. He remembered the accompanist during her time at Miami from 2006-2010.
Phillips and Gretchen Radler, assistant dean and chief divisional adviser for the College of Creative Arts, encouraged her and stayed in touch. Each time she received an email from one of them, she'd cry.
"One step closer. It's going to happen, I can feel it," she'd tell herself.
This weekend, James — who will officially graduate in August — will take part in Miami's May commencement ceremony, which is being offered virtually for safety reasons because of the governor's stay-at-home order during the COVID-19 pandemic.
Like other graduates, James has decorated her virtual mortarboard with her story. It contains a photo of her at the piano, a heartfelt thank-you to her supportive family and professors, and a quote: "The comeback will always be greater than the setback."
It's been an emotional week as she completes final exams.
"Not a lot of people get a second chance," she said.
A special song about lessons learned from the pandemic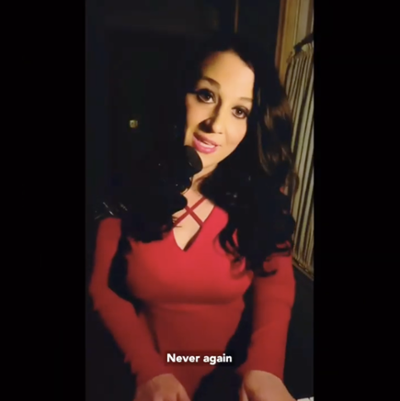 James recorded the song "Never Again" a few days ago in her north Dayton home.
While studying from home and teaching private piano lessons to children remotely, James was moved to write and record "Never Again," a song about a lesson she learned from COVID-19 to appreciate the simple things in life and not taking them for granted. 
Her parents contracted the disease (they're recovering), and she dedicated the song to a friend's adult son, Shea, who died during the pandemic.
James wrote "Never Again" a few weeks ago at 2 a.m.
"I couldn't sleep because I could hear the melody of a song constantly playing in my head. Whenever I start to hear music in my head, I know I won't be able to sleep until I write the song, so I ran downstairs, threw on my headphones, and started playing the melody on my keyboard," she said.
She asked friends and family via Facebook to send pictures of themselves in quarantine and populated the YouTube video with those images.
James is comfortable sharing her story to help others who may be struggling with mental health or other issues. 
Her focus on well-being led her to become a hair and skin care specialist. She credits a healthy lifestyle and lifting weights at gyms, including Miami's recreational sports center, for losing the 80 pounds she gained as a result of the syndrome.
"Every single step that I have gone through has happened for a reason because now I can tell people about it and I can do some good," said James, who attended Sinclair Community College in Dayton last fall to prepare for returning to Miami this semester.
She was making the hour-long commute to Oxford until Miami transitioned to remote learning in March. 
Since returning to campus, she put on hold her other job of playing piano at the Crowne Plaza Dayton — a position she was offered on the spot after she sat down to play Gaga's "Bad Romance" while walking through the lobby with a date. The tip jar filled with $40. 
A musical talent not "boxed in or limited"
Back on campus, she reconnected with music faculty members Siok Lian Tan, Elizabeth Hoover and Tammy Kernodle.
Kernodle, professor of musicology and affiliate faculty of American studies, black world studies and women, gender and sexuality studies, said James' commitment to complete her education is a testament to her strength and character.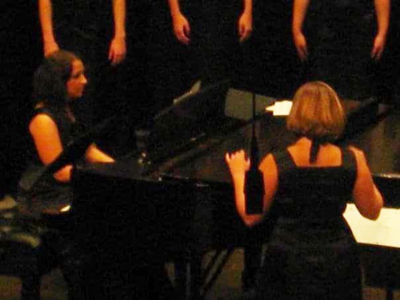 James accompanying the Choraliers at a concert in 2009
"From day one, she made her presence known in the class," she said. "Not in an obnoxious way, but in a manner that let me know that the class was not just something on a checklist but part of an overall experience she wanted at Miami."
The professor added, "I particularly like the fact that her musical talent has not been boxed in or limited by labels, genres or the expectations of the academy."
"Never Again" shows James' ability to "challenge listeners to reframe their perspectives in the midst of this pandemic, but also is a reflection of her fully developed identity as a musician and composer," Kernodle said.  
James said she would like to teach but isn't sure yet if she will attend graduate school. She's taking it one step at a time.
As far as this weekend's commencement, James plans to celebrate with a "driveway party" with loved ones.
"My parents, my grandparents, my little brother, my boyfriend and I will all be parked in the driveway watching the graduation ceremony on our individual devices," she said. "I cannot imagine graduating without them, so we will all remain socially distanced, but still together."