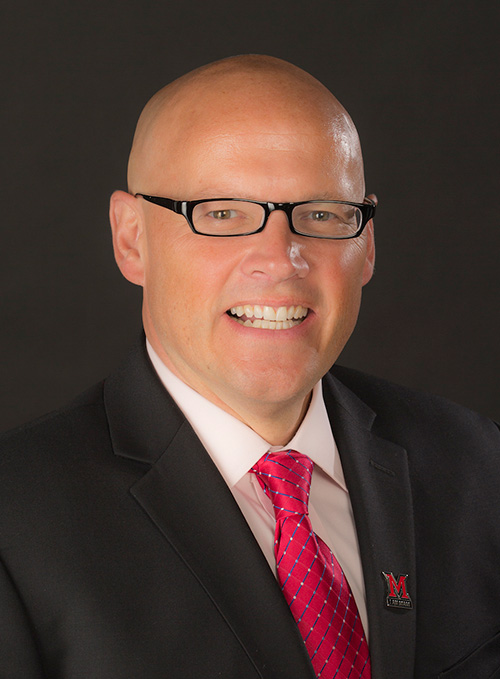 May 22, 2020
President Gregory Crawford updates the Miami community in a video message
Introduces the Safe Return to Campus Planning and Coordinating Committee
In a video message to the community, Miami University President Gregory Crawford shared updates and highlighted examples of students and employees who, through their actions, inspire during the pandemic.
Speaking from the Miami University Art Museum, Crawford addressed five major areas during the speech:
Celebrating the courage, perseverance and excellence of students and 2020 graduates.
Honoring the dedication, energy and creativity of faculty and staff.
Providing a budget update.
Detailing the work of our faculty and staff and students who are preparing for a safe return to campus.
Sharing inspirational stories. (Read about Miamians rising to the challenge online.)
Crawford celebrated the accomplishments of our students.
29 national fellowships, including 10 Fulbright and two Goldwater scholars, breaking a Miami record.
109 students were inducted into Phi Beta Kappa, one of the country's most prestigious honor society. This is the second largest cohort for Miami.
380 students presented during the Undergraduate Research Symposium that successfully transitioned to an online event with 1,500 individuals tuning in.
70 students, 17 teams and 6 finalist teams competed in the spring entrepreneurship competition. The winning team: CareFluency, a specialized learning platform for health care professionals and co-founded by Julia Asphar, Nikki Gundimeda and Laura Mena.
4,356 degrees were awarded May 16 and 17 during a one-of-a-kind virtual commencement ceremony.
Crawford addressed the work of faculty and staff saying how it seems so long ago since Miami transitioned to remote learning. He commended staff and faculty for maintaining high standards during the pandemic.

"Students come first," he said, citing just one example that illustrates the extra steps taken. This spring more than 300 faculty and staff made more than 16,000 individual phone calls to personally check in with our students.

In the area of budget, Crawford explained even before COVID-19 Miami was proactive by taking measures to reduce spending and repurpose those resources into academic and student aid. When COVID-19 hit, he said Miami then took swift action, hiring only in essential positions, pausing infrastructure projects, limiting discretionary spending and taking reduced pay among the university leadership. This spring the Emergency Needs Fund was established for Miami students and to date $570,000 has been raised.
Safe Return to Campus Planning and Coordinating Committee
Crawford then introduced the formation of the Safe Return to Campus Planning and Coordinating Committee that will gather, evaluate and share information about reopening our campuses. The committee is co-chaired by Dana Cox, associate professor of math, and Gwen Fears, assistant vice president for student life, assessment, planning and transition. There are 33 members made up of faculty, staff and students with some additional internal and external advisers. The committee's charge is to:

Coordinate communication and actions among units on our campuses.
Gather and share ideas and concerns from our community about the safe return of our campuses.
Develop an ongoing environmental scan on other universities' actions and national trends.
Access all guidance and health practices from government and agency experts for the safe return to face-to-face instruction, student life and activities.
Provide guidance and serve as a sounding board for many ideas that are proposed around scheduling, events, logistics, equipment, testing and other issues.
Investigate, track and record lessons learned from the crisis.
In addition, Crawford said that all Ohio public universities are working together through the Inter-University Council, the IUC, to reopen Ohio campuses.
"The health and safety of the Miami community is paramount," Crawford said. "And while on campus in-person instruction is planned for the fall, we will be prepared for various scenarios as government direction, recommendations and restrictions to protect the health and safety of our campuses must guide our decisions."
Through the pandemic, Crawford said that he has been reminded about "the place of humility and human focus in effective leadership." He drew inspiration from student leaders on campus who said they have learned to focus on "serving others above self through creativity and compassion."
Crawford said, "Miami will advance because Miamians are empowered with a mindset of selfless service, virtuous leadership and dedication to our vision and mission."