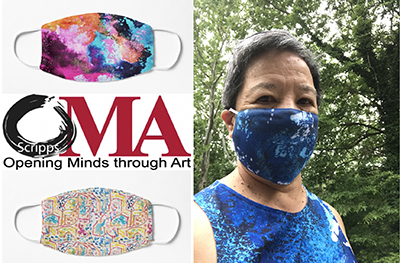 Aug 05, 2020
Opening Minds through Art masks feature designs made by elders with dementia
By Margo Kissell, university news and communications
As protective face masks become a common sight during the pandemic, more people are sporting ones that are homemade, spotlight their interests or a particular passion.
Since May, Opening Minds through Art (OMA) has been selling cloth masks featuring 29 different artistic designs created by participants in Miami University's award-winning intergenerational art program for people with dementia.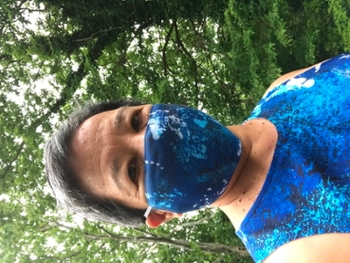 OMA director Elizabeth "Like" Lokon wears a mask and dress featuring OMA artwork.
"This is how we honor the creativity of people living with dementia. We happily and with pride wear their artwork on our faces," said Elizabeth "Like" Lokon, director and founder of OMA, which is based in the Scripps Gerontology Center.
The successful mask-selling effort has become a poignant tribute to Becky Thompson, 44, a communications and program support specialist at Scripps who died July 25. It was her idea to sell the art-themed masks.
"In her quiet way, Becky was very determined to learn everything she could to do an excellent job in everything she did," said Lokon, noting that Thompson worked at Scripps since 2014 and had previously worked at Miami's Print Center in Hughes Hall.
Lokon said the ripple effect of Thompson's work has been tremendous. 
"Her work on OMA training material printing and production has benefitted hundreds of OMA facilitators around the world," she said. "They, in turn, bring positive impact to thousands of intergenerational pairs of people living with dementia and their younger partners."
"Happy Glitter," top, and "Winter" have been top-selling masks on the site.
OMA student-volunteers partner with elders in long-term care facilities to create works of abstract art in the program aimed at promoting social engagement and dignity through the experience of creative self-expression. Organizers say the program improves the quality of life for the elders while providing service-learning opportunity for Miami students.
Since May 15, they have sold 140 of the two-layer masks, most costing $9.99, that are made of stretchy synthetic material. "It is the most popular item in OMA's online store, which also carries dresses, leggings, shirts, mugs and cell phone covers with OMA art on it," she said.
RedBubble makes the masks and other OMA products on the website, Lokon said.
Proceeds are used to support the OMA program, which has grown rapidly since its founding in 2007.
The Ohio Department of Medicaid in 2016 awarded the program a $717,852 grant to expand OMA throughout the state. Today, the program is offered in 95 long-term care communities in Ohio and 87 more across the United States and around the world.
Last year, the Ohio Department of Medicaid signed a three-year, $872,907 contract that will help OMA link students at the state's medical schools and schools of allied health with older Ohioans living with dementia.