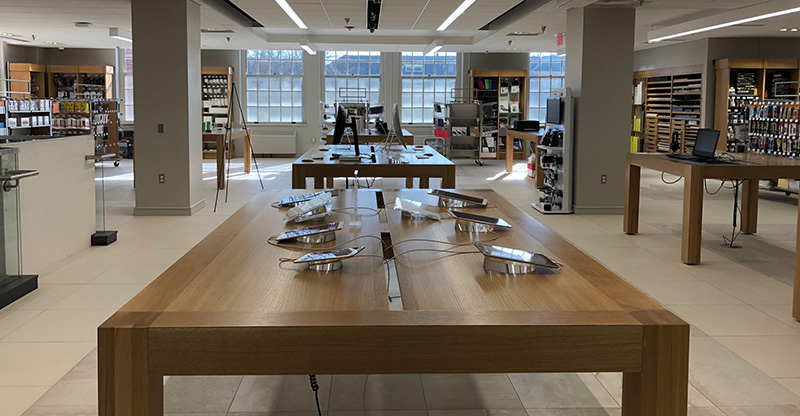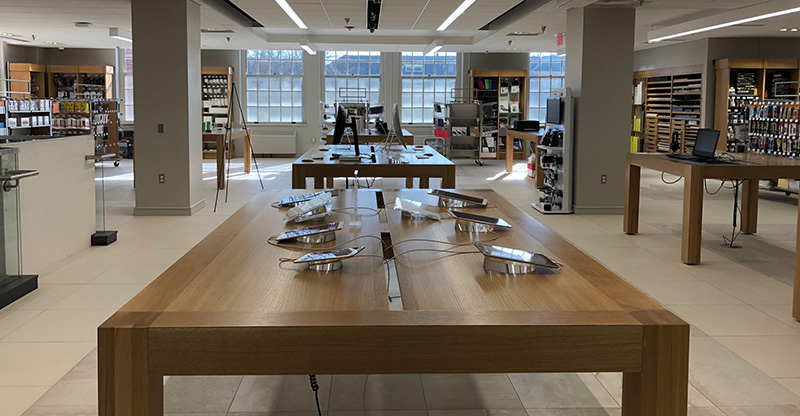 The upper level of the Shriver Center retail location features a technology center.
Jan 25, 2018
Miami employees are invited to tour new university retail locations
Employee discounts
Miami employees receive a 20 percent discount on Miami clothing, gifts, general reading books, office and art supplies and Clinique products.
Some restrictions apply, and the discount can't be combined with other discounts or sale items.
There is no discount on technology items, including cell phones.

Miami employees are invited to visit new university retail locations from 1-3 p.m. Friday, Jan. 26.
The three spaces being featured are the upper level of the store in Shriver Center, the store in the lower level, east wing of Shriver Center near the Admission Visitor Center and the boutique space in the Armstrong Student Center.
Since 1947, the Miami University Bookstore served as the primary retail outlet for the university.  As Miami retail modernizes its spaces, increases its online presence, and looks for new ways to connect customers with the Miami community, the time has come for the "bookstore" to evolve into a "campus store."
"To do so we have reimagined the way we interact with our community so that we provide innovative solutions, quality products, relevant services and memorable experiences," said Jessica Young, director of retail and marketing.
To reflect this change, a new logo was created: the "Brick & Ivy" logo.
Phase I – completed
Phase I was completed in Summer 2017 with the opening of two new spaces: the boutique in the Armstrong Student Center and a retail expansion in the lower level, east wing of Shriver Center.  (Read more online.)
Phase II – completed
Phase II was completed in January 2018 with the opening of the newly renovated technology center in the upper level of Shriver Center.
A primary focus of the technology center remodel and expansion is to create a larger, dedicated space for more experiential interaction with new products and people that support those products, especially in the educational arena. Everyone can engage with virtual reality, gaming consoles, Alienware, laptops and the latest technological devices from Apple and Dell.
Complimenting the center, MiTech offers both computer repairs and cellular service for faculty, staff and students. It also offers laptop repair to those in the university community who purchase a laptop through the center.
A redesigned website launching in February 2018 will offer more responsive interactions for customers and the ability to connect with Miami retail on a more personal level.
Phase III – in progress, anticipated completion June 2018
Renovation of the lower level of Shriver Center will be completed in 2018 and feature retail and soft goods with an emphasis on bringing new brands to campus.
The design will be open, bright and modern, allowing customers to find all of their specialized Miami apparel and merchandise. A Starbucks will be added in fall 2018.
Until the renovation is complete, many of the products will be offered in a space next to MiTech.