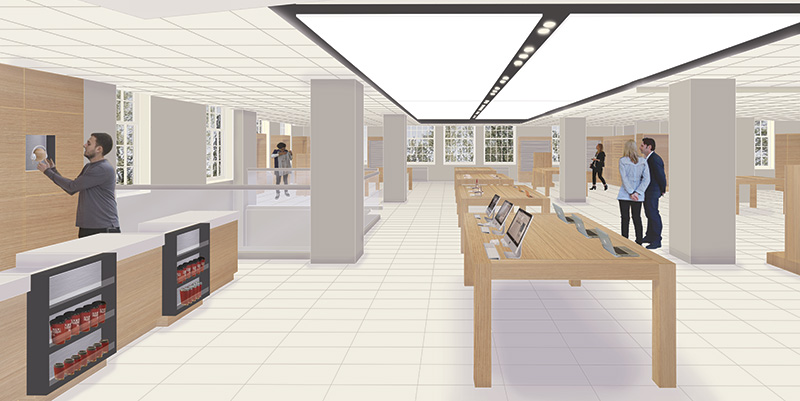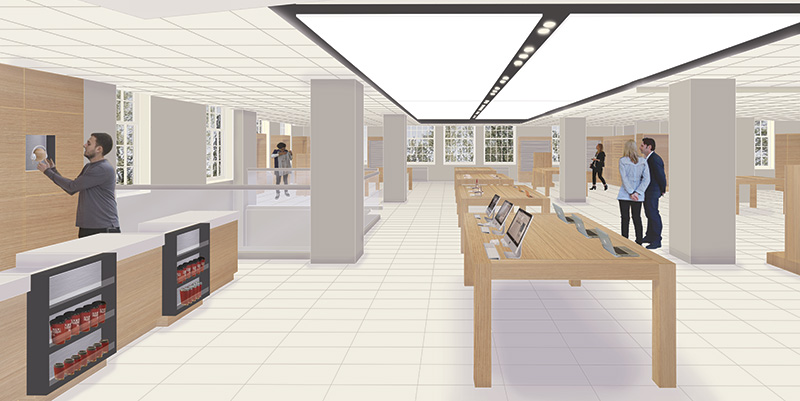 An architecture view of the first floor of the bookstore in Shriver after renovation.
Sep 07, 2017
Changes to Miami's retail stores mean new products and more convenience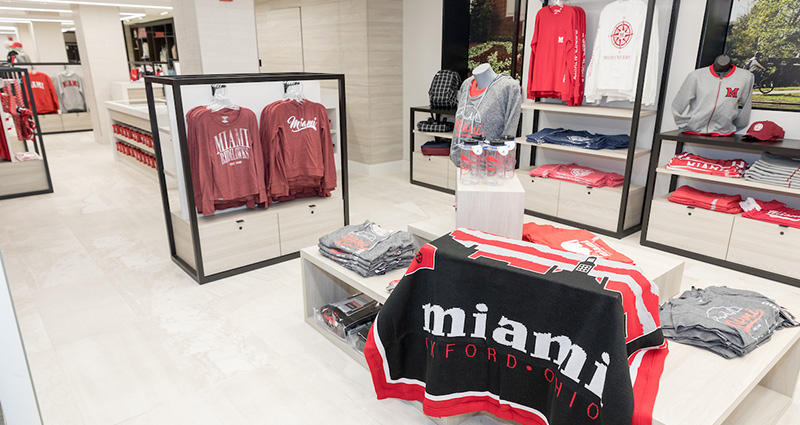 A new retail space in Shriver offers new selection of clothing and apparel. (Photo by Ricardo Trevino)
By Kristal Humphrey, university news and communications
Miami University added two new retail stores on its Oxford campus and will begin renovation of the Miami University Bookstore in Shriver Center Monday, Sept. 11. It is also researching the need for changes to the Regionals' bookstores.
Brick & Ivy
The Brick & Ivy supplies and technology store in the Armstrong Student Center opened at the end of May and focuses on convenience for students. It is open more hours than the Shriver Center bookstore, including having hours on Sunday.
Among the products offered are gaming and computer peripherals (including earbuds and chargers), spirit items, video games and books for casual reading. Student-created products, such as the jewelry line created by Miami University Fashion and Design, are also highlighted. The Brick & Ivy area will adjust during special times like Parents Weekend and orientation to include additional products.
In August, a new store opened in the lower level, east wing of Shriver Center near the Admission Visitor Center. Among the items offered is high-end spirit wear, with a space dedicated to Adidas. Adidas is the official sideline partner of intercollegiate athletics and sideline gear — clothing items like those the coaches and athletes wear at games — will be available, with a portion of the sales going toward athletic scholarships.
The store also offers clothing from Vineyard Vines and a professional line from Emerson Street Clothing Co.

New items include business attire in the collection at Shriver Center. (Photo by Ricardo Trevino)
Shriver Center bookstore renovation project
Construction will start Monday, Sept. 11, at the Miami University Bookstore at the west end of Shriver Center. The first-floor renovation will create a technology center that includes MiTech and virtual reality platforms that give students, faculty and staff the chance to try new technology platforms in advance of deciding to purchase.
"A primary focus of the technology center remodel and expansion is to create a larger, dedicated space for more experiential interaction with new products and people that support those products, especially in the educational arena," said Jessica Young, director of retail and marketing.
MiTech will continue to offer both computer repairs and cellular service. The cellular service is through Verizon and includes one-year plans that can be paid through One Stop or by using payroll deduction or a bursar account. MiTech offers convenient laptop repair to those in the university community who purchase a laptop through the store.
There will also be art and school supplies in the back section of the first-floor level.
The lower level will have retail and soft goods, and there will continue to be a makeup line and youth section.
The renovation project will more clearly define the areas in the store and result in a more classic style, including custom cabinetry and new lighting and fixtures. The first-floor will be done before students come back for second semester. Construction on the lower level will begin in January and be finished by June.

Newly opened Brick & Ivy is located at Armstrong Student Center. (Photo by Scott Kissell)
Miami Regionals' bookstores
Regular fall hours at the Regionals' bookstores have been reduced since the stores no longer carry physical textbooks. Miami will continue to evaluate the hours of operation to determine if they are meeting the needs of students.
Young is working with dining and vending directors to re-examine the product mix, price points and ease of shopping. She said the request they hear the most from students is to offer products similar to a drugstore to better meet their needs while on campus. Unlike the Oxford campus, many of these students ride-share and use public transportation in between jobs, classes and familial responsibilities and sometimes spend a long time on campus.
To better understand the students' needs, Young and others will launch a survey this fall and visit the campuses to get direct feedback.
Customer service is key to modernized retail spaces
Miami is focused on delivering uncompromising service and products as it modernizes its retail spaces, increases its online presence and looks for new ways to connect customers with the Miami community.
"Every day we question how we can better serve our community by sourcing new and unique products, creating meaningful campus partnerships, and designing one-of-a-kind experiences for our customers to enjoy," Young said.