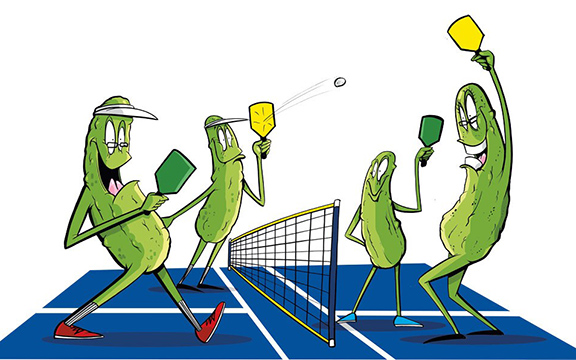 Jul 03, 2018
Five Fun, Free Things at Miami in July
Compiled by Susan Meikle, university news and communications
Miami Matters brings you five free, fun things to do at or around Miami each month. Now that summer orientation is over and the pace has slowed down, try out some of the activities highlighted for July in Oxford and Hamilton.
Mondays through July: Oxford Enlightenment Festival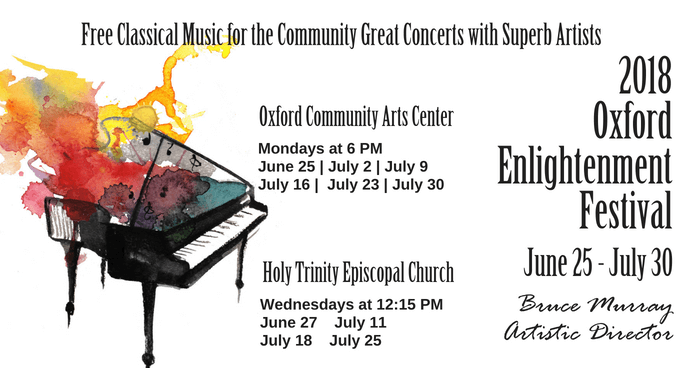 6-7 p.m. Oxford Community Arts Center
Enjoy live classical music in the beautiful ballroom of the Oxford Community Arts Center. Performances by musicians from Miami and throughout the region. Bruce Murray, professor of music, is artistic director. Read the Journal News interview with Murray about the series. 
Can't make it Monday evenings? Try lunchtime Wednesdays, July 11, 18 and 25:
12:15 -1:15 p.m.  Holy Trinity Episcopal Church, 25 E. Walnut St.
The July 11 concert features Jaime Morales Matos, trombone, with Gershwin's "Rhapsody in Blue for Trombone and Piano."  Sponsored by the department of music, Performing Arts Series, Oxford Community Arts Center and Holy Trinity Episcopal Church. Check out the schedule at www.oefestival.org.
Mondays and Fridays, July 16-Aug. 13: First time offered! Intro to Pickleball, the Country's Fastest-growing Sport
12:10-12:55 p.m. Recreational Sports Center Gym
What is Pickleball and why is it so popular? Created for all ages and skill levels, pickleball offers fun, exercise and inclusivity.  Stop by the lunchtime Fitness 4 Life workshop and learn how to play.  The first two weeks will offer instruction; play the game with other teams the last four weeks.
Combining elements of tennis, badminton and ping pong, pickleball is played on a court one-fourth the size of a tennis court. 
Mondays, July 16-Aug. 13: Pickleball Not For You? Try Spinning Class
12:10-12:55 p.m  Recreational Sports Center, Room B
Ride your way to a healthier, stronger body. This group cycling class offers a motivating fitness environment with empowering music and pedaling challenges. The Spinning bikes used in this workshop can be customized to each individual and all fitness levels.
Sign in at the Rec Center Pro Shop.
Monday, July 16:  Monday Night Music — Six Pac, Country and Rock Band
7-8 p.m.  Miami Hamilton Downtown
Come Downtown and listen to bluegrass, Western swing and Rockabilly music by Six Pac: Chuck Short, vocals and drums; Lonnie Sturgill, vocals and bass guitar; Brian Buckley, vocals and lead guitar; Rick Marksberry, vocals, pedal steel guitar, fiddle; and Wayne Luessen, vocals, piano, mandolin and guitar.
Wednesday, July 18: Garden Tour of All American Selections winners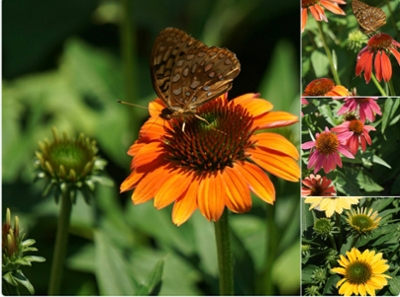 Noon-1 p.m. Hamilton Conservatory
Part of the Lunch and Learn series at Miami Hamilton Conservatory.
Enjoy an outdoor guided tour of the Conservatory's formal gardens and see which All America Selections (AAS) winners are off to the best start. AAS winners are "tested nationally and proven locally" for garden superiority by horticulture professionals across North America. The Conservatory is one of 12 AAS Display Gardens in Ohio that provide the public with an opportunity to view the newest AAS winners in an attractive, well-maintained setting. 
Brian Grubb, Conservatory manager, says the Cheyenne Spirit #AASWinners pictured here are a "real treat to these fritillary butterflies."