eCheck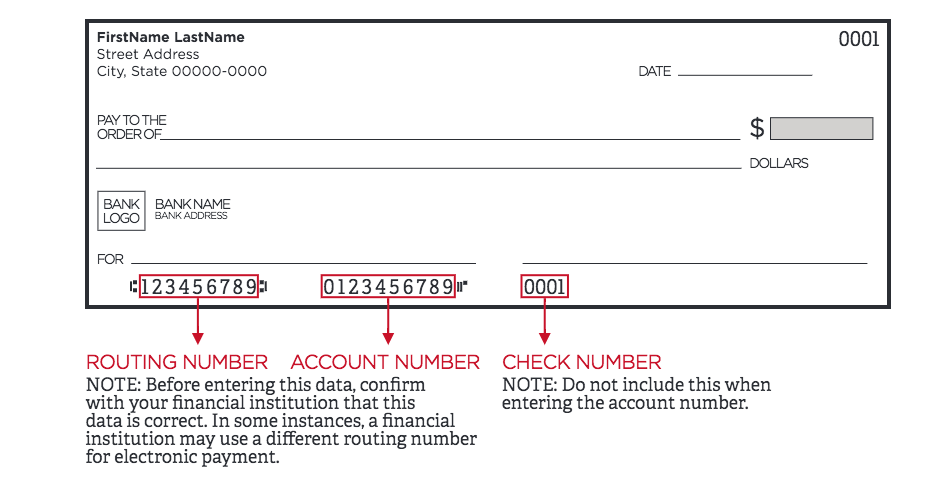 Paper Check
If you are paying by paper check, you will need to fill out the check using the example below. See our Find the mailing address or drop off location.

Returned Checks
Any person who pays by check, and whose check is dishonored or returned for any reason, expressly authorizes Miami University to electronically debit or paper draft their account for the amount of the check, plus a processing fee of $30. The use of the check as payment is acknowledgement and acceptance of this policy and its terms. Payment by check is your express authorization that it may be converted into a one-time Electronic Fund Transfer (EFT) from your account, and all returned checks or EFTs may be re-presented electronically along with a separate EFT or demand draft for the maximum returned check fee allowed by state law. For inquiries: 800.460.0124 or www.statecheckfees.com.
Check writers with returned checks may be entered into a national database (National Check Network) preventing them from writing checks at some retail locations until their check is resolved. Returned checks must be repaid with collected funds, i.e., money order, cashier or bank certified check.
Payment of tuition with a returned check is strongly discouraged. Using this method to clear fees or to participate in the pre-registration process may result in the immediate cancellation of the student's current or future class schedule. All penalties will apply.
Failure to clear a returned check and/or multiple returned checks will result in the loss of check cashing privileges and/or collection activity. Checks that are not cleared will be subject to interest charges and collection expenses.
Why is there a returned electronic fee when the checking account number was simply entered incorrectly?
The electronic check payment process requires the payer to enter their personal checking account number twice. If these two entry fields do not match, the process will stop, and the payer can make necessary corrections. Personal checking accounts cannot be verified before submission, so if the fields are incorrect but do match, the information will process through the ACH (Automated Clearing House) banking system to the payer's bank only to find no account matching the incorrect entries. Unable to complete the transaction, the payer's electronic check is then returned and Miami University is charged for the returned check. With the information provided on this website, and on the payment website, there are multiple warnings to be sure the payer enters the correct account number and advises what the consequences will be if done incorrectly. For these reasons, Miami University charges a returned electronic check fee.
In the event of multiple eCheck payment returns, the ability for the payer to use eCheck option will be terminated and students will be required to use the credit card option if paying online or a physical check/money order if paying in person. When using the credit card option, a convenience fee is applied.