In loving memory of those who have served and protected.  This gallery is dedicated to the service dogs of the Miami University Police Department's Canine Unit.
---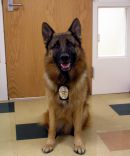 Ero
In 2005, Ero became the first canine to serve the Miami University Police Department. Plt. Keith Hibbard began working with Ero in 2007. Ero was certified as a dual purpose canine, trained in patrol functions and explosives detection. The team was utilized for suspect apprehension, tracking, building and area searches as well as protective sweeps for events or bomb threats.
Ero was born in Germany where he was bred for the specific purpose of serving as a police service canine. Through a series of tests, Ero was found to have the appropriate combination of drives and abilities to be successful canine. It is estimated that only one out of every one hundred German Shepard Dogs will be able to match the strict standards of the German National Police.
Ero retired from MUPD on October 21st, 2013 and passed away on January 13th, 2014.
---