Jennifer Pearson Yamashiro
Teaching Professor of Art History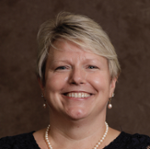 Rentschler Hall 242
Johnston Hall 233
513-785-3261
yamashjp@MiamiOH.edu
Education
Ph.D. and MA, Indiana University
MA, University of Wisconsin-Eau Claire
BA, St. Olaf College
Jennifer Yamashiro has diverse experience in the arts as senior faculty, program director, non-profit executive director, and curator. Her versatility stems from her ability to organize events and materials, establish relationships with diverse constituencies, and build highly effective programs and frameworks that facilitate learning through community engagement and active learning practices. She has a demonstrated track record of creating opportunities for others, through grants, teaching, and service that contribute to the quality of life in the places she works and lives. 
Certificates & Training
Clifton Strengths Coach (Gallup)
Diversity, Equity, and Inclusion certificate (Miami University)
Indiana Community Institute Community Development Course (Ball State University)
Safe Zone Training 101 & Safe Zone Training 201 (Miami University)
Facilitative Leadership (Indiana Philanthropy Alliance, Purdue Extension)
Courses Recently Taught
ART 183: Images of America
ART 187: History of Western Art, Prehistoric to Gothic
ART 188: History of Western Art, Renaissance to Modern
ART 283: Modern America
ART 389: History of Photography
BIS 201: Introduction to Integrative Studies I
CMA 401: Community Arts Senior Capstone 
HON 181: Foundations of Engaged Learning
HON 190: Introduction to Honors Experiences (Topic: Literacy)
Selected Publications
Yamashiro, J. (2022). "More than Half: Multiracial Families in the World War II Japanese American Incarceration Camps." The Journal of Child and Family Studies, James, A. G. & Roy, R. (Eds). https://rdcu.be/cHaHC
Yamashiro, J. (2021)."Visual Data: Alfred Kinsey's Collection on Sexual Behavior in Humans." Sex & Sexuality, Module 1, Marlborough: Adam Matthew. https://www.amdigital.co.uk/primary-sources/sex-and-sexuality
Parks, L. & Yamashiro, J. (2015). "Consumed: Food in The Hunger Games," European Journal on American Culture 43.2. pp. 137-150.
Yamashiro, J. (2012). "No Dream in the City of Angels: An Introduction to Ohm Phanphiroj's Photographic Project Underage," Contact Sheet 167 (Light Work Annual).
Yamashiro, J. (2003). "Sexual Politics: American Laws and Attitudes on Sex in the 1950s," Las vérités du sexe. Borhan, P., Johnson, C.A., Stirratt, B., Wolin, J.A. (Eds). Paris: Marval, pp. 208-227.
Yamashiro, J., Stirratt, B., & Wolin, J. A. (2000). Peek: Photographs from the Kinsey Institute. Santa Fe, NM: Arena Editions.
Yamashiro, J. (1999). "In the Realm of the Sciences: The Kinsey Institute's 31 Photographs." Porn 101. Elias, J., Elias, V.D., Bullough, V. L., Brewer, G.,  Douglas, J. & Jarvis, W. (Eds). New York: Prometheus, pp. 32-52.