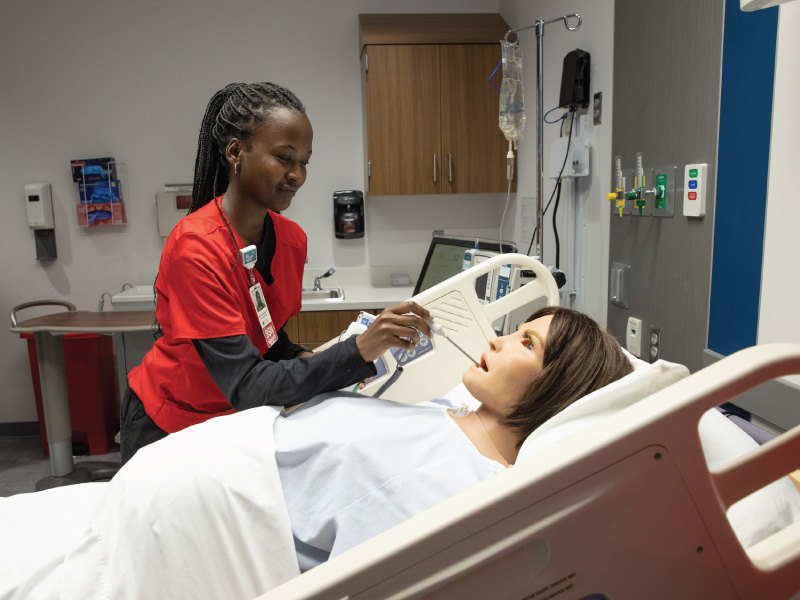 Bachelor of Science in Nursing (BSN) Program
This BSN Program provides a balance of liberal arts and professional nursing courses. Emphasis is on the nursing process for health promotion, prevention, restoration, and maintenance with clients, family, and client groups in community health settings. Students are involved in activities preparatory for leadership and management roles and graduate study. Clinical experiences are one day a week during the second semester of the sophomore year and two days a week during the junior and senior years. Career advancement opportunities are greatest for BSN graduates. A BSN is required to enter a master's program.
Program Outcomes
The professional nurse graduate of the Baccalaureate Program will be able to:
Synthesize knowledge from liberal education, the sciences, and nursing to address the diverse health needs of individuals, families, and communities across the lifespan.
Integrate nursing research, evidence based practice and quality improvement principles in the provision of patient-centered and population-focused care.
Apply knowledge of health care policy, technology and information management in providing safe care within an evolving healthcare environment.
Employ effective leadership and communication skills that promote interprofessional collaboration and mutually beneficial partnerships.
Practice with accountability and professionalism to promote health, prevent disease, and provide nursing care across the continuum of healthcare environments.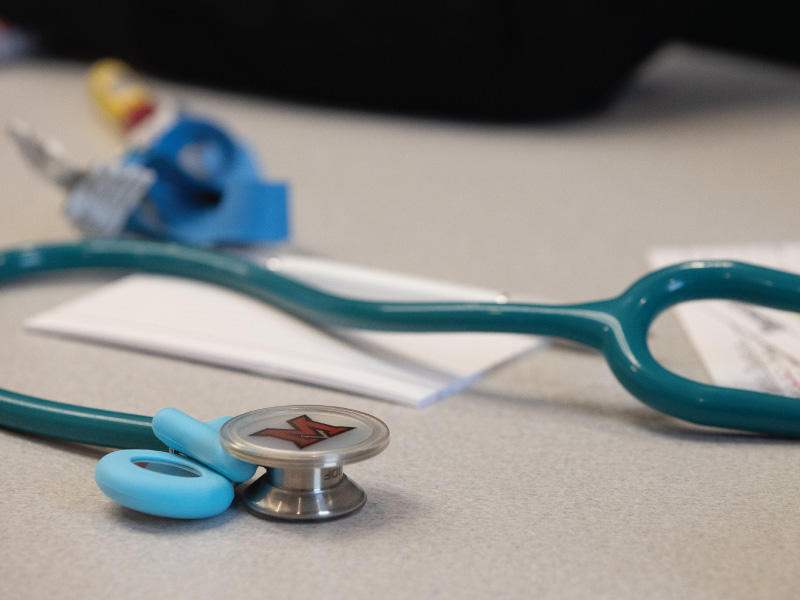 BSN Course Electives
Nursing elective courses provide students the opportunity to explore an area of interest. Courses cover a variety of topics including grief, end of life care, emotional health of children and adolescents, healthy aging, creative arts and aging, and informatics. These courses are taught in various formats. NSG 399, Global Health Perspectives and Challenges in Central America, also meets the Foundation III Global requirement and may be taken for 3 or 6 credits. Nursing students in both curricula are required to take one nursing elective course. For all courses: 4 year BSN students must follow guidelines regarding prerequisites listed for the course.
This elective course is offered in early summer to provide nursing students with a concentrated clinical opportunity at a local health care facility to improve their confidence and abilities to plan, implement and evaluate their nursing care. During this unique clinical experience students care for a group of clients over several consecutive days which enhances their nursing process skills. Typically the students have the same nurse mentor thus fostering better collegial and interdisciplinary relationships. The faculty member has the opportunity to evaluate the student in more depth for application of knowledge, selection of priorities and consistency of care.
This course provides students with the opportunity to explore the culture of two tribal communities in northeast Oklahoma and their historical and contemporary practices related to health. Through immersion in these communities, students will collaborate with tribal representatives to provide care that is holistic in nature, culturally congruent, and based upon the evidence. Students will work with tribal representatives to assess the health needs of the members and develop, implement, and evaluate interventions specific to the cultural health needs of this diverse population.
This elective course helps baccalaureate nursing students shift their focus from illness-oriented care to health and wellness promotion. Students are introduced to content about assessment for wellness and intervention for health promotion throughout the life span. Corequisite of NSG 301 is waived for traditional BSN students. Prerequisites: NSG 251, 252
This elective course is designed to develop knowledge and skill in teaching clients and their families on a one-to-one basis as well as in group situations. Content related to theories of learning, assessment of learning needs, teaching strategies, and evaluation of teaching explored in detail. Emphasizes the role of nurse as teacher. Employs experiential teaching strategies. Students learn to teach by experimenting with different teaching strategies, as well as by modeling techniques used by the instructor. Prerequisite of being an RN is waived for traditional BSN students. Prerequisites: NSG 261, 262
An elective course that explores concepts of professional nursing care in relation to terminal illness. Foci include symptom control, family support, attitudes towards death and dying, and concepts of biomedical ethics.
This elective course focuses on the religious and cultural intersects of mourning losses. The use of healing rituals and symbols within the context of grief and mourning will be explored. The course proposes to challenge the student to explore their own values and beliefs regarding death and to analyze the global rituals within the context of culture.
This elective course examines multiple perspectives on creativity, creative arts, and health and aging including personal, cultural, and theoretical and research perspectives. Students will explore the benefits of creativity for older adults, caregivers and communities, the health effects of engagement in creative arts programs, and the therapeutic elements common to existing creating arts programs for well, frail, and cognitively impaired older adults and caregivers. Students will engage in service-learning experiences involving local creative arts programs for older adults.
The primary purpose is to gain international health care experience that will enhance ability to understand the basis of and need for culturally competent care to populations everywhere. Students will explore a variety of cultural and contextual factors that impact life, health care, and health care systems in Central America, and compare and contrast these factors with those operating in the United States. This is a study abroad course offered in summer and/or winter term.
This elective course examines issues of health status and health care delivery for the older population. Topics include perceptions of health, major health problems in later life, strategies for working with older persons experiencing functional and sensory changes of aging, patterns of health services utilization, projected health needs and ethical issues related to health care for the elderly.
Clinical Agencies
A variety of accredited hospitals and clinical facilities provide quality care and excellent nursing role models. These clinical settings provide students with opportunities to interact with clients of different ages, cultures, and diverse health care needs.
In addition to the fees below which are associated with the Nursing program, individual courses may have additional required materials, subject to change. These estimated fees include, but are not limited to:
Nurse Pack $225
Parking Fees at clinical agencies $30
Uniform $120
State Licensing Fee $75
Nursing Books $1,000
NCLEX-RN exam fee $200
Lab Fees $2,000
CastleBranch Program Set-up Fee $45/once
Health Insurance variable costs
Graduation fee $60
Immunizations variable costs
Criminal Record Checks $ 300
CPR $240
Drug Screening $120
Laptop Computer variable costs
HESI Access across 6 semesters and includes a 4-day review course at the completion of the program  $1,110
Note: Fees are subject to change. Students should check with the Department about current fees.
Regionals BSN Program FAQs
There are no residence halls no residence halls on either Regional Campus location, although certainly students could get an apartment in either of those cities.
Students planning to be a Regionals student should first apply as a regional campus student. Go to the regional Office of Admission and apply to the University by December of your senior year. Indicate your major as BSN.
Next, submit a SEPARATE BSN online application for the nursing program. Regional BSN applications are due by December 1st.
To be admitted into the nursing program from high school, the following must be met in high school:
minimum cumulative high school grade point average of 3.0
Due to the impacts of COVID-19 on prospective student access to ACT/SAT testing, standardized test scores will not be used as a part of the review process for fall 2021 direct admission to the nursing program at Miami University.
Note: This does not guarantee admission to the nursing program, but is the minimum requirement.
Submit your nursing application by December 1. If admitted to nursing as a freshman student, then you must maintain a 2.7 GPA to stay in the nursing program.
Prospective students may only apply to nursing once a year (from early October through February 1) for admission to the class in the following fall, which means starting nursing courses as a sophomore. These are the criteria to be eligible to apply for admission to the nursing program:
Have completed 12 semester hours (100 level or high) with a cumulative GPA of at least 2.7.
Have a grade of C or better in TWO of the following sciences: BIO 171, BIO 172, CHM 131 or 141 and 144, and MBI 161.
Admission decisions are based solely upon the overall GPA and the science GPA.
See the 4 year BSN curriculum guide. Please note the following:
As a freshman, it is important to take the correct science and liberal education courses.
In the sophomore year, nursing students take their first nursing courses and the rest of their non-nursing courses.
In the junior and senior years, the student takes mostly nursing courses.
Students who are not accepted into the nursing program may re-apply the following year. We do not maintain any waiting lists, so the applicant pool is different each year.
You may petition that credits more than ten years old be validated by Miami University and accepted for graduation, normally done close to graduation. An academic advisor can best advise you about how your specific circumstances affect your application. Phone (513) 727-3266/MUM or (513) 785-7752/MUH or email
nsginfo@miamioh.edu
to arrange an advising appointment.
You may test out of lower-level support courses by taking either a departmental test or a CLEP examination. Typically, students may not test out of BSN nursing courses unless they have taken a comparable course at another university. In that case, syllabi for the course must be submitted for review to the department's Admission, Progression & Graduation Committee.
A previously earned bachelor's degree should help you fulfill some requirements, especially if your degree is from Miami University and you have completed the Miami Plan requirements. Please contact Miami Regionals Academic Advising at 513-785-3129 to arrange an advising appointment or
schedule an appointment online
.
How do I get started?
Choose one of the options and start on your pathway to success!
Future Miami Regionals Student
Request information from The Office of Admission, schedule a visit, or apply.
Current Miami Regionals Student
Reach out to the Office of Academic Advising for support in pursuing your educational goals.
Apply to the Nursing Program
(Note: Students must apply and be admitted through the Miami University Regionals Office of Admission before they will be considered for the Regionals Nursing Program)