Digital Screen Advertisement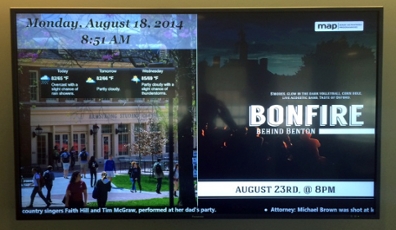 Horizontal Digital Screens
The horizontal digital screens in Armstrong is a partnership between the Armstrong Student Center and Campus Services. There are 14 digital screen locations where your student organization or university department can advertise for upcoming events or services. The Armstrong Student Center does not permit posting of event posters on walls, tables, or windows; the two best ways to advertise in the building are through table tents in the dining locations, or our digital screens.
Design Tips
Size of full-screen ad is 1920 pixels wide by 1080 pixels tall
Size of half-screen ad is 960 pixels wide by 1080 pixels tall (available to student organizations only)
Ads should be in .jpg format
Keep it simple. Double check for errors in spelling, grammar and quality of images
Design advertisements between 96 dpi and 300 dpi
Avoid using more than three fonts styles or font size smaller than 16 pt
Design to be eye-pleasing, eye-catching, and READABLE
Look before you submit! If your advertisement would not make you attend your event or sign up for your group, you may want to alter your advertisement
Advertisements not meeting basic design standards may be sent back to the individual/group submitting the advertisement for edits before resubmission
Pricing
Student Organizations that are advertising their organization, or promoting an event that is defined as free and open to all, can advertise on the Armstrong Student Center half screens for free. If a student organization is advertising an event that charges admission/ticketing, or is promoting an event designed as a fundraiser, the student organization will be charged $25/week for half screens in ASC only or $175 for full screens in Armstrong and all 90 digital screens owned by Campus Services). Note: Student Organizations advertising their organization, or free and open to all events, only receive free screen privileges in Armstrong - to receive access to the 90 screens owned by Campus Services, Student Organizations will need to pay the listed price.
University Departments/Colleges will be charged $175/week for advertising in Armstrong on the full-screen digital screens. This price includes Armstrong screens and all 90 screens owned by Campus Services.
To submit your digital advertisement, visit Campus Services and complete the submission process.
Vertical Wilks Theater Screens
Armstrong Student Center also has two vertical banner screens located in front of the Harry T. Wilks Theater. Because of their unique orientation and sizing dimensions, advertisement on these screens is maintained separately from the joint ASC/Campus Services horizontal digital screens. Posting to these screens is limited to Miami Activities and Programming (MAP) events, Friday Night movie series, organization events taking place in the theater, or Armstrong Administration use.
Design Tips
Size of ad is 1080 pixels wide by 1920 pixels tall

Ads should be in .jpg format
Design advertisements between 96 dpi and 300 dpi
Submission
To submit ads for approval on the vertical Wilks Theater screens, e-mail Hannah Muldoon-Davis (muldooh@MiamiOH.edu) your advertisement in .jpg format and include the dates you want the advertisement to run (including start and end dates).