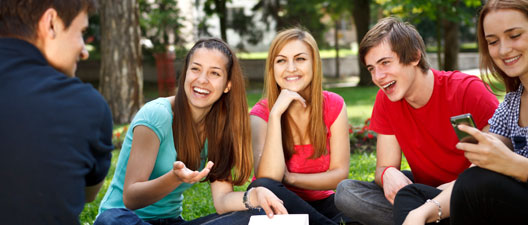 Friendships and romantic relationships are an important part of being in college. Your relationships may be fun and harmonious and provide you with important emotional support while you cope with the stresses of college, or they may be stressful and conflictual.
Healthy relationships exist when both partners feel respected and valued, both persons share in decision making, there is a strong bond of friendship, you enjoy spending time together, you are emotionally honest with each other, and the relationship makes each person feel good about him/herself. In some friendships and in some couples, this is not the case. Relationships can be verbally, emotionally, physically, or sexually abusive. You may find yourself in an abusive relationship or wonder whether your relationship is really healthy for you. You may wonder how to balance the demands of your relationship with the demands of college. Or you may wonder why you can't find the type of relationships that you want. The Student Counseling Service (SCS) can provide assistance in helping you understand your friendships and romantic relationships either through individual counseling, couples counseling, or through interpersonal groups.
How do I know if my relationships are healthy?
Here are some questions that can help you begin to assess your relationship(s):
Do you feel like equals, and do you share responsibilities and make joint decisions?
Do you trust and support each other and are you emotionally honest?
Do you have fun together and do you both feel good about yourselves?
Do you feel safe emotionally, physically, and sexually? That is, do you set your own boundaries and are they respected? Can you say "no" when you want to? Is it a fact that there is no physical violence, name calling or hurtful criticism? Is it a fact that no one feels threatened or coerced?
Chances are that if you answer "no" to these questions, it would be helpful to consult with someone about whether your relationship(s) is/are supportive of you. If you have any questions about relationships, or would like to consult with a counselor about your relationships, please contact us at the Student Counseling Service. Also, see web-sites below for more information.
External Resources