American Culture and English Program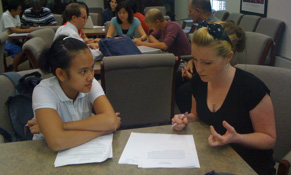 The American Culture and English (ACE) Program offers you the opportunity to improve your English skills while working toward your college degree, enjoying excursions and social programming, and much, much more!
Special Features of Miami University's ACE Programs
Earn 15 credits (an entire semester) of college credit toward your Miami University degree
Receive conditional admission to Miami
Take one mainstream college course outside of the ACE program
Live in a residence hall on campus with American students
Participate in all aspects of college life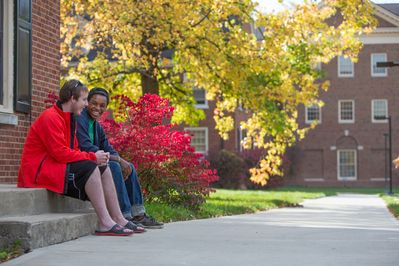 News & Announcements
New ACE-Graduate!
The ACE Program is now accepting graduate students for our new ACE-G program! See the ACE-Graduate link to learn more! Student take an intensive curriculum of 9 credits in English, and a 3 credit American academic culture class. Content is carefully focused and integrated with each student's academic disciplines. We are excited to welcome graduate students from Asia, Latin America, and the Middle East.
ACE, DC-Style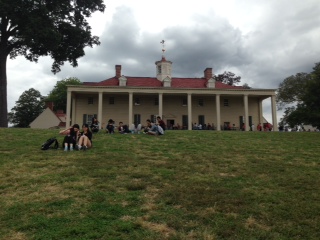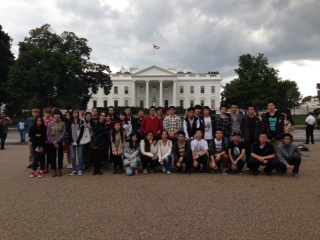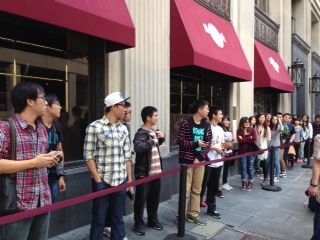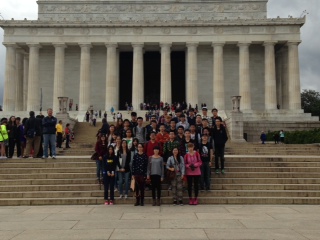 September 26th, ACE program students went on an exciting cultural excursion to our Nation's Capital, Washington D.C. Students enjoyed two days of visiting some of the wonderful historic sites that D.C has to offer, such as the new Martin Luther King Memorial, the Lincoln Memorial, the Vietnam War Memorial, the National Archives, the Capital Building, the White House, and Mount Vernon. Students also had the opportunity to have lunch at The HardRock Cafe D.C. and a wonderful boat trip on the Potomac River.
The first two days were dedicated to seeing Washington D.C.'s wonderful attractions and the last day was free for students to explore the many areas around D.C. such as Georgetown, Dupont Circle and China town.
ACE Karaoke Night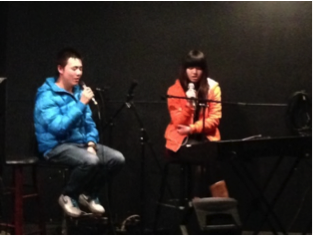 October 2013, ACE program students went to the Vineyard to have an American Karaoke experience and singing competition. Students enjoyed food provided by Chef Lin's while singing their favorite Chinese songs. Performances were outstanding, many times earning cheers from the crowd.
After students sang their favorite Chinese songs, the program held the first annual ACE American Karaoke Competition. ACE students had to compete in English for a chance to win first prize! The competition began with a song sang by Dell to welcome all the students. Her performance was hailed by the audience. Many students climbed the stage to sing their favorite American songs, but there could only be one first prize. The winner was Cathy for her beautiful version of Kelly Clarkson's Because of you. Her prize included a Miami sweatshirt and a Kroger gift card. The evening was filled with great music and fun. All who attended had a great night together.
ACE Halloween Party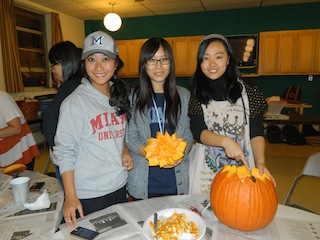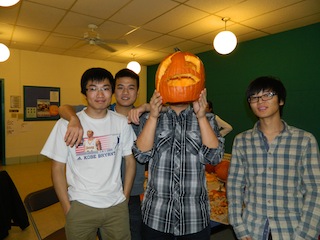 October 2013, ACE program students gathered at Hannon's Camp America (HCA) to have their first Halloween party together at Miami University. They were each given a pumpkin to carve. HCA staff taught students how to carve the pumpkin and make it their own. Since this was the first time students had carved pumpkins many discussions arose about proper pumpkin carving technique. Pumpkins were judged and prizes were awarded to the top 6. Later that evening, students were divided to several groups and were invited to explore a haunted house. Some students were scared, but most of them enjoyed this exciting new experience.