High School Students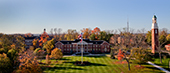 Take the Virtual Tour
Get a virtual glimpse of campus life and discover a great place to call home.

Visit Us
Check out the variety of visit programs we've designed to give you a closer look at campus life.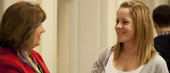 Ask a Counselor
Meet your personal contact in the Office of Admission and get answers to all of your questions about Miami.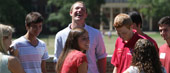 Student Blogs

Get a glimpse into the everyday lives of some of our students and learn why they love to call Miami home.
Application for Admission
Learn how to prepare for a Miami education and how to navigate the application process.
Honors Program
Discover the distinctive features and benefits of Miami's Honors Program.
Multicultural Opportunities
Learn about scholarships, organizations, and special programs for students of color at Miami.
First-Year Class Profile
Check out the profile of first-year students accepted for Fall 2012.
College Credit in High School
Find out more about program options that allow you to earn college credit while in high school.