The Bachelor of Science in Engineering degree with a major in Mechanical Engineering is accredited by the Engineering Accreditation Commission of ABET, https://www.abet.org.
Mechanical Engineering encompasses analysis and design of products and mechanical components of machines and systems. It requires the ability to do the following
understand and apply math, science, and engineering science
Research concepts and apply modeling methods
Simulate and test working conditions and their impact on the designed systems
Synthesize different elements in order to obtain the optimum design of a specific product.
The increasing sophistication of products and systems requires industry to hire academically qualified mechanical engineers who can apply the current techniques and methods of engineering. Examples include computer-aided design, computer-assisted engineering, finite-element analysis, robotics, heat transfer, dynamics, and advanced machine and tool design.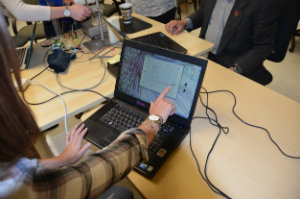 The mechanical engineer of the 21st century must be able to think critically in broader contexts, as problems in contemporary society are not only technical, but also social and economic in nature. This program provides the student with a broad mechanical engineering education enhanced by courses in manufacturing engineering, electrical engineering, computer science and engineering, economics, humanities, social science, world and American cultures, and liberal arts.
Graduates have the opportunity to work in a diverse spectrum of professional fields. These vary from research to design, development to manufacturing, and technical sales to production. Many mechanical engineers work in manufacturing related areas, in the analysis and design of varied products, and in non-technical sectors of the economy. Graduates will also be prepared to continue their education at the graduate level if they desire to do so. Graduating seniors are encouraged to take the Fundamentals of Engineering examination, which is the first of two examinations that lead to becoming a licensed professional engineer.
Access to Mechanical Engineering curricular information is below. For additional information, contact the Department of Mechanical & Manufacturing Engineering, 56 Garland Hall (513-529-0710), or MMEDept@MiamiOH.edu.
You should follow the plan for your catalog year, which is typically the first year you started at Miami. However, you have the option to change your catalog year. If you are unsure of what your catalog year is, you can find out by reviewing your Degree Audit Report (DAR) on BannerWeb.
Mechanical Engineering / Manufacturing Engineering double major. For information on this option, please contact your faculty advisor. Also, PDF version of the double major curriculum is available upon request at MMEDept@MiamiOH.edu.
Students who major in Mechanical Engineering have the option to also complete a combined Mechanical Engineering/ Master's in Science in Mechanical Engineering degree. To explore this option, please talk to your faculty advisor and discuss what the right path for you is.