Your Life as a Miami Student
hidden text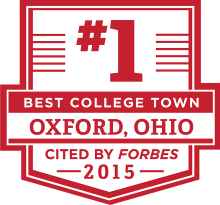 Miami is a residential school, with almost all of our students living on campus or in Oxford. Providing a residential community is a great strength of our university. Students develop close relationships, perform better academically and participate more fully in an active campus life.
The center for College Affordability & Productivity/Forbes.com's first ranking of America's Best Colleges ranks Miami as the top public university in Ohio for a quality education based on student satisfaction, affordability, and success. Miami University and Oxford, Ohio are safe places to live and offer many resources to promote student safety. The Miami University Police Department is a full-service agency whose officers patrol campus 24 hours a day and work in partnership with the Oxford Police Department.
Graduate students may choose to live on campus where there are many student living options. There are also many living options available off-campus, and the majority of graduate students choose to live off campus. For recommendations and tips for living off-campus, see the International Students & Scholars Services webpage.
Students living on or off campus can enjoy Miami University's award-winning dining options. Menus include international foods and vegetarian choices. In recent years, Miami Food Service has received the most 1st place awards among North American universities!
Many students also enjoy going off campus to Uptown Oxford for a bite to eat and much more. Oxford, Ohio is a classic university town of 9,000 full-time residents (with an additional 17,395 Miami students). Services include: • Unique ethnic restaurants • National chain restaurants • Bookstores • Retail stores • Clothing shops • Banks • Places of worship • Grocery stores • Movie theatre • Bowling lanes • Hospital • Parks and hiking trails. The business district, "Uptown Oxford" acts as an extension of the campus - it offers a place for students to gather and hang out, and all sorts of restaurants and stores.
Weather
The weather in Oxford averages 24°C during June to August, 1.1°C during December to February. Oxford is only about 35 miles north of Cincinnati, Ohio—meaning you can catch a professional baseball game, visit museums with world-class exhibits, go to concerts, shows, boutiques and mega-marts.
Transportation
The Butler County Regional Transit Authority (BCRTA) provides transportation around campus and to Oxford stores and apartment complexes. The nearest major airports are in Cincinnati and Dayton, Ohio – both an hour from campus. BCRTA provides airport shuttles to the Cincinnati and Dayton airports. There are also taxi services and ride-share options too. The university sponsors a free ride-share program and the EPIC program also coordinate ride-sharing for our students.