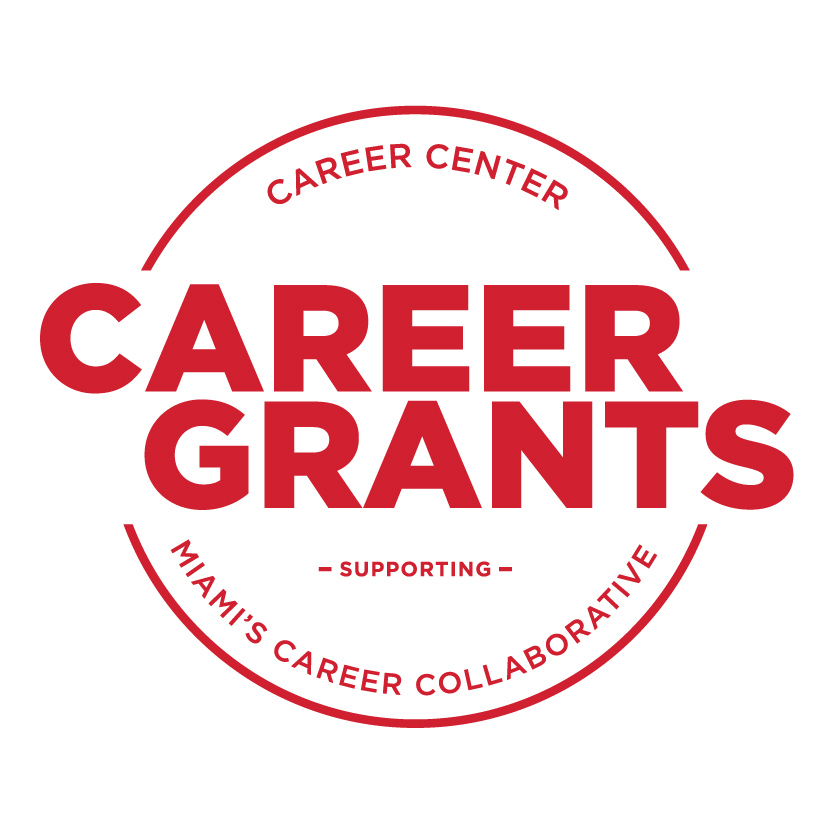 It is more important than ever to support our students.  To increase real-world projects in the classroom as well as career exploration and student professional development, CCES has a restricted account designated for Career Grants available for faculty and staff on the Oxford campus. Proposals for Spring 2021 open on September 14, 2020. Proposals will be accepted on a rolling basis pending available funds. Priority will be given to those that apply by October 30, 2020. 
Should you have additional questions, please contact Dr. Shelby Summers Ballard at summers4@miamioh.edu.
---
Full or partial funding (up to $5,000) can be awarded in two ways:
academic classes with work-related projects that tie to outside entities (employers or organizations); or

faculty/staff-led events or initiatives (outside of class) that help students prepare for their careers.
---
Spring 2020 Final Reports are due no later than two weeks after the event concludes.
Types of Projects for Funding
Full or partial funding can be awarded in two ways:
Academic classes with work-related projects that tie to outside entities (employers or organizations) or

Example 1 - Classroom Project: Presenting a current scenario in an external organization by that organization's representative to the class. The students provide a solution to be implemented.
Example 2- Classroom Project: Designing and conducting a student-led survey for an organization; including compiling the data and presenting recommendations to the organization.
Example 3- Classroom Project: Re-branding an organization. Students design a marketing strategy and assist in the roll-out process.

Faculty- or staff-led events or initiatives (outside of class) that help students prepare for their careers.

Example 1 - Speaker/Panel: Bringing a prominent alumna/alumnus to campus to in part provide career-related information to groups of students. May also include targeting students from backgrounds that may have added barriers to certain professional fields (i.e. Women in Engineering).
Example 2 - Site Visit: Offering a site visit for students to an organization/business to enable students to connect classroom content with real-world application.
Example 3 - Conference: Attending a conference or event that exposes students to job opportunities, technology, learning sessions or networking that they can not experience in the classroom. 
General Guidelines and Details
Proposals must be endorsed and approved by the applicant's department chair or program director.
The delivery, organization and bulk of planning should be done by faculty or staff.
Proposals will be selected by CCES and a committee of faculty and associate deans.
Learning outcomes should be geared toward undergraduate students on the Oxford campus as funding is made available for the Career Grants from the Career Development Fee.
Maximum amount funded is $5,000.
Grants will not be awarded to high cost events that have low student impact.
Requests are for a single project, not multiple projects bundled together.
Interdisciplinary proposals involving multiple departments and colleges are encouraged but not required.
Faculty awarded Career Grants funding are required to acknowledge support from the Center for Career Exploration & Success when implementing initiatives and a Career Grant logo will be provided and must be used on promotional material as appropriate.
Funds will be awarded for registration, travel and lodging. Other categories such as faculty organization membership fees, faculty payment/stipend, event marketing, giveaways, food, snacks, supplies, etc. will not be considered. 
The same event can be funded up to three consecutive times.
For any awarded event, a final report must be submitted in order to be eligible to receive funding for Spring 2020. The report form is due no later than two weeks after the event concludes. Access the form here.
Download the Career Grants Logo
Samples of Previously Funded Projects
Fall 2020
CCES awarded approximately $14,378 for the fall 2020 semester to faculty from 3 academic divisions to fund 5 virtual career related projects.

EHS: This interdisciplinary program offering has invited an expert in the eSports industry to give a career lecture on eSports management. Students from all majors are welcome. This event will be attractive to students from sport management, interactive media studies, business operation and members from the Miami eSports club. We hope to use this event to bring awareness of career opportunities in eSports. The expert will share information about careers, experience, education, and advice in this growing area.

FSB: Miami Ad Week: Chicago (henceforth referred to as Ad Week) is an advertising-focused four-day immersion program offered by the Farmer School of Business to all Miami students interested in learning the ins and outs of the world of advertising; this program has been offered annually for the last seven years to 24 Miami students each year. Ad Week was created to immerse students into agency life. This program is a partnership between Miami University and FCB Chicago who serves as our agency host while in Chicago.

CAS:*Note this will be adapted (remote) or postponed due to COVID-19
For its second year, Eight-twelve students will live in an intentional community in Over-the-Rhine. The students selected will all be from diverse academic majors across campus but share an interest in social justice. The student participants will have a class once a week related to this immersive experience & social justice and then the rest of their time will be spent across the city of Cincinnati working in social justice agencies. Students will have first-hand experience with patients and agency clients, and will learn from people who are in the field they plan to pursue. Students will also write daily reflections on their experiences, a final paper, and give a final presentation.
Spring 2020
CCES awarded approximately $40,000 for the spring 2020 semester to faculty from all five academic divisions to fund 18 career-related projects. 
CCA: a museum acquisition project is part of the ART 420D curriculum. Working with Thomas French Gallery in Akron, Ohio, students each chose a print for sale, and over the semester they research that print in its art historical and market aspects in order to propose that the Museum acquires the work for its teaching collection. The museum is considered the client, and the student becomes the art specialist who pitches a particular artwork that suits the Museum needs. With the guidance of Bob Wicks, Jason Shaiman, and Laura Stewart at the Miami University Art Museum, students develop presentations on those objects, and then vote to use the Career Grant funds to acquire one artwork for the Miami University Art Museum permanent collection.
CAS: Miami University's Henry Pre-Law Center is pleased to host its second Women in Law and Leadership (WILL) Symposium. The first Symposium brought together Miami pre-law students and alumni to discuss various topics, including gender issues in the workplace, work/life challenges, keys to success, and career possibilities and trajectories. This spring, to celebrate the 100 year anniversary of women's right to vote, the Symposium will include topics such as voting rights and women in politics. The event will also be a networking opportunity for students to interact with alum in the legal profession.
EHS: Sport analytics is a new and growing field with so many career opportunities. Faculty in SLAM, with collaboration of faculty in CEC and FSB are bringing data analytics and specifically sport analytics to Miami starting in the fall of 2020. This panel will target career-related opportunities and how to prepare for careers in sport analytics. The panel will consist of current sport leaders in data analytic positions in a variety of sport related fields (e.g., marketing, sales, coaching, scouting).
CEC: The EWB USA Great Lakes Regional Workshop is an annual, full day, technical training seminar for student and professional members of Engineers Without Borders. It includes panels and presentations on topics such as project design and management, water distribution systems in the developing world, technical document preparation, and project financing. This technical workshop is directly career related for students in the College of Engineering and Computing as they will hear from professionals about applying engineering principles to real world projects, using industry standard software, and have the opportunity to do hands-on activities to solidify their learnings from lectures and panels.
FSB: LSAMP Scholars & Stokes Scholars LLC participating in a FYRE class will have the opportunity to do 2 Site Visits with two separate corporate partners. 1st trip will be for Siemens Corp and the 2nd field visits will be with Lilly Corporation. LSAMP STEM students will be provided with a comprehensive and in-depth overview of the companies their industries, competitors, products & services, research & development, etc. A Human Resource/the Recruitment Team will then provide the students with a presentation on their entry-level recruitment, internships and careers at the company. They will include information regarding various STEM careers, have students hear from company employees in STEM of different levels of responsibility and roles, and discuss STEM Career Paths in their respective companies. The companies will provide students an interactive tour of their company facilities including labs tours with special focus on STEM related areas. The companies will then develop an interactive STEM based activity or project related to their company for students to work on in small groups during the Site Visits.
Fall 2019
CCES awarded approximately $40,000 for the fall 2019 semester to faculty from all five academic divisions to fund 19 career-related projects. Miami's Career Collaborative accelerates career-related activities by funding (or offsetting the cost) of new, real-world projects inside the classroom or professional development activities led by faculty.
CCA: Hosting a 4 day design studio workshop with Wire & Twine. This workshop will explore processes and skills significant to design fundamentals, mirroring the program's dedication to learning traditional and emerging technologies for planning, developing, and producing digital and physical design outcomes. This workshop will also aid in the development of hand-to-digital design skills as well as fostering career development and networking connections for the students in attendance.
CEC: Students will have the opportunity to attend The Grace Hopper Celebration of Women in Computing (GHC) conference. This is an annual event for women in computing. GHC offers talks, hands-on sessions, and workshops that cover technology and career advancement. Students can meet and interact with mentors from industry, government, and academia with different levels of education and varied careers. Other activities included a pitch competition and mentoring circles.
CAS: Su Casa Hispanic Center provides a variety of essential programs to the Hispanic/Latino communities in the Cincinnati area including educational, social, health promotion and employment services. The director of Su Casa Hispanic Center, has expressed the need for more volunteers to support the employment programming. As part of this service, clients receive training on how to develop a resume, complete a job application as well as how to create an email address and write professional job inquiries. In order to enhance the partnership with Su Casa Hispanic Center, to address a real world need in the classroom and to promote career development in both Miami University students and the Hispanic/Latino local communities, Spanish 331 students will collaborate with Su Casa Hispanic Center to further develop their employment services. As part of this project, the director will provide a presentation to Spanish 331 in the beginning of Fall 2019 that will discuss the need for employment services and the nature of the project that the students will design and implement. Then, students will work both in class and out of class to develop a detailed curriculum for a Spanish-language workshop that will highlight employment development and include dynamic activities that future volunteers could easily implement.
EHS: A combination of Miami faculty, district personnel, City of Hamilton leadership, social services programs, and community individuals are working together to revise our one-day student and faculty immersion experience so that another 100 Miami students and faculty are more equipped with the knowledge and resources prior to placement within Hamilton schools or community programs during the Fall 2019 semester. Hamilton City Schools will take FSW students across the city to meet and view social service agencies, school-based supports, grass-roots organizations, City of Hamilton administrators, faith groups, economic development initiatives, and more. This activity allows the students to build empathy, knowledge, and skills for supporting families in the Hamilton community and provides a better understanding of career opportunities within their locale.
FSB/CCA: An established event, Friends of Fashion is an annual luncheon hosted during the fall semester by Miami University Fashion & Design. The luncheon features a panel discussion with five professionals who come to Oxford to give the MUFD members in attendance insight into the fashion industry. These panelists (both alumni and possibly non-alumni) discuss their current positions, speak on their past career experiences and engage with MUFD members through structured Q&A and casual discussion/networking.
Spring 2019
CCES awarded approximately $40,000 for the spring 2019 semester to faculty from all five academic divisions to fund 15 career-related projects. Miami's Career Collaborative accelerates career-related activities by funding (or offsetting the cost) of new, real-world projects inside the classroom or professional development activities led by faculty.
Projects include:
CEC students will attend Automate Chicago where they will be exposed to companies (over 450 exhibitors), equipment and job opportunities. They will engage one-one with companies and view state of the art technology.
CAS will be applying the research design fundamentals and methodological tools they are learning in a course to challenges faced by real world organizations, including include the Cincinnati Reds, Proctor & Gamble, the Hamilton Mill and Findlay Kitchen.
CCA was able to host a workshop with Jon Juravich, Ohio Teacher of the Year and Art Educator. 

His public lecture will focus on the professional nature and journey within teaching K-12 Visual Art and address issues like professionalism, passion, advocacy, and creativity.

EHS hosted a Nutrition and Dietetics conference to bring back Miami Alumni working in the field of nutrition and dietetics.

There will be 3–4 sessions in which the speakers will share their expertise, career path and answer student questions.

FSB students will be asked to work with client representatives to define the problem, identify the necessary and available data to answer the client question, frame the problem as an analytics problem, identify the appropriate analytical methodologies, clean and prepare the data for analysis, conduct the analysis, test the analysis to ensure that it meets client specifications, package the solution into a consumable product and communicate the results back to the client.
Event Marketing Examples