Recycle all together and waste less
Aug 20, 2013
Miami to recycle "All Together" and waste less
The new academic year will see innovations to recycling and waste management at Miami's Oxford campus.
Miami's Sustainability Commitments set the goal of recycling a majority of its waste stream by 2017 and ensuring "recycling should never be less convenient than throwing trash away."
A solid waste lean team tackled this challenge last year and piloted strategies. Look for the following changes:
"All together" blue bins simplify and expand recycling
All recyclables - paper, cardboard and glass, plastic and metal - will now go together in a single blue bin.
Thanks to a new and competitive contract, Rumpke will provide expanded recycling and composting to Miami at a considerable cost savings. "Nearly all plastics can now be recycled, including to-go food and beverage containers, yogurt containers, coffee cup lids and even those red party cups," said Yvette Kline, director of sustainability and energy conservation. 
Composting of food scraps will be expanded from the Demske Culinary Support Center to include other kitchen locations on campus. Miami's Materials Recovery Facility will cease operations and its employees are moving to other campus positions, said Kline. 
Better sorting, in a few easy steps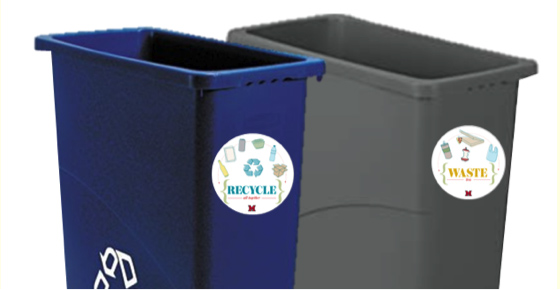 Recycling more and wasting less is easy, but requires teamwork. Now recycling and trash containers will be always be paired side-by-side in central locations. Trash cans will no longer outnumber recycling bins.
Starting in August: 

• classroom and office occupants will find recycling and trash conveniently located together in public areas like hallways
• trash cans will be removed from classrooms
• faculty and staff will have desk-side trash and recycling cans, but must empty them at a nearby central location. Custodians will not collect individual office trash, but will direct cleaning efforts elsewhere.
Three-bin recycling in residence halls will be replaced with "all together" blue-bin recycling.
Collaborative strategies producing results on campus
These techniques have already worked on campus to reduce waste and improve recycling. Faculty and staff in the departments of geography and architecture and interior design voluntarily centralized recycling and waste collection a few years ago.
"Walking a few steps to sort in the hallway is easy," according to David Prytherch, associate professor of geography, "and it improved recycling, saved our custodian countless hours and diverted thousands of plastic liners from the landfill." 
Cody Powell, associate vice president for physical facilities, and Kim Kinsel, associate vice president for housing, dining, recreation and business services issued this joint statement: 
"People from across campus worked to identify the best strategies to improve recycling, and streamlining collection will help us meet our sustainability goals. While a few people may need special accommodation, after a year of careful study, we are excited about and committed to rolling out the new system."
Written by Susan Meikle, university news and communications, meiklesb@MiamiOH.edu, with contributions from David Prytherch