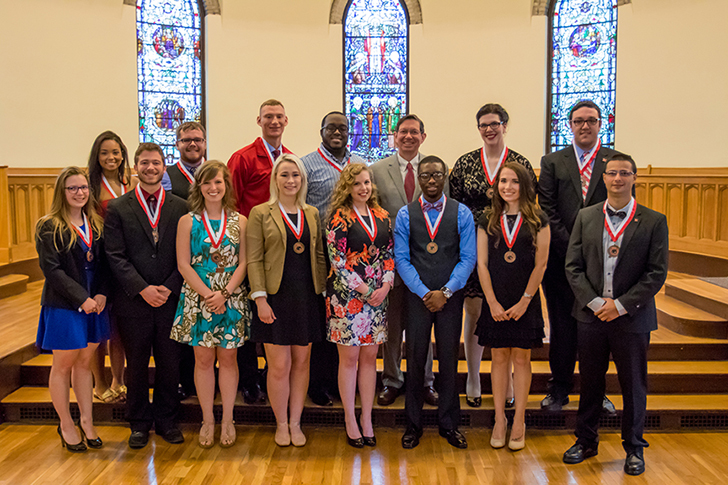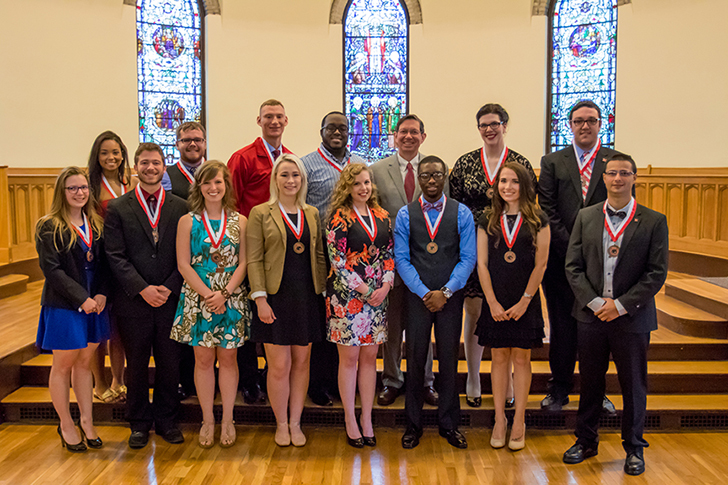 2015 President's Distinguished Service Award recipients. Front Row, left to right: Kaitlin Moore, Jordan Habel, Jessica Passen, Brooke Chervenic, Nicole Reckner, Kofi Ansah, Sabrina Cox, Shankar Poncelet Back Row, Left to right: Frankie Robinson, Alex McSwain, Zachary Butler, Gilberto Brito, President David C. Hodge, Molly Little, Cole Tyman
Apr 29, 2015
Seniors receive 2015 President's Distinguished Service Award
The Miami University President's Distinguished Service Award (PDSA) was presented to 15 graduating seniors for their contributions to campus, the greater community and to higher education.

The 2015 recipients of the award are:

Kofi Ansah, zoology major from Fairfield.
Gilberto Brito, Latin American studies major from Cincinnati.
Zachary Butler, public administration major from Fairport Harbor.
Brooke Chervenic, American studies major from Stow.
Sabrina Cox, integrative studies major from Monroe.
Jordan Habel, music education major from Hoffman Estates, Ill.
Caren Kay, public administration and urban and regional planning major from Dayton.
Molly Little, sociology major from Hamilton.
Alex McSwain, integrative studies major from Fairfield.
Kaitlin Moore, zoology major from Perrysburg.
Jessica Passen, speech pathology and audiology major from Ashville.
Shankar Poncelet, interactive media studies major from Oxford.
Nicole Reckner, health promotion major from Cincinnati.
Frances "Frankie" Robinson, marketing major from Columbus.
Cole Tyman, marketing major from Northfield, N.J.

The recipients of the PDSA are also awarded the Senior Service Leadership Award and receive a medallion to wear at commencement. Winners are selected by a reading committee composed of faculty and staff.