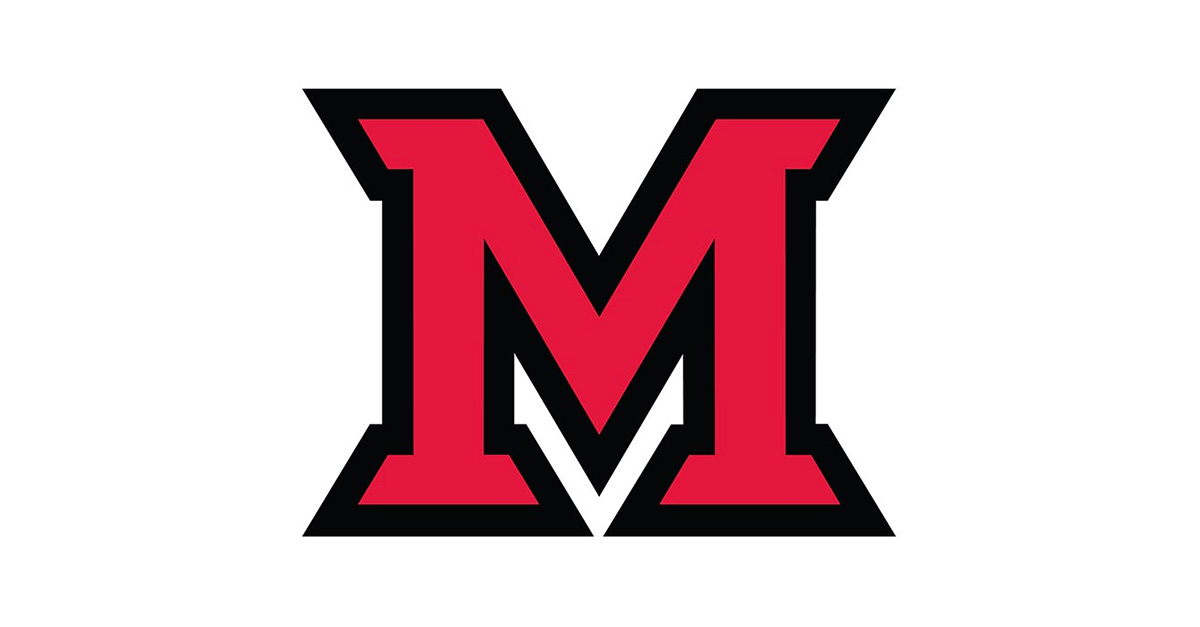 May 07, 2015
Graduating senior comes "full circle" with her first teaching job
By Margo Kissell, university news and communications, kisselm@MiamiOH.edu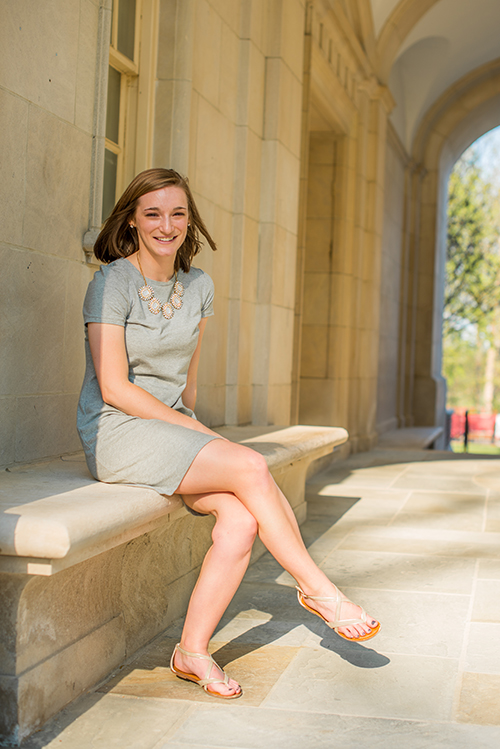 Graduating senior Samantha Morrissey at her favorite spot to sit between classes (photo by Angelo Gelfuso).
When Samantha Morrissey graduates from Miami University with a degree in special education on May 16, she'll shift her focus to starting her full-time teaching position at St. Ignatius School near Cincinnati this fall.
St. Ignatius is her former K-8 school, where she was a top student, played basketball and was a cheerleader.
At the end of seventh grade she was diagnosed with Ewing's sarcoma, a form of childhood bone cancer, after she discovered a grape-size bump behind her left knee.
Determined to keep up with her peers, she worked with a private tutor throughout eighth grade while she was in and out of the hospital undergoing 14 rounds of chemotherapy.
Morrissey beat the cancer, but the testing continued after she started at Miami in 2011. She returned to Cincinnati Children's Hospital and Medical Center "every three months my first two years here to make sure I was still clear," then once a year thereafter.
She calls that life-changing experience the biggest influence on her decision to go into special education. She wants to help those children who need extra assistance to keep them on track and moving forward despite their obstacles — just like she did during that challenging time.
"Special education helps me to do that every single day," said Morrissey, who has been student teaching full time at Fairfield Intermediate School this semester. 
Next week, she'll say goodbye to those sixth-graders. On Sept. 1, she will start teaching children at St. Ignatius, a move she said will bring her "full circle."
Days filled with "little moments"
Morrissey has been student teaching at Fairfield Intermediate each school day since early January. She said she finds the work challenging but loves it, especially when she sees a learning breakthrough.
"It's those little moments with the kids where they finally get that one math problem or they finally can read that one word and their face lights up," she said.
St. Ignatius Principal Tim Reilly (Miami '80) said Morrissey will join 15 other full-time intervention specialists, which is what Ohio calls special educators. St. Ignatius follows an inclusion model, where students receive their studies in general education classes. Morrissey will be team teaching sixth-graders with a general educator, working together to modify lessons and do interventions, he said.
Reilly — who was principal when Morrissey was a student — remembers her undergoing treatment and working hard to keep up with her schoolwork. School leaders created a special "Sam Cam" laptop on a cart they wheeled from classroom to classroom so she could virtually sit in on her lessons.
Lessons taught and learned
The McAuley High School graduate said she chose Miami because of its special education program.
"The fact that we're certified kindergarten through 12th grade as a special educator is huge because that opens up so many possibilities for us," she said.
Morrissey said the program prepared her well for the classroom. It wasn't her first experience working with children with various challenges.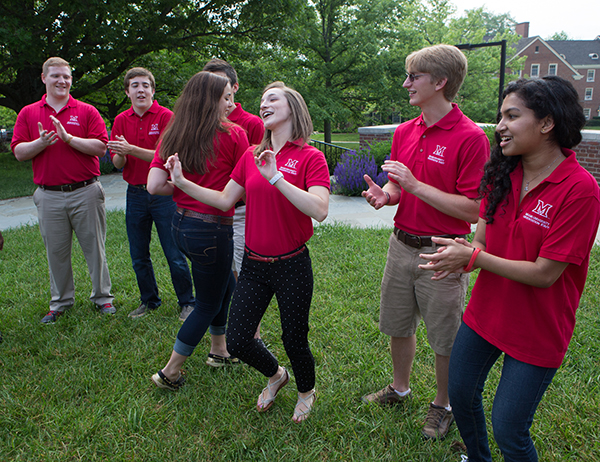 Samantha Morrissey, center, has fun with other Student Orientation Undergraduate Leaders (SOULs) last summer (photo by Scott Kissell).
After she completed her cancer treatment, she attended a summer camp at Camp Joy in Clarksville for cancer survivors and current patients who were well enough to attend for a week.
Allowed to bring a sibling, she took her younger sister and found it to be a very healing experience. She later became a Camp Joy counselor, which allowed her to work with children with a range of challenges.
"It was a phenomenal learning experience, especially as a future special ed teacher," said Morrissey, who also has been involved with Cincinnati Children's Champions program since 2007.
"As crazy as it sounds, I've always said I would never wish cancer on anyone else, not in a heartbeat, but I would never wish it out of my own life," she said. "It's taught me so much." 
Perhaps the biggest lesson was about determination, "and fighting through things that are hard is worth it," she said.
Elizabeth "Buffy" Stoll Turton, director of new student programs at Miami, called Morrissey a natural leader. At Miami, she has been a Student Orientation Undergraduate Leader (SOUL) and been active with the Miami University Student Foundation. She also was an admission tour guide.
Morrissey said she will miss Miami, the people she's met here and the chance to introduce incoming students to campus.
But she's looking forward to the latest milestone: donning that red cap and gown and graduating with the class of 2015 in Yager Stadium with her family watching from the stands.
'It's the closing of a chapter and it's very bittersweet, but I get to do so much more now," she said.