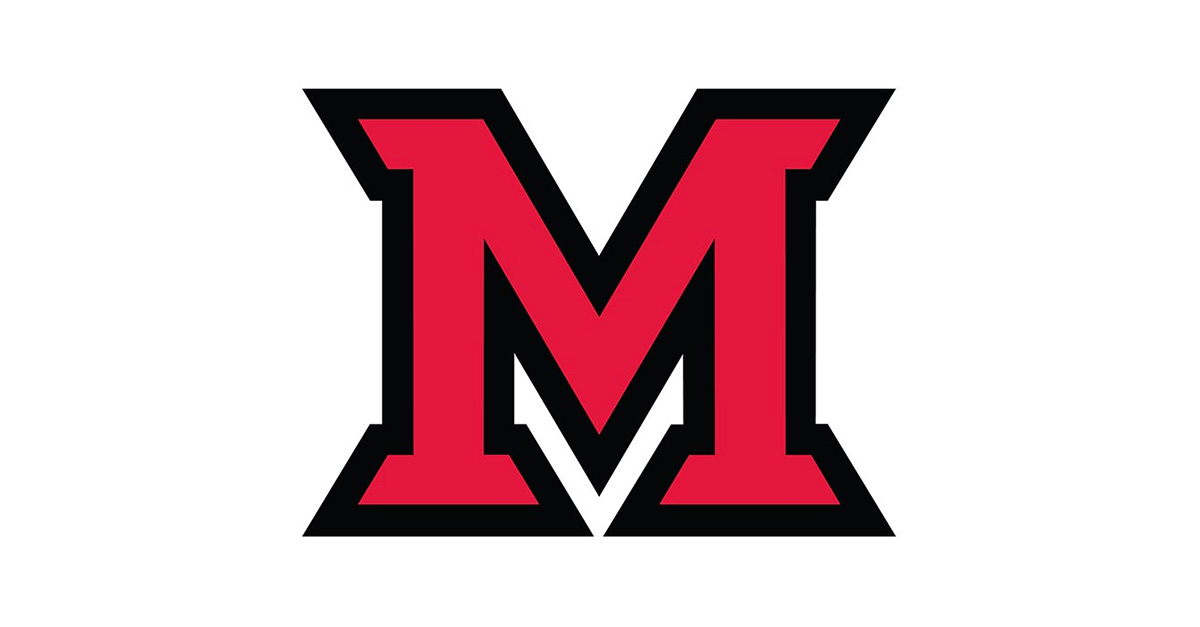 Mar 17, 2016
AARP teams up with students designing games for 50 plus
By Margo Kissell, university news and communications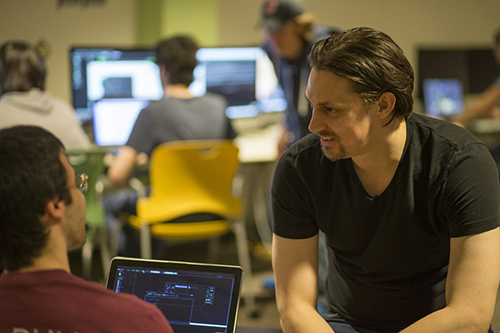 Bob De Schutter, Miami's C. Michael Armstrong Assistant Professor of Applied Game Design, conducts research in the design of meaningful games for older adults (photos by Jeff Sabo).
Miami University students will take part in a 48-hour game jam this April to pitch their ideas for innovative electronic games for the 50-plus crowd to help foster positive social connection.
AARP, a nonprofit organization with more than 37 million members in that age group, has joined forces with the Higher Education Video Game Alliance (HEVGA) and the Entertainment Software Association to put on the April 1-3 event. It is open to students at about 100 schools affiliated with HEVGA.
"Video games are for all ages, and they can do a lot of good for you," said
Bob De Schutter, C. Michael Armstrong Assistant Professor of Applied Game Design in Miami's College of Education, Health and Society and the Armstrong Institute for Interactive Media Studies.
Teams of students will gather at 214 McGuffey Hall beginning at 5 p.m. Friday, April 1, and work through the weekend. Registration for the "AARP/ESA Social Connection GameJam" starts at midnight this Saturday, March 19.
"It is really meant to develop ideas around how older Americans can connect through electronic gaming," said Michael Hughes, director of corporate relations and business development at AARP's headquarters in Washington, D.C.
The goal is to see how the games could potentially improve social connection among older adults by engaging them with online communities or relatives "because that may be an area we'd like to expand into as we further develop our gaming programs," he said.
Games on the AARP website generate more than 1.1 million unique visits per month, Hughes said.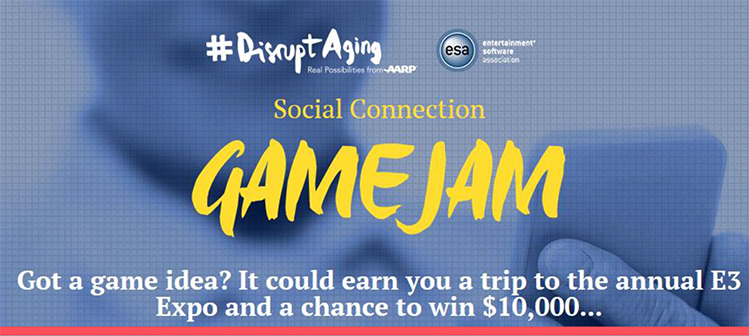 "We recognize that almost half of people 50-and-over game," he said, adding that many may not think they game but they do with popular online games like Words with Friends and Sudoku number puzzles.
Video games are sometimes used for brain fitness, but De Schutter said they shouldn't just be about the health benefits.
"If you research older adults who actually play games, they're all about the fun," said De Schutter, who has been conducting his own research in this area for the past 12 years.
De Schutter is in San Francisco this week speaking at the Game Developers Conference about designing meaningful games for an older audience. He hit on these three points:
There are more than 37 million U.S. gamers over age 50 and that number could reach more than 100 million people in the next 20 years.
Most games marketed to older adults are "stereotyping them, which has led to many older players feeling that the industry is not mindful of them," he said.
"To make better games for older adults, we need to make games that are accessible and that provide innovative or meaningful content for older adults," he said.
He said older adults tend to prefer games with softer media content (less violence and sexual content.)
"Older adults have a rich life behind them, so they want themes that fit within that rich life," he said. "They want themes that are more complicated, more serious or deeper than a game in which you're just beating up a bunch of bad guys."
While both men and women enjoy playing online games, "women play more than men, and you don't see that as much with younger audiences," he said. "With teenagers, the boys outnumber the girls. When we grow older, it's actually the female players that outnumber the men."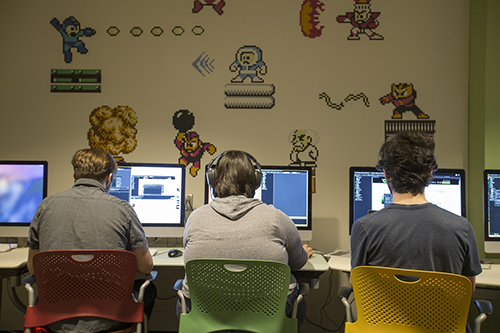 Miami recently announced a new varsity eSports program, with teams competing in fall 2016.  Miami's game design program was ranked 30th in the nation by the Princeton Review.
So, are the popularity of sites like Facebook and games like FarmVille, a farming simulation social network game, factoring into that rise?
"It's hard to put a finger on that, but women over 40, that's where it starts," he said, "and it carries over into the 50s and 60s as well."
AARP's Hughes said three semi-finalists will receive $1,500 to attend its E3 Expo in Los Angeles to pitch their game ideas to a panel set up like the TV show, "Shark Tank." The top prize is $10,000.
All registered participants who submit gaming ideas before the 5 p.m. April 3 deadline will be reimbursed a $25 gift card to help cover food, drink and other expenses incurred during the GameJam weekend, he noted.
Hughes said that at the E3 Expo, AARP will showcase research about the state of the 50-plus gaming market.
"We want to have students and the industry recognize that people 50 and older are a very viable and robust gaming market," he said.