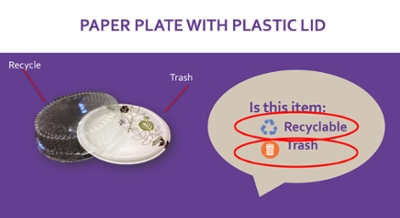 Jan 12, 2017
Recycle this, trash that
A primer on dining center takeout containers and single-stream recycling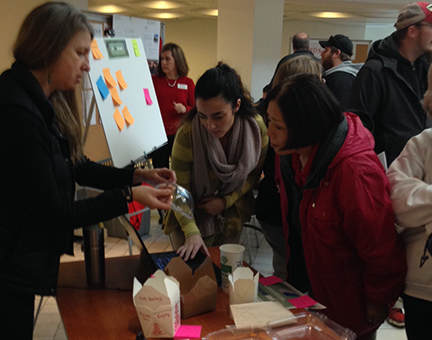 The Lean Fair Go Green booth provided information about sustainability at Miami, including the Bike Share Lean project, STARS reporting, stormwater management, PFD printer reduction and recycling.
By Susan Meikle, university news and communications, and Shawnee Waters, sustainability coordinator
Miami's "all-in-one" blue recycling bins make recycling just as convenient as throwing trash away.
But since the implementation of single-stream recycling almost four years ago, dining services has added new takeout style containers that make users wonder: Do I recycle this, or trash it?   
Shawnee Waters, sustainability coordinator in physical facilities and master's student in the Institute for Sustainability and the Environment, prepared a recycling quiz for attendees of the Jan. 11 Lean Fair.
She noted that there were common misunderstandings about which takeout containers are recyclable. Attendees also expressed concern about the lack of blue single-stream recycle bins at Armstrong Student Center. 
Test your "Recycle it or trash it?" skills with the graphic below. 
The basics:
Place these in the blue single-stream recycling bins: 
plastics of all types (except bags and films), clean cardboard, dry paper, metal and glass.
Place these in the gray trash bins:
paper containers with waxed linings, napkins, paper towels, food-stained containers and plastic bags and films.
Check a detailed list on the physical facilities sustainability website.
PFD and IT services offer special recycling for batteries, cell phones, computers and more. Check the special recycling list on the PFD sustainability website. 
The quiz: