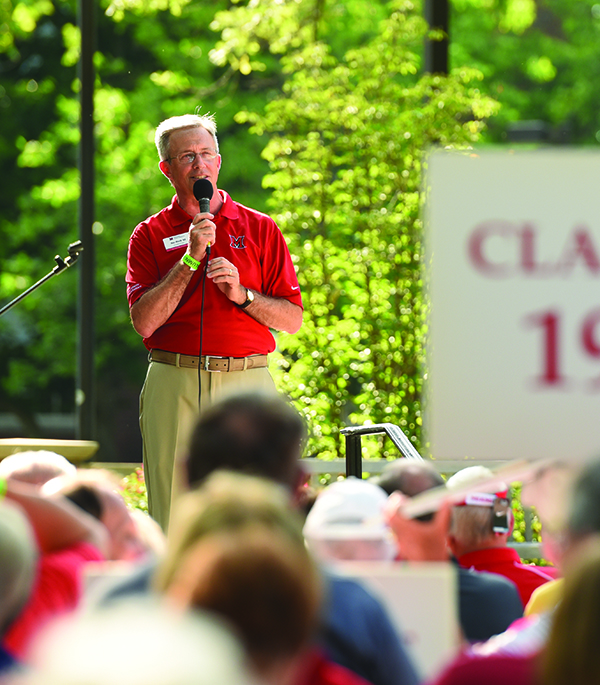 Apr 06, 2017
Ray Mock to retire as alumni director July 31
By Donna Boen, Miamian editor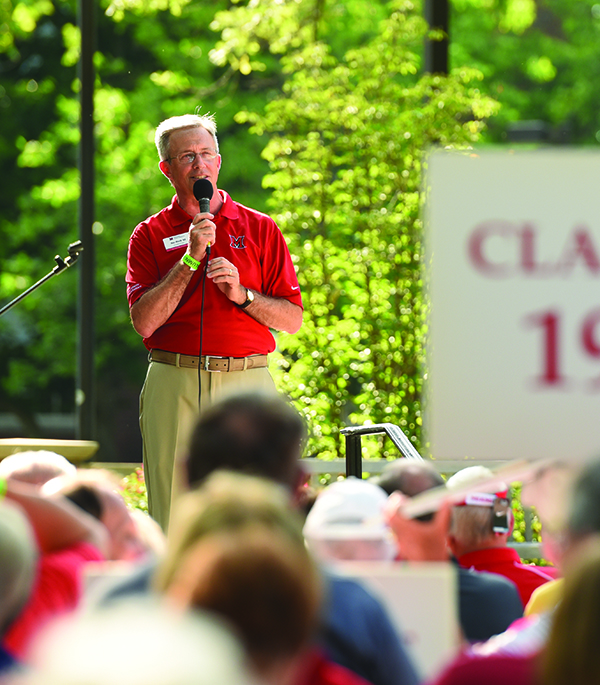 Ray Mock shares Miami history before the Parade of Classes starts at Alumni Weekend.
The most poignant event for Ray Mock during his 31-year career in Miami's alumni office wouldn't have happened if he hadn't listened to his staff.
When the alumni board proposed the Miami Merger Moment, suggesting couples return to Oxford to simultaneously renew their wedding vows, his staff thought it a wonderful way to celebrate the university's 200th birthday.
"I, alone, hated the idea," admits Mock (Miami '82 MS '83). One of his strengths as assistant vice president and executive director of the Miami University Alumni Association is that he's willing to reconsider. As a result, that Saturday of Alumni Weekend 1,087 couples gathered at Upham Arch to set a world record.
"It was a really, really powerful moment that was this cool event celebrating their marriage vows, but also, in a much bigger way, celebrating this idea of the Miami family."
Mock joined the alumni office in 1986 as director of the Miami University Student Foundation and Senior Challenge.
As news spreads of his July 31 retirement, he's been caught off guard by the reaction. For graduates the past 17 years, he's the only alumni director they know.
"My brain can't go there because that's John Dolibois (Miami '42). John Dolibois is the Miami alumni director."
Sitting in his second floor office in Murstein, with its view of Peffer Park, he's considering what comes next. He will stay in Oxford as his wife, Jill, continues her nursing career and their youngest, Christopher (Miami '18), attends Miami, just like siblings Sean (Miami '11) and Laura (Miami '12) before him.  
"I've had this tug at my heart, this feeling that I need to do something impactful on the social scale. It's been a great experience for 31 years, and it's bittersweet to leave, but it really does feel like the right time for me."