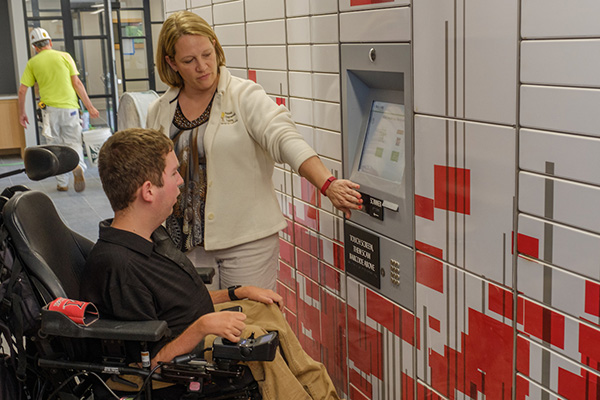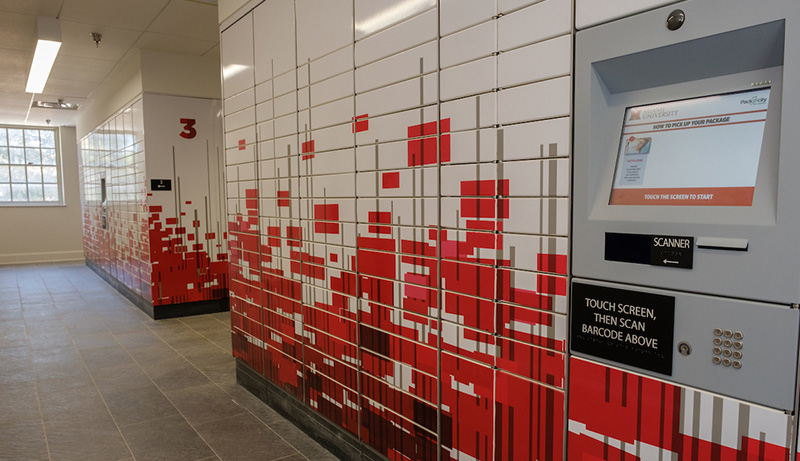 Miami University's Mail and Package Center moves to its new home in Shriver Center that will include 2,000 package smart lockers.
Photo: Scott Kissell
Jul 27, 2017
Miami Mail and Package Center gets new home in Shriver Center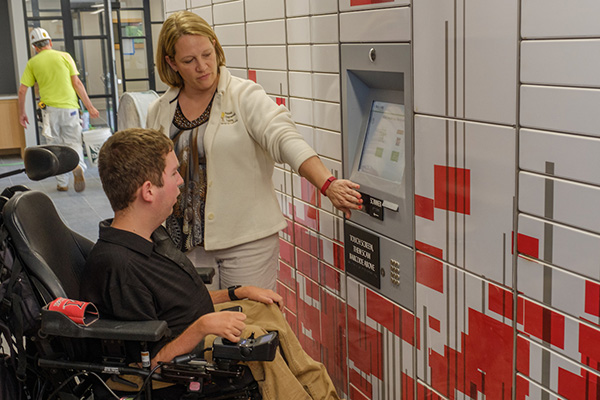 Hope Sweeney and Dan Darkow of Miami's disability services practice using the new package pickup system.
By Carole Johnson, university news and communications
Miami University's Mail & Package Center moves to its new home in Shriver Center, Wednesday, Aug. 2, and will be open for business, Thursday, Aug. 3, for internal mail receiving and delivery.
The bright and modern renovated space in the east end of Shriver's lower level houses a full-service post office and package center for students, faculty and staff.
Note: The Shriver location and the Wells Hall location of the mail center will be closed Aug. 2 for walk-in service due to the move. But, Miami's mail center employees won't let a "little" move deter them: Delivery and pickup to and from departments will be available Aug. 2.
On-campus Students: No more lines
2,000 Smart Package Lockers – Gone: long lines waiting to pick up packages. Students who live on campus will now receive an email message that a package is available for pickup.
Students have 24 hours to pick up their package from a locker. For convenience, the lockers are available 24/7. If a student is not able to pick up the package within 24 hours, they can go to the customer service window, where packages will be stored for up to an additional 48 hours.
Customer service pickup window hours are 8 a.m.-5 p.m. Monday – Friday; 11 a.m. – 2 p.m. Saturday.
Delivery Services – Not new, but to be amped up is the residence hall room delivery service for packages. Students can opt to pay an extra fee to have the mail center deliver packages to their rooms. This is especially convenient for getting heavy, oversize or multiple packages delivered right to students' rooms within 24 hours.
Employees and Departments: Streamlined services
eShipGlobal — A new shipping tool is now available to faculty and staff for departmental package and overnight shipping services.
The tool can be found at an online site that provides staff the ability to create their own shipping profile, import shipping address books and view shipment history.
Staff members can shop the best price from all shipping carriers using Miami's contracted shipping rates. Anita Byrd, manager of university mail services, said that is a "win/win for the university" because it cuts out steps that in the past duplicated efforts and now provides cost savings to departments.
The link for eShipGlobal is located in BuyWay in the Preferred Suppliers list.
All students and employees: Full-service post office
Letters, packages and tape – The mail & package center includes workstations equipped with all of the products, such as weighing scales needed to send letters and packages through the U.S. Postal Service.
UPS, FedEx pickup and delivery – Miami's mail & package center can help.
For any prepaid, packaged boxes, just drop them off. It's that easy.
What about that clunky vase? Bring it and they can help package it and send it using a new service called Pack & Ship.
Just want to do it yourself? A self-serve kiosk will be available for anyone to print shipping labels.
Follow @MiamiOHNews on Twitter.