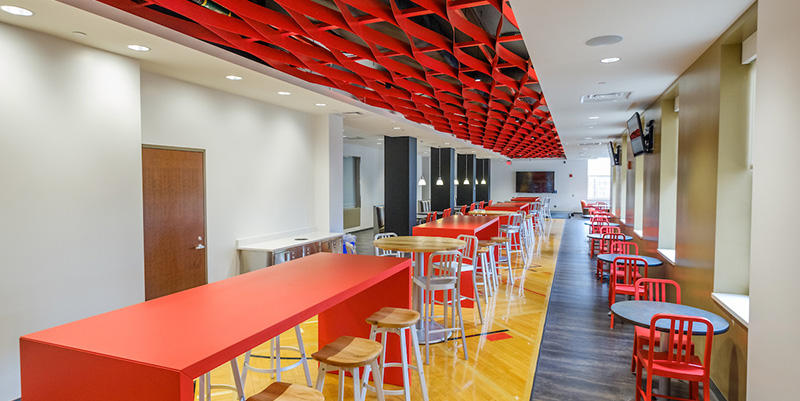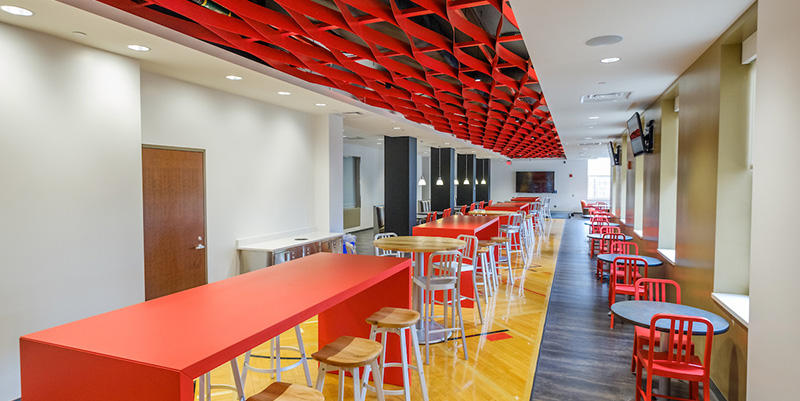 Armstrong Student Center's Red Zone features arena favorites.
Photo: Scott Kissell
Aug 10, 2017
Allergen-friendly areas and new dining options in fall 2017
By Mark Andrea, HDRBS
Miami University's dining services announces changes for fall 2017 that include new concepts, menu improvements and an allergen-friendly environment.
In an effort to provide a safer environment for all dining guests, nuts have been removed from all recipes and locations preparing food for service. Prepackaged items containing nuts will still be available in on-campus markets. Additional menu improvements include calorie counts and nutritional information.
Armstrong Student Center
The Armstrong Student Center will open three new concepts that will take you from the hardwood of Withrow Court to the streets of Luxembourg. New locations include:
Cafe Lux — Envision the perfect cup of coffee in a European-inspired venue. Accompany your drink with a rotating selection of pastries, soups and sandwiches. The coffee is sourced from local purveyor Crimson Cup (Columbus, Ohio), one of the Top 25 Best Coffee Roasters in America.
The Toasted Bagel (formerly Traditions) — Offers a variety of breakfast and lunch bagels and schmears (smears or spreads). Traders' Greens made-to-order salads will be available for lunch and dinner.
Red Zone — Enter by way of the repurposed flooring from the Withrow basketball courts and immerse yourself in Miami sports history while dining on arena favorites.
Have-to-try items in Armstrong include the avocado and turkey club and schnecken (a type of sweet bun) at Cafe Lux, the toasted bagel on blueberry at The Toasted Bagel and the MVD — most valuable (hot) dog at Red Zone.
The Haines' Boulangerie menu will include new items: Mediterranean bowls, sandwiches and wraps. The made-to-order salad was removed since a full Traders' Greens concept will be available at The Toasted Bagel. Breakfast, coffee and tea will no longer be available at Boulangerie due to the addition of The Toasted Bagel and Cafe Lux.
Maplestreet Station
This updated buffet and a la carte dining location will better serve the residents and guests of South quad.
Maplestreet Commons -- Renovations this summer converted First Stop, Pacific Rim, and Americas into Maplestreet Commons. This location provides continuous service from 7:30 a.m.-8:00 p.m. The menu features pizza, a deli, paninis, custom stir-fry, pasta, burgers and allergen-friendly options.
Maple Grill will replace Encounter as the a la carte option with an expanded menu including burgers and chicken, as well as quesadillas and quinoa bowls formerly from Americas.
The Q will introduce made-to-order salads, as well as dessert items (brownies and chocolate chip cookies) that can be served traditional or smoked.
Starbucks continues to be a campus favorite located within Maplestreet Station.
Harris Dining Hall closed
After extensive studies reviewing student traffic patterns and campus improvement projects, it was determined that the newly renovated and expanded buffet option at Maplestreet Station fully supports the residents and guests of South quad, so Harris Dining Hall was closed.
For more information about dining, visit our blog at www.TheMiamiSpread.com or contact us at dining@miamioh.edu.