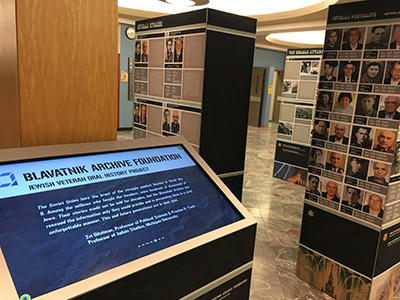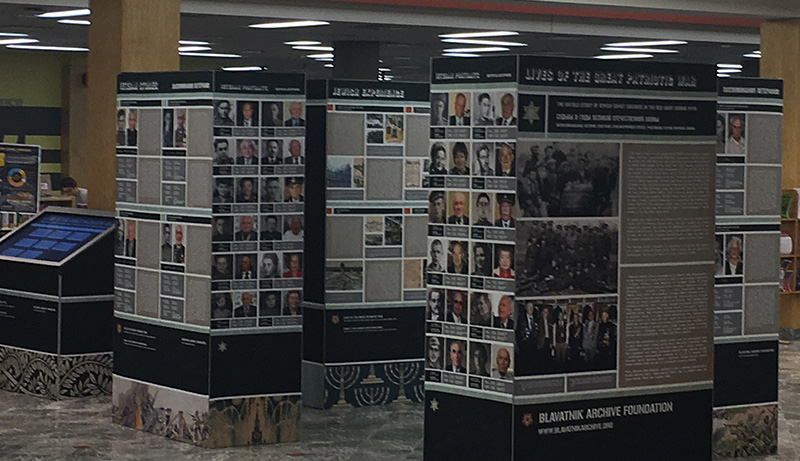 The exhibit is part of a broader focus on 1917 and the Russian Revolution.
Oct 12, 2017
Exhibit from New York City-based archive visits King Library
Blavatnik Archive exhibit complements focus on Russian Revolution's 100th anniversary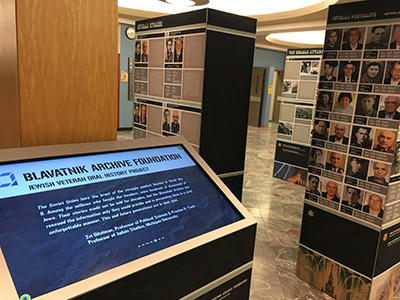 By Vince Frieden, strategic communications coordinator, University Libraries
Amid a powerful collection of World War II-era visuals, narratives and oral histories, one cannot miss the striking image of a defiant Russian mother protectively shielding her child against a bayonet emblazoned with a Nazi swastika.
While terrifying, the vivid representation of a Russian propaganda poster speaks to a defining era of world history. That story comes to life through a traveling exhibit on loan to Miami University from the New York City-based Blavatnik Archive. Guests can experience the free, public exhibit, which primarily tells the stories of Russian Jews who fought in the Soviet armed forces during World War II, in King Library's main lobby until Nov. 17. It features more than 20 visual panels and an interactive kiosk.
"The exhibit is part of our broader focus on 1917 and the Russian Revolution, particularly its effects among the Jewish population in the Russian Empire and later the U.S.S.R.," said Stephen Norris, professor of history and interim director of the Havighurst Center for Russian and Post-Soviet Studies. "It's a unique opportunity for the Miami community to encounter stories, images and histories that have not been widely shared."
Developed and funded by the Blavatnik Archive Foundation, which is dedicated to preserving and disseminating resources that contribute to the study of 20th century Jewish and world history, the exhibit has traveled across the country, including stops at Harvard University, the University of Southern California, the University of Michigan and the University of Virginia.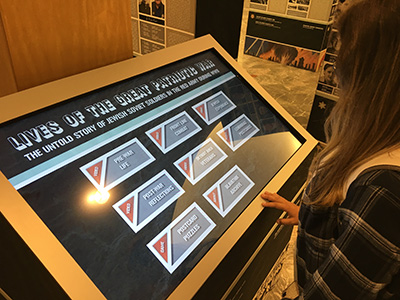 Founded in 2005, the Blavatnik Archive is committed to sharing its holdings as widely as possible for both research and public education. Its holdings include 90,000 physical and native digital assets, including nearly 1,200 oral testimonies from Russian Jews who fought in the Soviet armed forces and partisan units during WWII.
Alex Blavatnik (Miami '86) serves as executive director.
"History, heritage and education are deeply meaningful cornerstones for me," Blavatnik said. "I am proud to share this unique story of the Soviet Jewish soldiers who fought on the Eastern Front during WWII with Miami University, my alma mater."
The exhibit's visit to Miami started with an initial discussion between Blavatnik and Marcy Miller, executive director, and Joel Miller, director of development, from Hillel at Miami University.
The Blavatnik exhibit corresponds with an ongoing series of exhibits and lectures titled "War, Revolution and Jewish Life in Russia," including "Blood in the Snow: Russian Revolution and Civil War, 1917-1920," an exhibit that runs through Dec. 20 in the Walter Havighurst Special Collections (321 King Library).
The exhibit is derived largely from materials preserved within Miami University's Walter Havighurst Special Collections. Through the contributions of the late André de Saint-Rat, a collector and longtime Miami faculty member in Russian language and history, Miami's Walter Havighurst Special Collections hosts a world-class collection of late-19th and early-20th century Russian history, literature and art.
The Havighurst Center, University Libraries and Hillel will host a Nov. 3 symposium and Nov. 7 lecture, both in 320 King Library.
"War, Revolution and Jewish Life in Russia: A Symposium" takes place from 3-5 p.m., Friday, Nov. 3, and welcomes three prominent scholars in Russian and Jewish studies. An optional Russian-themed Shabbat service and dinner follows, hosted by Hillel at Miami University. Services begin at 6 p.m. followed by dinner at 6:30 p.m. at the Hillel Building, 11 East Walnut Street. The event is free and open to all but reservations are required. For more information or to make a reservation, please email admin@muhillel.org.
"Conspiracy Theories and Revolution in Post-Soviet Russia" takes place on the 100-year anniversary of the Bolshevik coup led by Vladimir Lenin. The special lecture at 4 p.m., Tuesday, Nov. 7, features Illya Yablokov, teaching fellow in Russian Studies at the University of Leeds.
"It's hard to overstate the significance of the 1917 revolutions in Russia and how they shaped world history for the rest of the century," Norris said. "The events of 1917 provided the first case of decolonization and also brought about the first Marxist party to achieve power and attempt socialism.
"Our goal is not to celebrate the centenary of 1917 but to use this anniversary as a means to think about how it shaped our contemporary world through World War II and beyond."
King Library and the first floor area hosting the Blavatnik exhibit are open 24/7 through the fall semester, excluding holiday weekends. The Walter Havighurst Special Collections is open 8 a.m –5 p.m., Monday through Friday.