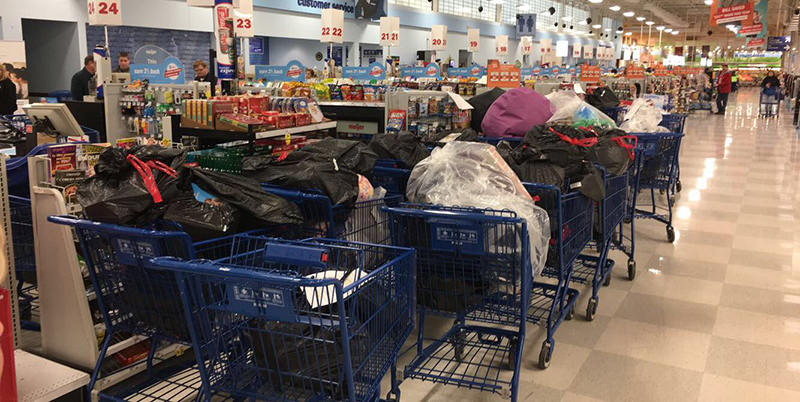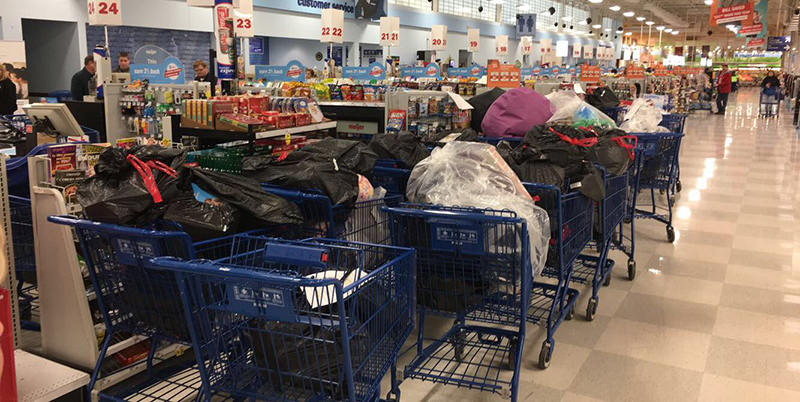 Volunteers shopped at Meijer's filling carts with holiday surprises.
Jan 11, 2018
Miami community helps those in need during the holidays
Wrapped gifts ready to head to their new owners.
The Miami University community's participation in service projects during the holiday season helped supply gifts to foster children and food to two local pantries.
Holiday Project
The Miami community raised $9,020.73 for the Holiday Project. With an additional donation of $3,000 from Meijer's Corporate and a $500 Oxford Community Foundation grant, there was $12,520.73 to buy gifts for 166 foster children in Butler and Preble counties. More than 125 people attended the shopping day, and 80 people wrapped gifts.

There were also gifts donated by Shoes4theShoeless, 1/2 Price Books, Delta Denta, the Woman's Club of Oxford and the Hooked on Jesus Crochet Class at First Southern Baptist. "Given the number and value of these items, we feel that we reached our goal of $20,000 in donations for 2017," said Anita Sackenheim, chair of the Holiday Project.
Oxford Empty Bowls
The Miami community helped Oxford Empty Bowls raise $11,493.04 for the Oxford Community Choice Pantry. That was the largest amount raised in its 15 years.
Food Drive
David Sobecki, associate professor of math and mathematical and physical science at Miami Hamilton, conducted a food drive to help the Shared Harvest Food Bank in Fairfield. He conducts food drives at the end of each semester, and this one resulted in 2,862 pounds of food and $300 being donated. Since 2004, when he started keeping track of donations, the Hamilton campus has donated 79,554 pounds of food and $9,195.