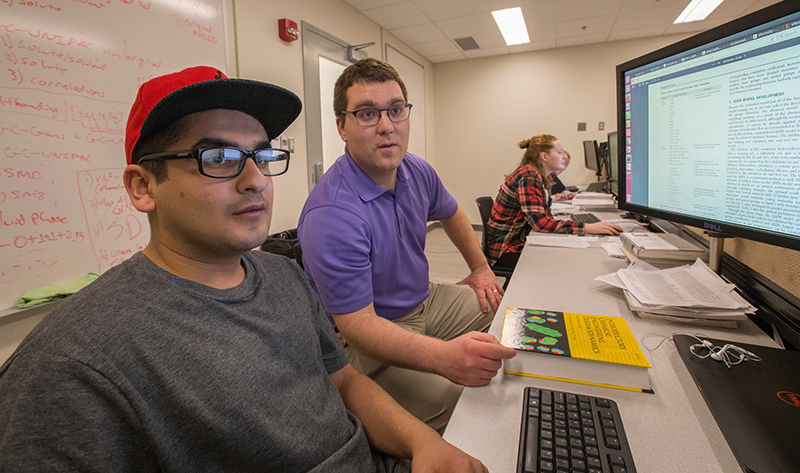 May 16, 2018
Andrew Paluch receives ASG Affordable Education Leader Award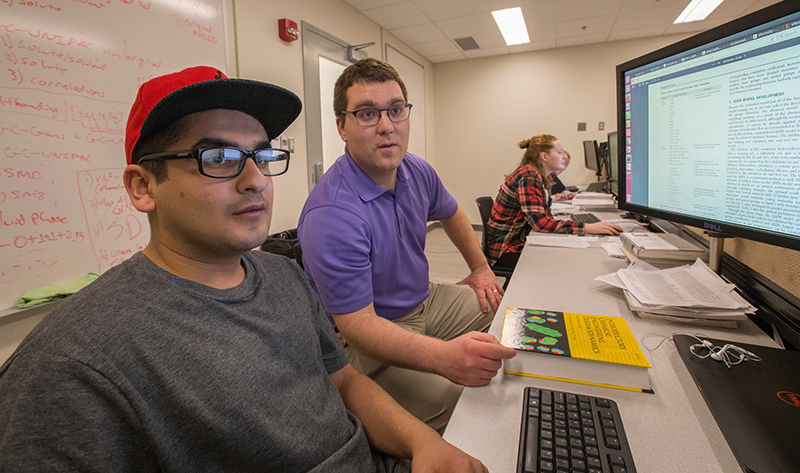 Andrew Paluch (center) with students in the computational and biophotonics lab (photo by Jeff Sabo).
By Sarah Guenther, university news and communications intern
Andrew Paluch, assistant professor of chemical, paper and biomedical engineering, is Miami University's first Affordable Education Leader Award winner.
The award is given to a nominated Miami faculty member, on any campus, who demonstrates compelling and significant impact in areas related to affordable and open educational resources. The goal of this award is to inspire educators to help make education affordable.
Paluch was selected by the Open Educational Resources/Affordability Committee and the Associated Student Government.
Paluch joined the department in fall 2013. One of his first tasks was to develop a computational methods course for the chemical and bio-engineering majors.
While developing the course and the text, Paluch kept students' financial and educational well-being in mind. The idea was to create a free textbook, lower the barrier of education, customize the text and create a resource for future classes and endeavors.
Students who took the course were pleased with the free price, ease of access, consistent layout, clear organization, and ability to use the textbook as a future resource. They also commented on the information within the text, noting it was helpful and that the example problems applied to homework.